Buellton voters have the opportunity to elect a new mayor and two new council members in the November election.
Mayor Holly Sierra is seeking re-election for her third and final two-year term. She is being challenged by Isaac Oltmans and sitting Buellton City Councilman Ed Andrisek.
Sitting councilmen Art Mercado and John Sanchez are both seeking re-election to four-year terms. They are being challenged by Joseph Carter and Elysia Lewis.
Councilman David King's term does not expire until 2022.
Should Andrisek be elected mayor, his council seat would be vacated. The newly seated council then would appoint his replacement. They would have the option of choosing from candidates who run in November's election, or appointing from the community at large.
HOLLY SIERRA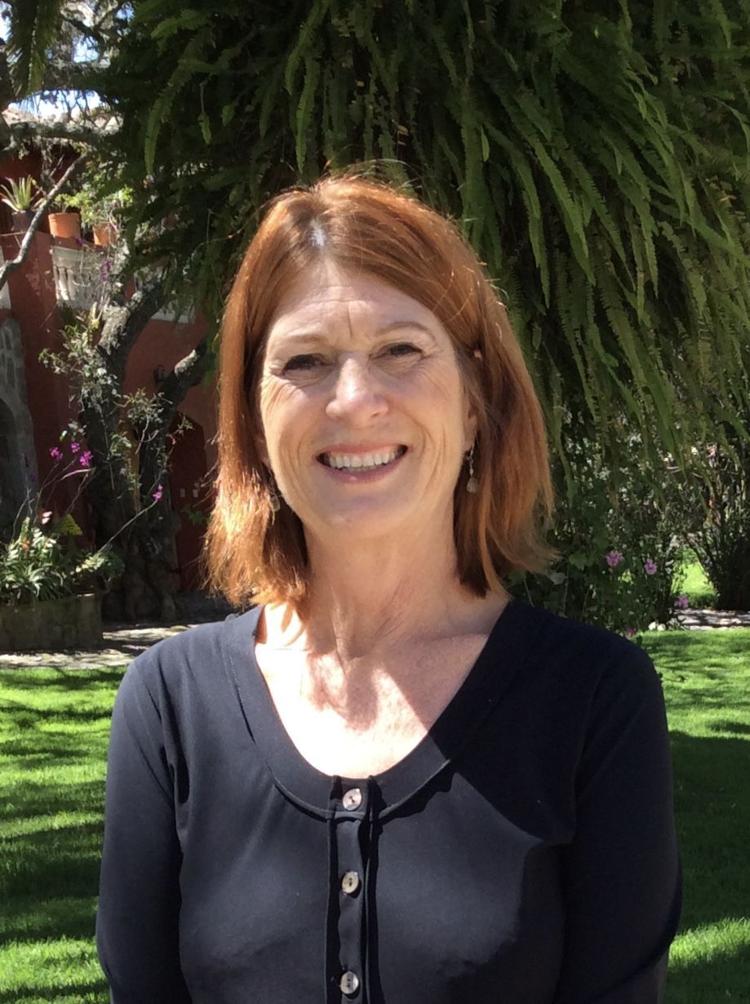 Incumbent Holly Sierra moved to Buellton 22 years ago and served as Buellton's postmaster from 2002 until 2016, when she was first elected mayor. She has served on the Buellton Parks and Recreation Commission, and is a member of Friends of Buellton Library, the Buellton Historical Society and Buellton's Green Team. She participates in the town's community cleanup and advocates for Buellton School and Buellton Senior Center.
"I am a true believer in Buellton. I really care about this town. I have experience, some historical knowledge. I know what's happened in the past and what I believe residents want to see in the future and I'm very passionate about my community," Sierra said.
Sierra was first elected to serve as a Buellton City Council member in 2008. She advocated for term limits, which ultimately passed to limit elected officials to three terms in office. Two years later, in 2010, she was selected by her fellow council members to serve as the city's mayor.
"At that time, the mayor wasn't elected. It used to circulate through the council members and you'd serve for a year, then it would be someone else. I didn't like that because no one in town ever knew who the mayor was, and by the time you'd figure out how to do the job, it was time to change. It made more sense to have an elected mayor for a longer term," Sierra said.
In 2016, Sierra became Buellton's first elected mayor, and in 2018 voters extended her run.
"I'm hoping this will be my third term, then that'll be it. I put term limits on the ballot because you get so gung-ho and have so much fun you need a hook to pull you away. I truly enjoy serving the people of Buellton. We do amazing things," Sierra said.
She is particularly excited about the city's August purchase of the historic Willemsen property off Dairyland and Valley Dairy and adjacent to the wastewater facility. The property has already been put to use by the city's summer recreation program, and the council has its eyes on incorporating the property in a long-term plan for a crosstown, multiuse path.
She takes pride in the city's construction on the multistage, multimillion-dollar Avenue of Flags improvement project, and is particularly proud that the city of Buellton remains financially solvent in spite of COVID-19 closures and cutbacks.
Buellton's biggest issue, she said, continues to be traffic, thanks largely to Highway 246 that passes through the heart of town.
"We're trying to figure out a way to shrink the road so people won't see it as a six-lane highway through the middle of town and continue ignoring speed limits," she said.
Other top issues she said she would continue to address if reelected mayor include overcoming the long-term impacts of COVID-19 on area businesses and residents, and balancing development based on housing needs with maintaining "our wonderful quality of life here in Buellton."
She would also like to see the library improved and moved to its own, larger location, which would accommodate more parking, as well, while allowing the senior center to expand. Within the next five years, she would like to see Buellton "switch to greener, cleaner energy" with existing street lighting replaced by solar lighting.
ISAAC OLTMANS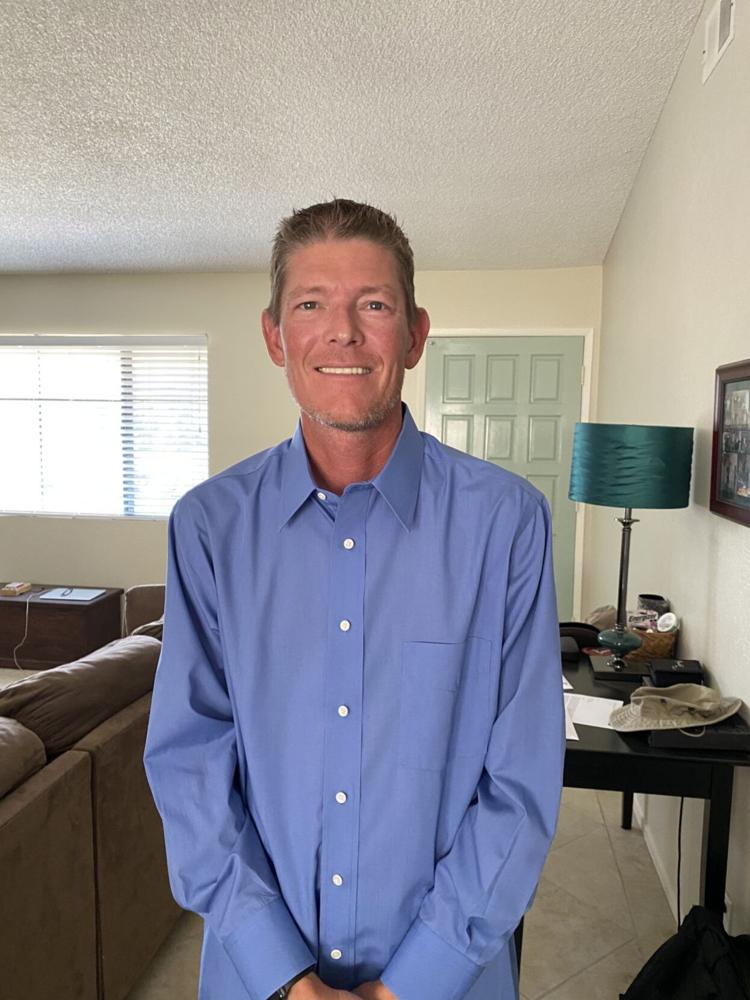 Mayoral challenger Isaac Oltmans, a Buellton resident for 16 years, has served on his homeowners association. He commutes to Goleta, where he has spent the past 25 years in product development and marketing as brand manager for Skate One Corporation.
"I want to bring effective city governing with full transparency and compassion for our residents. The people I'm running against have been on the council and mayors for over a decade. I bring a new face and new views to better serve the local community," Oltmans said.
He said he isn't satisfied with how Buellton is run today.
"It drags its feet on projects that should be pushed through not only for the kids in town but the community at large," he said.
His case in point: the proposed Live Oak Lanes bowling alley, which he said was "killed over an easement."
"The city is presented with great ideas. Why don't they go for it?" Oltmans asked.
He would like to see more activities created for children and adults alike.
"I feel like Buellton Rec is closed more than it's open. There should be more activities for seniors in the gym," Oltmans said.
He said Buellton's biggest issue is transparency.
"The people of Buellton don't know what's going on. The city just spent $1.5 million on a glorified parking lot on Avenue of Flags," Oltmans said.
He also would like to "work with the Planning Commission for better management of city roads, work with developers and contractors who know and value the city."
He said the city should put out a monthly newsletter that includes the City Council agenda, information about city issues, and "make communications more engaging so constituents want to see what's going on in their town."
Without change, he said he sees no improvements in Buellton's future.
"I see a lot of empty commercial buildings, too many residences being built. I'd prefer to keep the community small, but the state has a mandate on growth for each city, so that's something we can't halt," Oltmans said.
ED ANDRISEK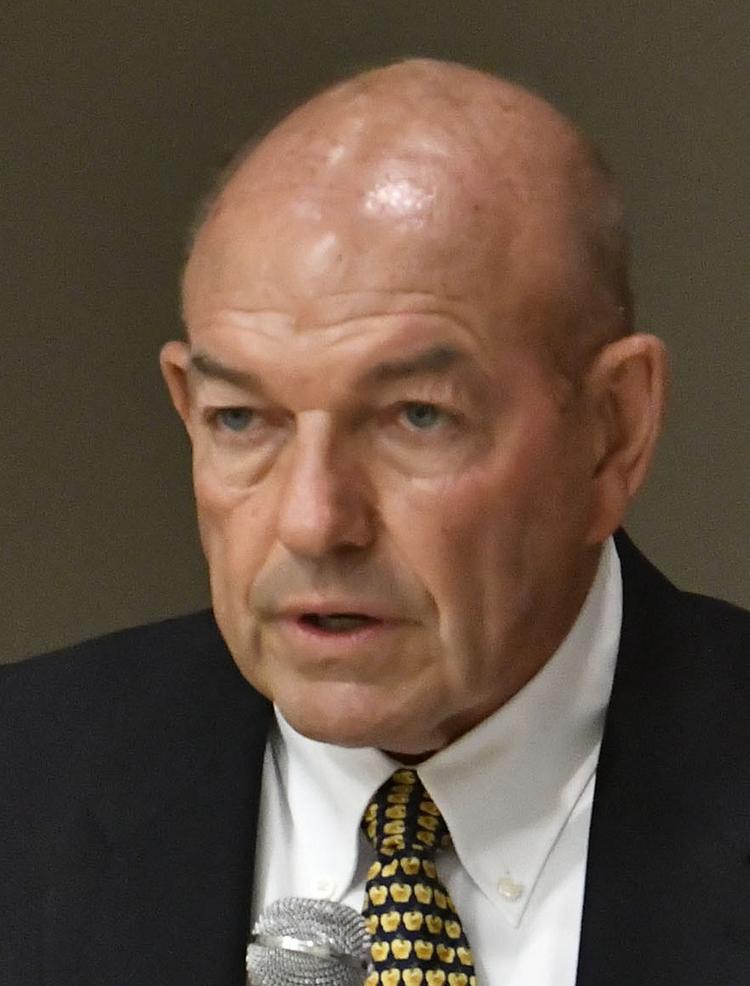 Mayoral challenger and sitting City Councilman Ed Andrisek first moved to the Santa Ynez Valley in 1971. He bought the Buellton Sambo's in 1976 and managed eight of its restaurants on the Central Coast before the company folded. With his wife and mother in law, Andrisek established Mother Hubbard's, which they ran for more than 20 years before selling the restaurant. He currently lives in Buellton where he works as a cashier at CVS.
Andrisek has been a member of the Buellton Chamber of Commerce, served on the board of the Buellton Community Services District, then Solvang City Council from 1998 to 2002, including a rotation as mayor in 2000 before moving to Buellton.
He was elected to the Buellton City Council in 2018 for a four-year term and, should he be elected mayor, will resign the remaining two years of that seat.
"My focus has always been maintaining Buellton as a good environment for raising a family. … I'm here and I want to contribute to make this a viable place, an interesting place for newcomers, for people to realize they can raise their family here," Andrisek said.
He is discouraged, he said, by the city's adoption of the urban growth boundary and the expense of new homes, particularly for young people.
"We need to stop, control growth ergo the urban growth boundary. It discourages me because we're about 1.6-square miles and the community, there's plenty of room to do plenty of things. It's an uphill battle," Andrisek said.
He doesn't see much change in Buellton's future.
"I feel bad for young couples trying to get in. It's not in the cards for young people. You've got to have quite a treasury in your household to get the kinds of things kids take for granted: swimming pool, four bedrooms, big backyard. All those things cost money and developers want to build 100 of those. It's an uphill battle to create what the community needs to have growth," Andrisek said.
JOHN SANCHEZ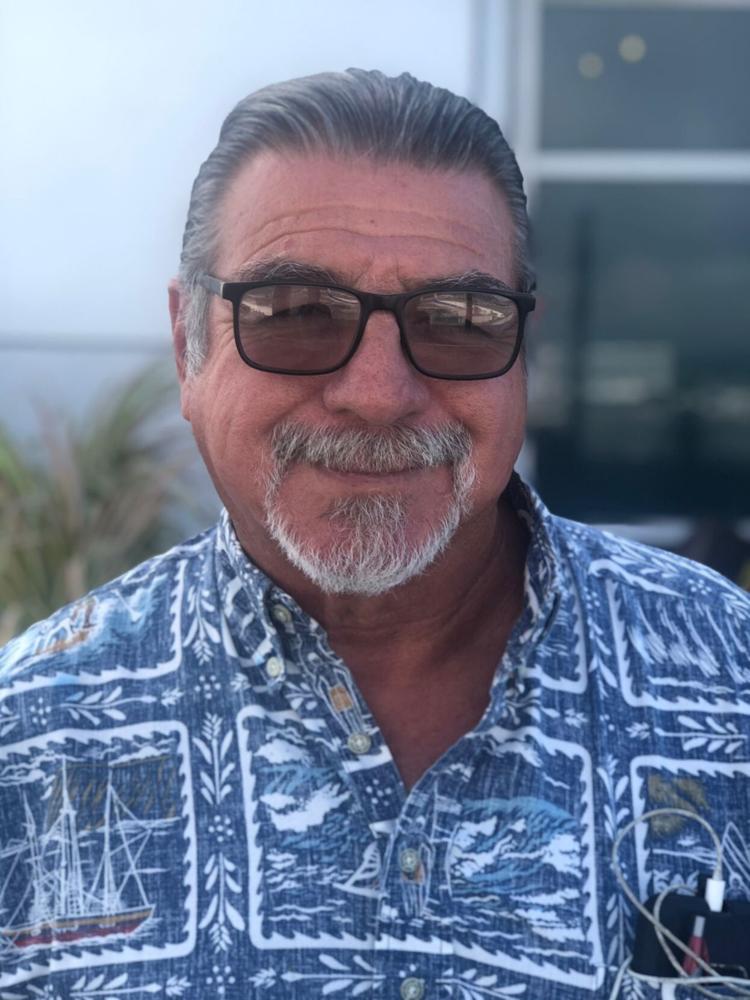 Incumbent John Sanchez is running for reelection to the City Council seat he won in 2018. He is running to serve a four-year term.
Sanchez moved to Santa Ynez Valley in 1975 before settling in Buellton in 1980. He began working in public works for Buellton Community Services District in 1982 and served in various capacities until he retired in 2018 from his position as chief plant operator at the city's wastewater treatment plant. Through it all, he worked the graveyard shift and weekends as an on-call tow-truck driver for Olivera's.
He has also carved out time to take part in community cleanup projects with Buellton's Green Team.
The day after he retired from the city, he was sworn onto the council, and has since also served on the Buellton Arts and Culture Committee and Library Committee.
"I've been committed to Buellton since 1982. It's a big part of me. I'll always be faithful to Buellton and concerned about the town. It's in my heart," Sanchez said.  "I know where the nuts and bolts and pipes are. I've been serving the city since 1982. I'd just like to keep an eye on it, and fiscal responsibility and common sense is probably my strong suit."
He would like to remain on the council to "keep the ball rolling" on several key projects, including a $24 million Avenue of Flags project, working with Caltrans on traffic issues "we'll always have to put up with because we're at a crossroads," and supporting the business community as downtown is improved "to become more appealing so we can collect people's money as they drive by."
He supports maintaining Santa Ynez Valley as a destination for visitors which, in turn, supports local jobs.
"I'm real pro-business, mom and pops that are the draw, not the experience of having Walmarts," Sanchez said.
He's also particularly excited about a zipline project destined for Buellton.
"It'll draw more people, and I'm pro tourist. A lot of people don't want the traffic, but the traffic's here. I also want their money that supports the community through (transient occupancy tax) and sales tax and the jobs. The zipline keeps local jobs here and it'll be fun. I think other things will grow off of that," Sanchez said.
JOSEPH "JOE" CARTER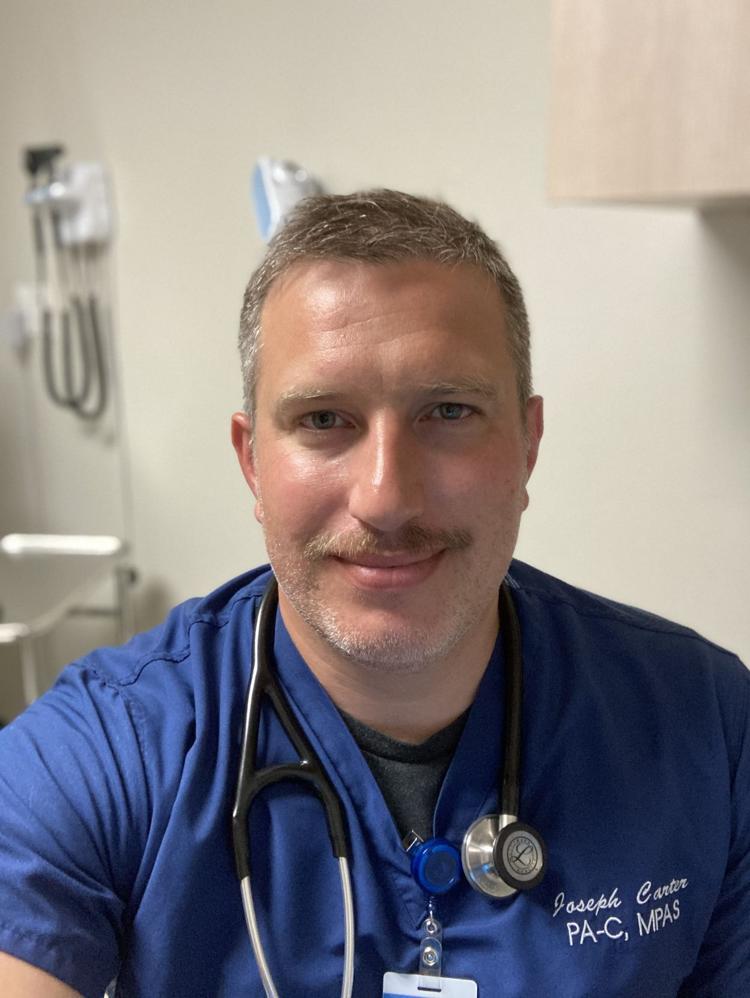 Physicians assistant Joseph "Joe" Carter and his family moved to Buellton in July 2018. By serving on Buellton City Council, the California National Guard captain aspires to help Buellton remain the same small, safe, family-friendly city for future generations.
"I believe I can bring a lot of experience to the town. I grew up in a small town similar to Buellton in Ohio. Both of my parents were small business owners, and I know the effects having large corporations move into town can have on small businesses. I want to help preserve Buellton as a nice, small, safe town for generations to enjoy," Carter said.
Though he's never served in an elected position, he has 18 years of leadership experience in military service. He enlisted in the U.S. Army right after the Sept. 11, 2001 attacks against the United States. His service included duty in Afghanistan, and he earned the Bronze Star Medal, transferred to Ohio National Guard then California National Guard. His summer of service has been extraordinarily busy providing medical care for Guard members responding to riots in June and fires in July.
Carter is a full-time medical provider at Santa Ynez Tribal Health Clinic. He also works per-diem at the new Dignity Urgent Care in Solvang.
"I work with a lot of COVID-19 testing and treatment. I work with Santa Barbara County Public Health, have conference calls with them twice a week, so I'm tied in with how COVID is affecting our local area," Carter explained. "I believe I can provide a lot of good insight on the council for safely reopening and helping our local businesses and citizens regarding COVID on a small-town level."
He sees COVID-19, and the community's recovery from the shutdown, as an issue that will extend well through the four-year term.
"Right now, I think COVID-19 and the effect it has on local economies and local businesses is the biggest issue everywhere, but especially in small towns like Buellton which have a large, locally owned business population that is being negatively affected by it," Carter said.
While there have been federal, state and even county assistance programs in the early stages of the global pandemic, Carter said long-term issues may best be handled by the most local forms of government.
"The scary part is that a lot of local businesses might not be able to survive without a lot of help, which could change the entire landscape of Buellton where larger businesses come in and buy up stuff which will completely change Buellton. My wife and I are here for the long haul, and we'd like to make sure Buellton stays the type of city that drew us in the first place," Carter said.
ART MERCADO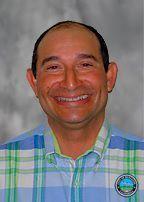 Since moving to Buellton in 1996, incumbent Art Mercado has served 10 years on the Buellton Planning Commission, 14 years on the Youth Football League board, several as its president, and has volunteered with boosters on Santa Ynez Valley Union High School game days.
The irrigation landscape company foreman was raised in the Valley, and proudly recounts raising his own children in Buellton.
"Buellton is a good town. We're up and coming, doing the right things, and I enjoy that. Buellton is our home," Mercado said.
The city's biggest projects, he said, remain development of Avenue of Flags, supporting local businesses through COVID-19, maintaining a family environment while also adding "a little more industrial" to the city to provide jobs and services.
"I bring common sense to the table. I look at every issue from both sides. I have no hidden agenda. I have no issues with anyone. I'd just like to see Buellton continue to succeed," Mercado said.
During his council tenure, Mercado said he is particularly proud of the city maintaining a balanced budget.
"We're fiscal conservatives looking out for the best interests of all citizens of Buellton. The current council has made a lot of strides being able to manage a balanced budget through COVID. We were able to get FEMA money to keep the senior center meals going, got businesses up and running, all while Buellton took a $2 million hit on the budget," Mercado said.
ELYSIA LEWIS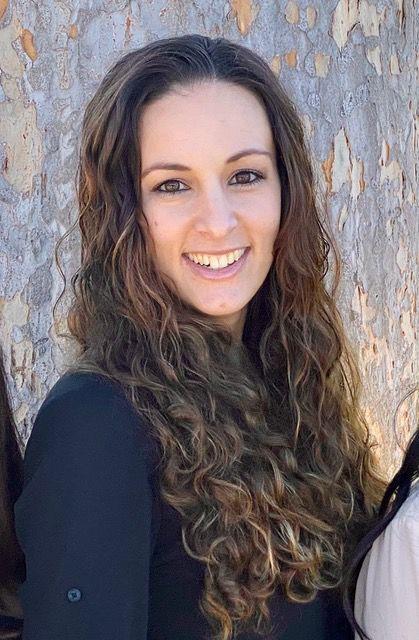 In her second run for a council seat, Elysia Lewis said she hopes voters will take a chance on younger, less experienced candidates. She brings to the table background in public finance, law, rules, statutes and government processes.
"I feel like the city of Buellton needs new perspectives and a variety of different voices being brought to the table. I would like to bring that, to represent younger residents, parents raising children, minority women, small business owners," Lewis said.
Lewis, who was raised in Santa Ynez Valley, has lived in Buellton for seven years. She is the business manager for the Santa Ynez Valley Union High School District, and currently serves on the Buellton Union School District Board of Directors where her term expires Dec. 31. She also serves as president of the Santa Barbara County Education Self-Insurance Program for Employees, a joint powers authority that provides for workers' compensation claims against the member public educational agencies.
Her firsthand knowledge of small business operations comes from her interactions with her husband's Buellton-based concrete business.
"If we don't all get involved, our voices aren't considered," she said. "I'd really like to see more of a sense of community, more small businesses and more engagement from our residents. The first step is having neighbors know each other, to know our street, our block, our city. A connected community is a more efficient, safer community. It raises the standard and quality of life. It's a scientific fact that communities where residents are closer to each other and involved weather storms and catastrophes like fires better. They are more resilient and happier overall and can thrive together."
She sees the city's biggest issues including finding a way to meter growth while providing workforce housing, developing pedestrian-friendly routes, specifically for seniors and children, throughout the city, and leveraging partnerships with schools, the recreation department, senior center, neighboring cities and Santa Barbara County.
"We need to connect Buellton so residents who may not drive can get where they need to go safely," Lewis said.
She would also like to see the city "form committees that engage people of all walks of life in our community."
"People are often scared of change or the unknown. I would just love it if people would give someone they may see as younger or less experienced a chance. Change is good. Progression is good. Giving people a chance to have their own voices here and bring new perspectives and sometimes new ideas, that's all good for the community," Lewis said.
Get local news delivered to your inbox!
Subscribe to our Daily Headlines newsletter.