As the Class of 2023 graduates entered the football field at Allan Hancock College's Santa Maria campus, cheering, smiles and tears of joy filled the air from loved ones who were ready to capture the moment.
Hundreds of students with decorated their caps, representing their culture, major, faith or style, were primed to celebrate the day of Hancock's 102nd commencement ceremony, which began with a rendition of the "Star-Spangled Banner" performed by student Andrei Villalobos.
The 2023 in-person ceremony held Friday morning was attended by more than 600 graduates. In all, the school said, 1,236 students earned 1,971 associate degrees and 1,309 certificates of achievement across 101 different majors this school year. According to Hancock associate superintendent/vice president of student services, Genevieve Siwabessy, nearly 40% of the college's graduates are Promise students, meaning they completed their first year fee free at the school.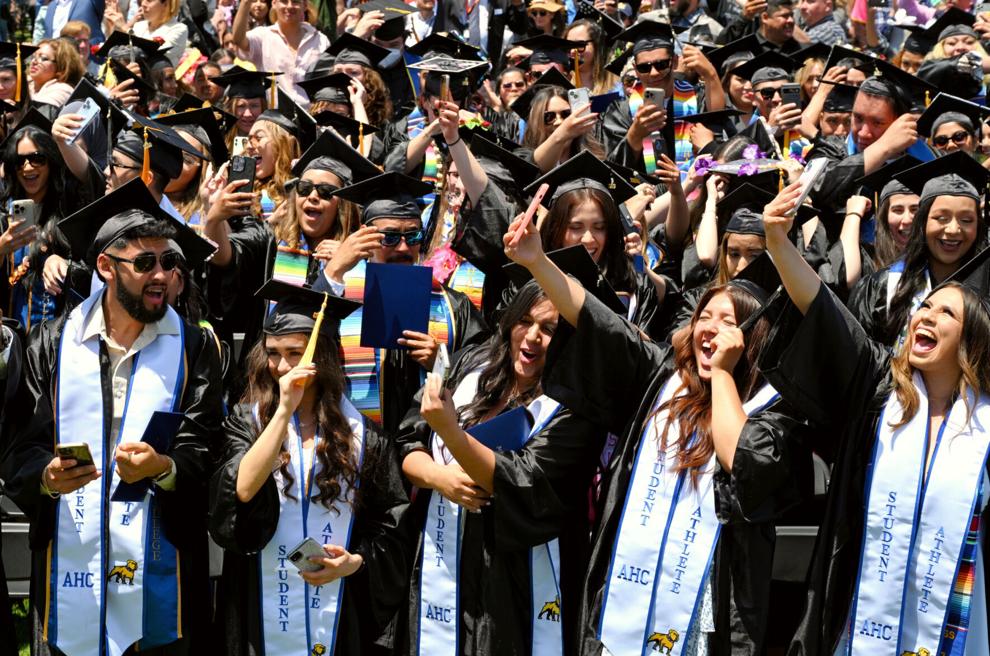 "The majority of our grads are local, approximately 84% of you, in fact, and 98% of our graduates are from California," said Siwabessy, adding that 36 students are from out-of-state and three are from other countries.
Siwabessy said the furthest location that one of the graduates calls home is 4,773 miles away in the Polynesian island country of Samoa.
"The students graduating today are prepared to take the next step in their lives as public servants, medical professionals, educators, welders, technicians and business owners," said Kevin Walthers, Hancock's president and superintendent. "Many are eagerly awaiting the chance to continue their education at a four-year college or university. Regardless of their destination, we affirm that they are ready to take on the challenges."
According to Siwabessy, Hancock had the highest transfer rate to Cal Poly SLO, 61%, with a total of 166 graduates committed to becoming Mustangs in the fall.
Many of this year's graduates already started making their mark with impressive accomplishments during their time at Hancock. A total of 324 graduates received honors for having 3.5-3.99 grade-point averages (GPAs), and 40 received high honors for 4.0 GPAs.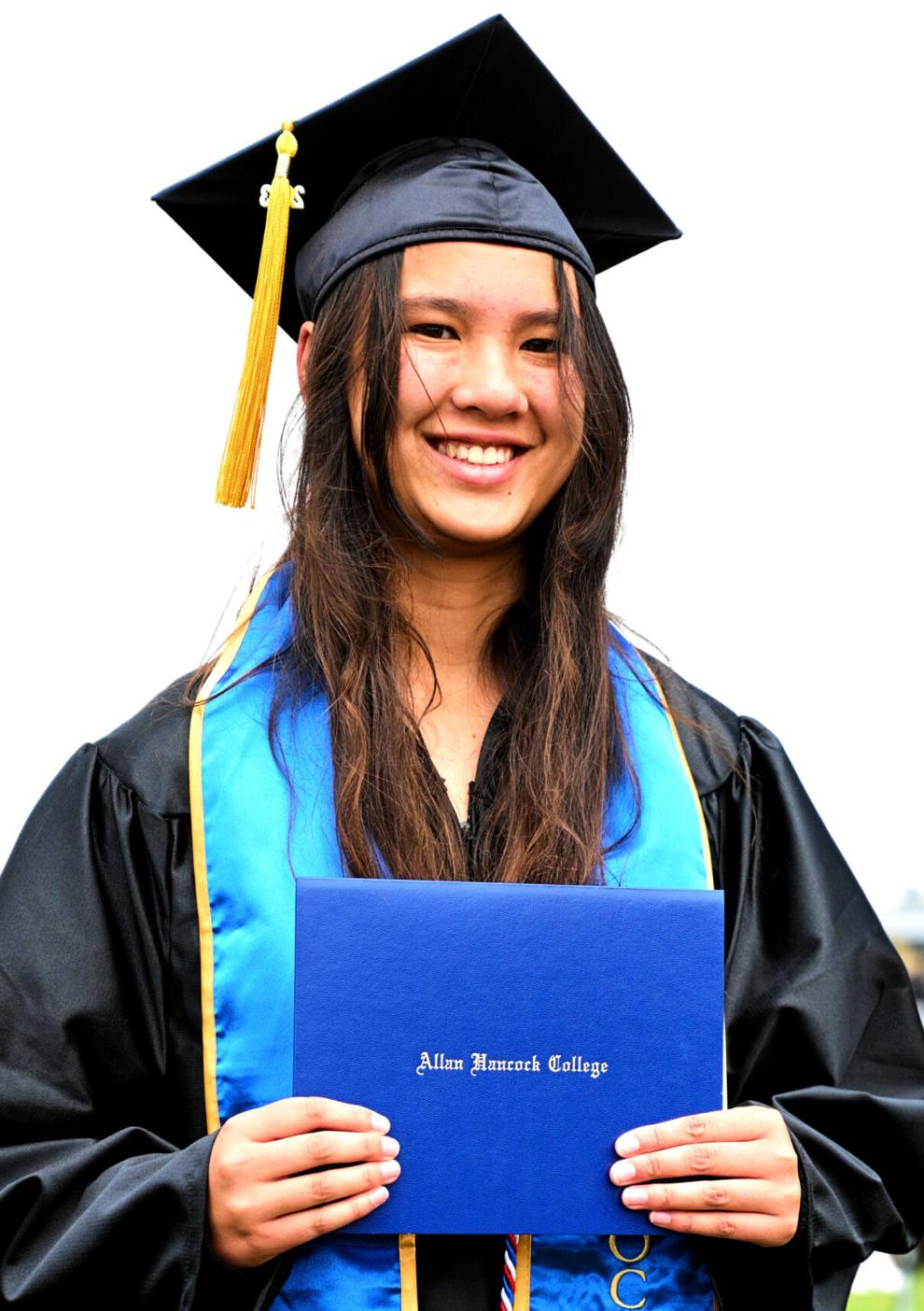 Hancock Board of Trustee President Greg Pensa reminded students they are representing the more than 100-year legacy of the college and their contribution to that legacy will continue "as you go out into the world and represent Hancock as an alumnus."
"I know the past few years have been very challenging. You've had to deal with COVID, but you rose to the challenges and each of you is prepared to achieve great success after you walk across this stage today," said Pensa. "I hope you will look back on your time here at Hancock and remember it fondly and with pride."
This year's graduating class included several inspiring stories, such as the youngest graduate being Chrislaina Anderson who is 15 years old and earned an Associate degree in Math and Science. Also, the oldest graduate was Tito "Jesus" De Leon, who graduated at the age of 68, earning two degrees in Business Administration and Business Administration for transfer.
Two students tied for earning the most degrees. Graduates Armando Cruz-Chavez and Constantine Hall both earned a total of nine degrees, more than any other student in their graduating class.
Speaking to the graduates on behalf of Hancock's faculty, retiring drama professor Michael Dempsey encouraged the graduates to continue to listen and learn.
"Hang your diploma up, it's a badge of honor that will also keep reminding you of how you achieve your success, keep listening," said Dempsey.
Associated Student Body Government President Edianna Ysip also addressed the graduates, reminding them to be proud of their work and thankful towards everyone in their lives who supported them through their educational journey.
"My colleagues, the way to a brighter future may be difficult, but whether you're beginning a new career or advancing in your academic pursuits, I encourage you all to fully utilize your new merits as you continue your story," Ysip said.