With rainfall approaching 150 percent of normal for this time of year, two of Santa Barbara County's reservoirs are full and storage in two continues to rise, with one now well above 50 percent but the other — the county's largest — far behind at less than 20 percent, according to Flood Control District numbers.
As of Thursday morning, Gibraltar Reservoir was at 101 percent of its 4,314 acre-foot capacity, holding 4,359 acre-feet, and spilling water into the Santa Ynez River that feeds into Cachuma Lake, which was holding 68.4 percent of its 193,305 acre-foot capacity at 132,165 acre-feet.
An acre-foot is approximately 326,000 gallons, or enough to meet the average yearly water needs of about six people in most urban settings.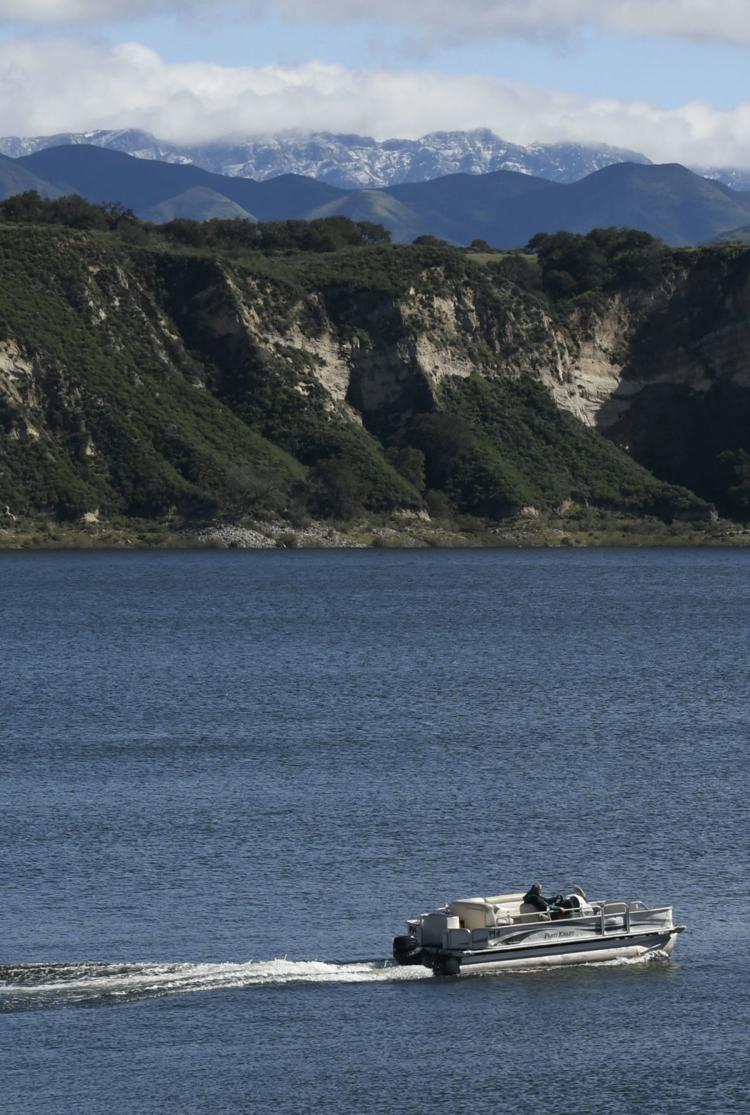 But Twitchell Reservoir, one of three water sources for Santa Maria, is filling slowly and Thursday was holding 34,533 acre-feet, only 17.7 percent of its 194,971 acre-foot capacity.
However, Twitchell added more to its storage than Cachuma over the past month.
Twitchell added 7,214 acre-feet of water, while Cachuma added 6,494 acre-feet.
Jameson Reservoir, which provides water to Montecito, was at 100.4 percent of its 5,144 acre-foot capacity, holding 5,163 acre-feet.
As of Thursday, the county had received 145 percent of its average normal rainfall for the year to date and 114 percent of the normal precipitation for the entire water year, which started Sept. 1 and continues through Aug. 31.
In a timelapse of pictures taken since 2017, by a Cachuma Lake webcam, the reservoir fills to the current level. With rainfall approaching 150…
Even if the rains cease today, runoff will still be pouring into the rivers, creeks and reservoirs for weeks to come.
To give an idea how much runoff is coming down from the hillsides, water was flowing into the Santa Ynez River from Gibraltar Reservoir at a rate of about 1,030 cubic feet per second on Thursday.
But by the time the river reached Cachuma Lake, it was flowing at a rate of more than 1,310 cubic feet per second as a result of runoff joining the stream along the way.
At Solvang, the stream of water released from Bradbury Dam was flowing at 134 cubic feet per second, but just east of Lompoc the rate has increased to 616 cubic feet per second owing to runoff in between.
The Flood Control District doesn't keep track of total rainfall at Twitchell Dam, but Gibraltar Dam has received 31.58 inches of rain this year, or 152 percent of normal for the year to date.
Bradbury Dam, which holds back Cachuma Lake, has received 24.22 inches, or 155 percent of normal for the year to date.
Some other county rainfall totals and their percentages for the year to date include 7.80 inches for 135 percent of normal in Cuyama, 13.71 inches for 133 percent in Santa Maria, 15.24 inches for 132 percent in Sisquoc and 15.92 inches for 116 percent in Carpinteria.
Other totals are 17.07 inches for 129 percent in Buellton, 17.90 inches for 145 percent in Santa Ynez, 18.31 inches for 156 percent in Los Alamos, 18.60 inches for 165 percent in Lompoc, 22.46 inches for 155 percent in Goleta, 23.25 inches for 140 percent at Figueroa Mountain and 42.87 inches for 155 percent at San Marcos Pass.