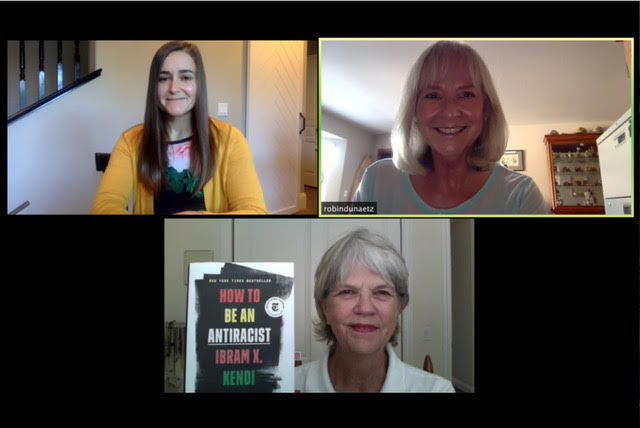 Friends and local residents Robin Dunaetz and Ashley Costa, who in the wake of George Floyd's death launched a business book group established on the foundation of enacting social change, have been announced as the second nominee for the 11th annual Valley of the Flowers Peace Prize.
Upon witnessing the televised killing of Floyd in late May by Minneapolis Police Officer Derek Chauvin, who kneeled on Floyd's neck for 8 minutes and 46 seconds, Dunaetz and Costa recalled feeling shocked and concerned about the issues of fair policing and social justice.
"I was naïve in my whiteness," said Dunaetz. "I thought all [of] that had been resolved years ago, but I did not know what to do. We agreed if we thought of something, we'd get in touch." 
Costa, a former City Council member, said she found a number of online resources that provided lists of ways white people can get informed and take steps for change.
"I've attempted to achieve items on those lists, such as purchasing books for my white nieces and nephew that have [Black, Indigenous and people of color] as the protagonists and are written by Black authors," she said, adding that attending the vigil and protest held in Lompoc to honor Floyd, and continually engaging in important conversations with community members, are some ways she's taken action.
Azyiah, Amia and Maliah Simmons, each of whom attended Lompoc High School in the 2019-20 school year, earned the nomination for their music video, which they created for a performing arts competition sponsored by EduHam, an educational spin-off of the hit Broadway musical Hamilton. The girls were featured on "Good Morning America" this summer for their efforts.
But it was when Dunaetz listened to a podcast by Brené Brown — a researcher and author known for her lectures on vulnerability, courage, shame and empathy — interviewing author Ibram Kendi about the same issues currently at play, she was prompted to branch out. 
She made a call to her sister at the University of Tennessee.
"One place to start is this book," Dunaetz remembered her sister saying.
It turned out that Kendi's book, "How to be an Antiracist," had been recommended to the entire faculty at her sister's university, said Dunaetz, which then sparked the idea to begin a local book group.
By September, Costa and Dunaetz were able to gather six friends who all agreed to read the book and begin the conversation, guided by a supplemental study workbook.
"This book club is another strategy that allows me to continue this important work and, hopefully, help make a small positive change in the fabric of our community," Costa said.
To nominate someone for the Valley of the Flowers Peace Prize, call 805-733-3333, or mail to 1536 W. Cherry Ave., Lompoc, CA, 93436.
The annual Peace Prize ceremony is scheduled for Jan. 31, 2021, at the Valley of the Flowers United Church of Christ, 3346 Constellation Road, Vandenberg Village.
The first 2020 nominee is the singing Simmons Sisters.
The City of Lompoc announced on Saturday that outdoor playground use is now permitted by the issuance of an Oct. 2 Santa Barbara County Health Officer order, and that once COVID-19 informational signage is posted and fencing is removed, playgrounds are set to reopen as late at Friday.
Seven candidates vying for three seats on the Lompoc Unified School District Board of Education in the Nov. 3 election faced off last week dur…
In order to ease the strain of the COVID-19 pandemic for families and teachers, the Lompoc Unified School District will provide each classroom…
Lisa André covers local news and lifestyles for Santa Ynez Valley News. 
Get local news delivered to your inbox!
Subscribe to our Daily Headlines newsletter.