With the Central Coast basking in warmer, drier weather over the past week, the rise in level of three Santa Barbara County reservoirs has slowed, and one experienced a slight drop, according to county data.
Cachuma Lake's storage rose just 0.4% from Monday morning until Thursday afternoon, going from 152,091 acre-feet to 152,854 acre-feet, according to sensor data provided by the County Public Works Department.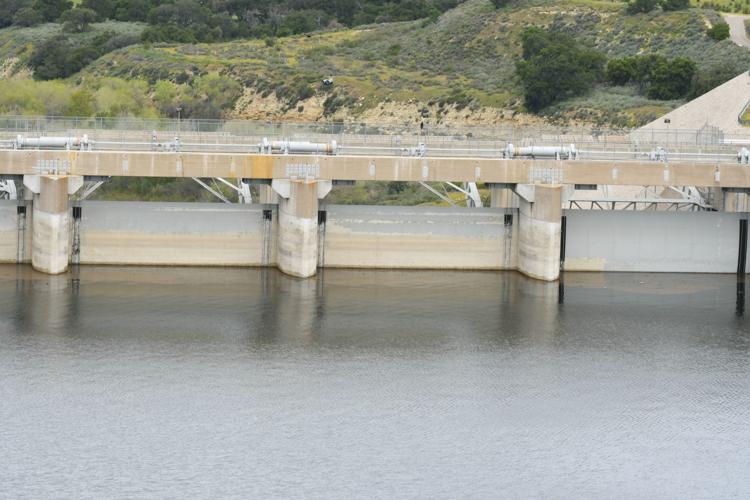 That total represents 79.1% of the lake's 193,305 acre-foot capacity.
An acre-foot is about 326,000 gallons, enough water to meet the average yearly needs of about six people in most urban settings.
During the same period, Twitchell Reservoir's storage rose 0.2%, climbing from 49,170 acre-feet to 49,526 acre-feet to hit 25.4% of its 194,971 acre-foot capacity.
Gibraltar Reservoir again topped its capacity, spilling into the Santa Ynez River that feeds into Cachuma.
As of Thursday afternoon, sensors reported it was holding 4,351 acre-feet, or 100.85% of its 4,314 acre-foot capacity, up 0.95% from its storage the previous Monday.
The storage in Jameson Reservoir, which supplies customers in Montecito, declined slightly, going from 5,132 acre-feet to 5,123 acre-feet, a drop of 0.2% to 99.6% of its 5,144 acre-foot capacity.
More precipitation may be on the distant horizon, according to weather forecasters, but it's unlikely the Central Coast will see the kind of storms that soaked the area in recent months.
"There is another chance of rain next Friday and Saturday, April 13 and 14," said John Lindsey, marine meteorologist for Pacific Gas and Electric Co. at Diablo Canyon Power Plant. "But, yes, the rain season is winding down."
That said, he added, "We have seen a few major storms in May, and even some rain in June."
A graph compares the 2019 water year's total rainfall as of April 1, in red, with the wettest, driest and average years in green, brown and bl…
As of April 1, Santa Barbara County as a whole had received 129% of its normal rainfall to date, according to the County Flood Control District's Rainfall and Reservoir Summary.
If no more measurable rain fell after that date, the county would finish out the 2019 rain year at 117% of normal.
The "rain year," designated by the year in which it ends, begins Sept. 1 and ends Aug. 3, but the "rainy season" is generally assumed to be from about Oct. 31 to May 1.
The greatest amount of rain usually falls between the first of February and the first few days of March, based on data accumulated at the Santa Maria Public Airport.
The "rainless season" then consists of the remaining months from May 1 to Oct. 31. Historically, the least amount of rain during that period has fallen Aug. 6.
Total rainfall at Gibraltar Reservoir for the 2019 water year as of April 1, in red, is compared to rainfall in the wettest, driest and averag…
Of the 14 locations where the Flood Control District tracks percentage-of-normal rainfall, Carpinteria is at the lowest with 104%.
Most of the rest are above 130%, and one — San Marcos Pass — is at 146% of normal rainfall to date.
If no more measurable rain falls by Aug. 31, the percentages of normal for the total rain year would drop, with Carpinteria's hitting 94%.
Half of them would still be above 120%, but Lompoc's 132% of normal would oust San Marcos Pass from its seat at the top.
Rainfall totals, measured in inches as of April 1 for seven of the 14 locations are 44.21 at San Marcos Pass, 32.51 at Gibraltar Dam, 24.83 at Bradley Dam, 24.34 on Figueroa Mountain, 23.37 in Santa Barbara, 22.80 in Goleta and 19.02 in Lompoc.
Totals at the remaining seven locations are 18.67 in Los Alamos, 18.55 in Santa Ynez, 17.67 in Buellton, 16.32 in Carpinteria, 16.00 at Sisquoc, 14.54 in Santa Maria and 7.96 in Cuyama.