Mark Andersen grew up inside Dodger Stadium watching games with his dad, but he's never set foot on the field — until now.
The double amputee and former Cal Lutheran catcher realizes this moment represents more than just throwing the ball across home plate.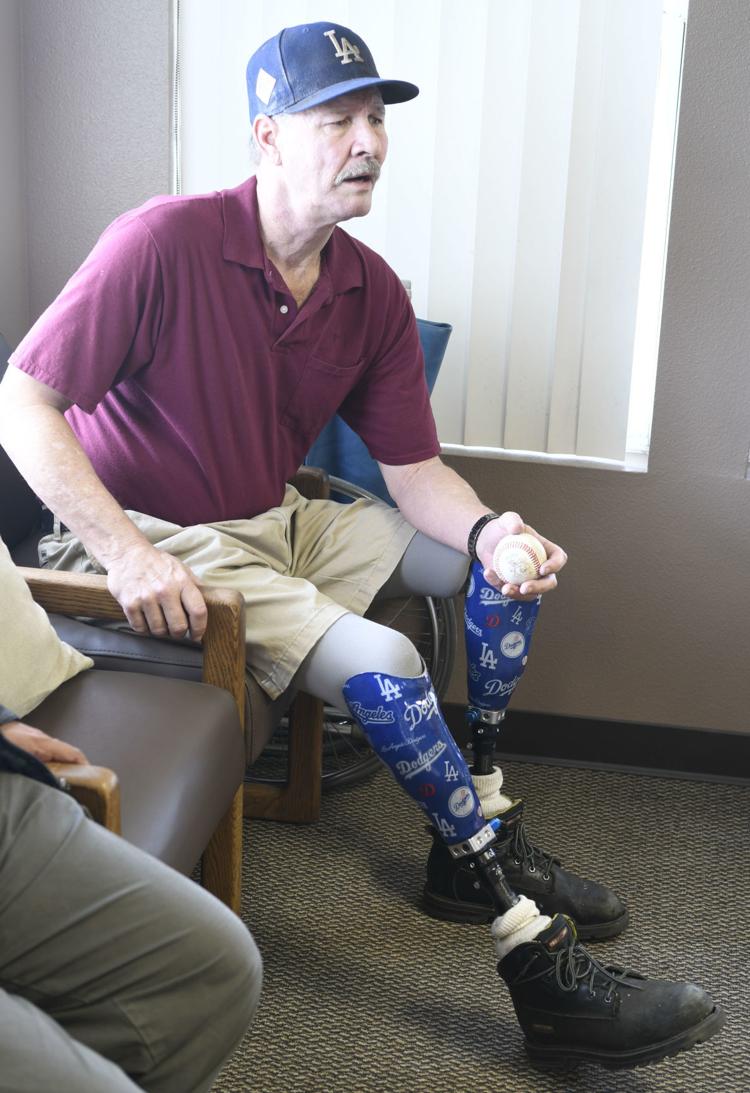 "It's always been tough for me to be an inspiration, but it kind of works," Andersen said. "When I became an amputee, I realized how many other people have to go through this.
"So if I can inspire them to show them that life goes on, that you can really go back to being a normal person, then I am happy to do that."
Andersen lost both of his legs in a boating accident at Nacimiento Lake in 2000, a day he remembers vividly. 
"One of our Jet Skis broke down," Andersen said. "So we took the boat out to pick it up. I slid under the water and the boat was going into the rocks. The driver started it and it ran over me. It was a heck of a day."
He managed to crawl back into the boat and rode back to the dock, where he described the next scene as a blessing in disguise. 
"I was pretty blessed because one of the folks right next-door to me on the dock happened to be an EMT," Andersen recalled.
He was later airlifted to Twin Cities Community Hospital in Templeton, then immediately transferred to Stanford Medical Center in Palo Alto. 
After a successful career as a Righetti catcher, Zach Andersen graduated in 2017. 
Andersen's daughter, Megan, who was 11 at the time of the incident, said the tragedy shocked her, but witnessing her dad's optimism in the aftermath inspired her. 
"It was shocking. My dad swam, he was into skiing and he was very active and athletic," Megan Andersen said. "But he looked at me and said 'God has a plan for this. It will be OK.'"
Andersen has since learned to use prosthetic legs, but his love for the Dodgers has never wavered.
His daughter, a 2006 Righetti High graduate, became the family member who would treat her father to trips to Chavez Ravine.
Then came what Andersen thought would be a routine check-up at Achilles Prosthetics and Orthotics in Santa Maria on April 23, but instead, it became a surprise via Director of Patient Services Keith Severson.
Andersen was greeted by his whole family, his doctor, Don Newton, and gifts that made his heart beat faster: A plaque and letter from the Dodgers saying they had received Severson's social media request and were offering Andersen the chance to throw out the first pitch at a future Dodgers game. 
"Absolutely shocked. I had no idea it was coming," Andersen said.   
He's now contemplating what type of pitch he will throw on Monday.
"Don't bounce it," Andersen says inside his head before he practices pitching. "I don't want to throw my arm out."
Andersen will interact with the players and coaches of the back-to-back National League championship team before tossing the ball.
His family also will stand along the hill as Andersen winds up the arm and throws down the middle.
Then they will sit behind home plate and enjoy the rest of the game.
Megan Andersen admits she will likely lose her composure after the pitch gets thrown.
"I'm going to cry. I'll be sobbing. But I'm just proud," she said. "Him getting out there to throw out the first pitch will mean everything."