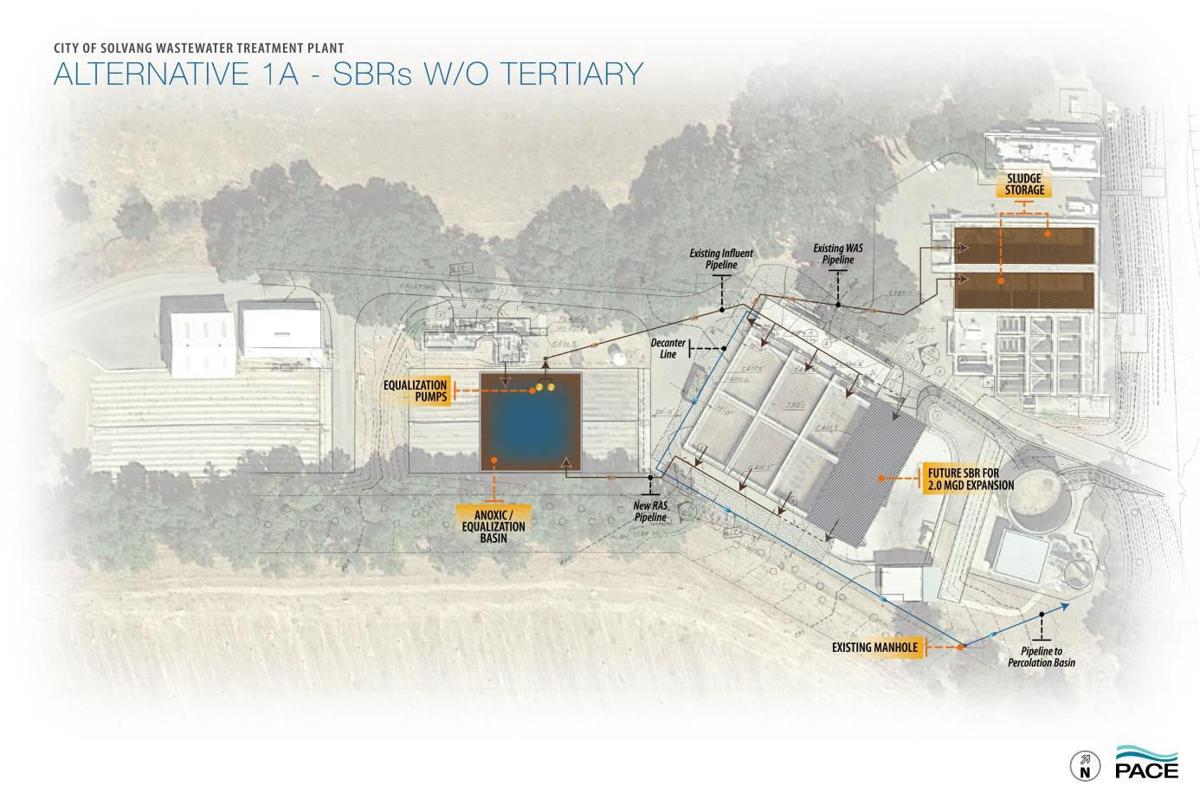 The Solvang City Council is leaning toward upgrading the wastewater treatment plant with a membrane bioreactor, but wanted to know more about the cost for residents.
City Manager David Gassaway said Monday's special meeting was about the nuts and bolts of the three replacement options.
"And when we come back at the end of next month we'll have a robust discussion and we'll be looking at lots of different options on the financial side," Gassaway said.
In September, the previous City Council said it needed more information before deciding on possible upgrades.
City staff has recommended the membrane bioreactor plant option — alternative 3 — if the city is interested in recycling water in the future.
At Monday's meeting, wastewater engineer Andy Comer said the estimated capital cost of the MBR plant is $15.3 million.
The other choices include alternative 1, adding another basin, or alternative 2, constructing clarifiers. Those options would cost $8 million or $10.3 million, respectively, without factoring in the option and increased cost of recycling water.
Solvang currently operates a 1.5 million-gallon-a-day plant using three sequencing batch reactors and an aerobic digester.
The current plant has lost a significant portion of its treatment capacity, from 1.5 million gallons per day to .9 million gallons per day, according to city documents.The pressing issue is the lack of a spare basin.
Public Works Director Matt van der Linden talked about drilling future wells downstream of the percolation ponds.
"The recycled water could percolate down, mingle with the river underflow and we could pull it out downstream. Now that project with piping and new wells, that's a whole big project of its own obviously," van der Linden said.
He said the city has talked with the Alisal Ranch golf courses to see if they'd be interested in using recycled water to irrigate.
"They indicated they'd basically be happy to take that recycled water from us, but they would not cut back their pumping from their river wells," van der Linden said.
According to city documents, the cost to set up recycled water infrastructure is $1.6 million.
He said it only makes sense to distribute recycled water to them if it offsets the current potable water demands, but at this point the benefit of providing recycled water doesn't exist.
Mayor Ryan Toussaint said the city needed to look at the feasibility of associated easements and the cost of putting a new well in.
Toussaint said, "You look at the MBR here and you might say 'ok it's a few million more and you have it right there at the source where you have direct control over it,' but the second you put it down the river and then you're trying to pick it up later the cost of doing that could make anyone here go 'oh, we would never ever consider doing that because the cost doesn't make any sense.
"If we want recycled water and want it any time in the near future then I don't think you want to put it down the river and try to pick it up later because we could be here 30 years from now still chewing away at it."
Councilor Daniel Johnson said the next action should be how the council plans on paying for the upgrade.
"I think basically the MBR system is the one you want to go with except for its just that capital cost just looks drastic," Johnson said.
He also pointed out that no one plans on buying the water currently.
"Basically right now we're not planning on selling this water to anyone, because no one wants to buy it. Correct? Is that my understanding?" Johnson said.
Councilor Robert Clarke said his biggest concern was not raising anyone's rates.
"It sure seems like the MBR is the way to go, it's just how do we pay for it," Clarke said.
Councilor Karen Waite said councilors should take the advice of the consultants.
"I would only urge my council members to not put us in a situation where we are limiting our ability to implement a superior system while its available to us," Waite said.
Waite said while she's sensitive about putting costs out to users, "Nothing's for free, you can't make a major improvement like this that is much needed and should've been done a very long time ago without having to push some costs to the residents."
Councilor Chris Djernaes repeatedly asked whether the plant was going to be able to support growth from increased tourism to the area.
"Council member Djernaes, I'm trying to explain to you we can't predict the rate of growth. We could look at the rate of growth that's occurred previously and project that forward," van der Linden said.
Karen Jones, president of the Santa Ynez Community Services District, said she was for the MBR plant, but wanted councilors to continue factoring in the cost.
"First I'll say, absolutely for the membrane system if we can afford anything," Jones said.
Get local news delivered to your inbox!
Subscribe to our Daily Headlines newsletter.