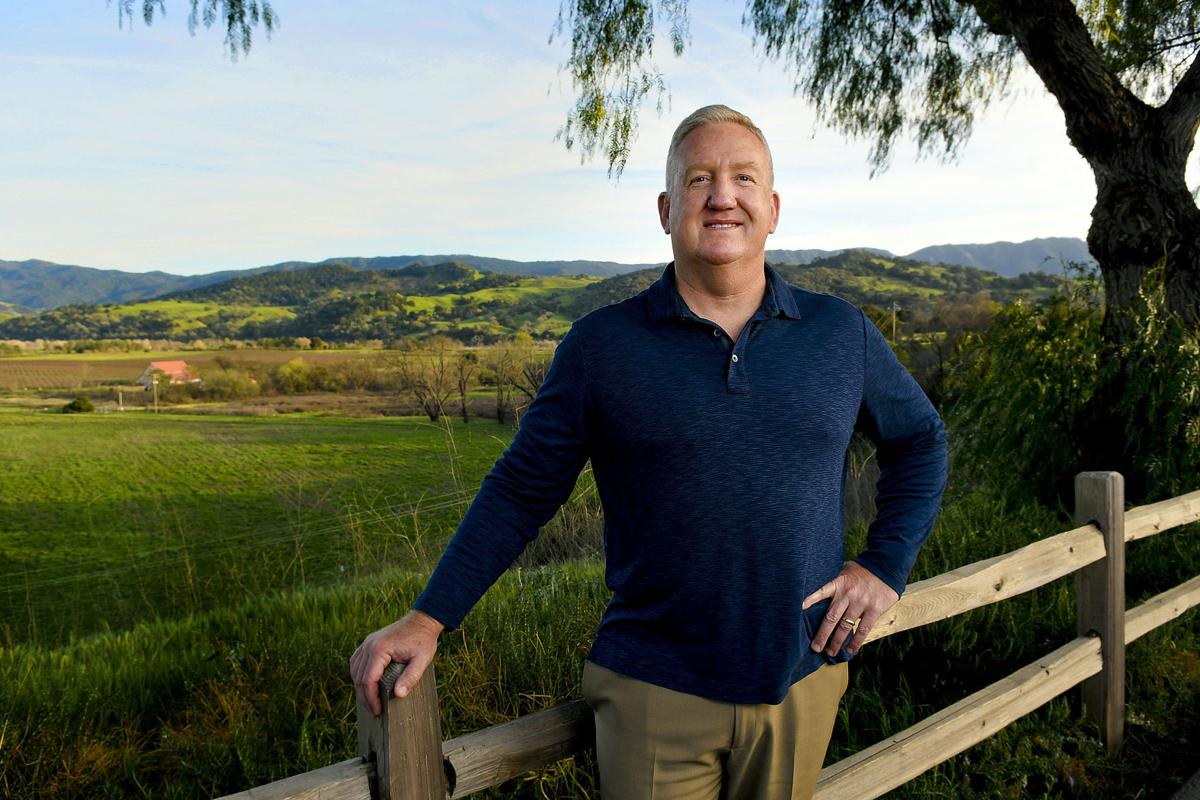 Whether he's driving the $4.7 million Solvang Festival Theatre capital campaign, raising money for the Santa Barbara County Sheriff's Benevolent Posse, stepping up for duties with the Elverhøj Museum, Danish Brotherhood, American Legion or Veterans of Foreign Wars, Santa Ynez Valley's Man of the Year, Christen "Chris" Nielsen, doesn't consider himself a volunteer.
"I've never volunteered a day in my life. I've just followed my parents' example and helped out," he said.
Nielsen is a lifelong Valley resident whose family has been in Solvang for more than 100 years. His grandfather, C.V. Nielsen, founded Nielsen Building Materials in 1948. Chris graduated from Santa Ynez Valley Union High School in 1980 and earned a bachelor of science degree in engineering from Cal Poly, San Luis Obispo.
"I'm just immensely fortunate to have been born into this great community. I had the opportunity to travel the world and live all across the country, and never once did I see another place better than this. I'm not just talking about the natural beauty and wonderful weather, but the sense of community we have here," Chris said.
The 12-year member of Viking Charities of Solvang served as its chief in 2015. He served six years on the Elverhøj Museum board of directors and is currently board President for Solvang Festival Theater. Since 2008, he has served on the Atterdag Village of Solvang board of directors, three years as its president.
Nielsen is also a member and past president of the Danish Brotherhood, is actively engaged in fundraising with the Santa Barbara County Sheriff's Benevolent Posse, and has been integral to the American Legion Solvang Post 166, Veterans of Foreign Wars Post 7139 Solvang, and Danish Days Foundation.
The road to nonprofit leadership in his hometown was a circuitous one.
"Growing up here, seeing my family and all my neighbors helping out, it wasn't a matter of volunteering. I was surrounded by people who were involved in so many of the organizations here that it was just all part of the experience of growing up in Solvang," Nielsen said.
When his parents saw a need, they filled it, and they directed their children to do the same.
"The word 'volunteer' was never used in our household. Our parents would just say, 'They need more folks. We need to go help out,'" Nielsen recalled.
In his 20 years of active duty with the U.S. Marine Corps, Nielsen rose to the rank of lieutenant colonel. Assignments included California, Texas, Virginia, North Carolina and Florida. He saw active duty in Operation Desert Shield and Operation Desert Storm in Iraq and Operation Restore Hope in Somalia.
"Marines are mission oriented. You have to understand situations from various perspectives. You have to lead, you can't just demand and direct. An important part of leadership is providing motivation for what needs to be done and why and how people are essential to getting that done. That translates perfectly to normal life for all people, but especially if you're part of an organization, whether it be charitable or a corporation. You have to be a team leader if you're going to make a difference," Nielsen said.
He met wife his Diane while stationed at Camp Pendleton in the mid-1990s, and they have three children — twin sons, Kyle and Ben, and daughter Gillian — who they raised in the Santa Ynez Valley upon Nielsen's retirement in 2006.
"When I retired, the first order of business was getting back to Solvang so our kids could have the opportunity to grow up in this ideal community," Nielsen said.
They spent their first year getting settled, building their home, then it was game on. He found a second career in financial advising and certified financial planning with his own Edward Jones office in Los Olivos. That new career provided him the flexibility to be at every one of his children's activities growing up, and to volunteer throughout the community.
"When I came back here and saw all these same organizations that I remembered from when I was a kid that are so important to our community, so individual to our community — there is no other Atterdag Village, no other Elverhøj Museum. These are really unique organizations that create the identity of our wonderful community — I wanted to be able to be a part of them," Nielsen said.
He takes great pleasure in helping with fundraisers for capital improvement projects or the services that help local residents meet their medical needs on an individual basis.
"You can go home at the end of the day feeling like you made an impact," he said.
And if he gets in a round of golf while raising money for a cause, so much the better.
He'll be swinging irons Oct. 17 at the Santa Barbara Sheriff's Benevolent Posse Golf Tournament at Alisal Ranch and hopes the community will join him for a round.
Get local news delivered to your inbox!
Subscribe to our Daily Headlines newsletter.