Tourism has been deeply affected by the ravages of COVID-19 for the past 2 1/2 years, as has been the emotional and physical spirit of all of us.
The timing was right for a renewal of the soul, and Italy's Treasures tour by Collette Tours provided that — and more — for those who were willing to deal with COVID travel protocols.
Luckily, many travel restrictions have lifted within the last few weeks and tourism will be in full force again very soon.
Unfortunately, due to COVID and other world situations, one can expect to pay more for travel due to a rise in costs for fuel, food, lodging and entertainment. It will also be important to travel during off-peak times to avoid crowds.
I would recommend tours, if possible, as they deal in bulk lodging and transportation and, therefore, will likely be the most cost-efficient way to travel at this time.
Collette Tours provided a perfect trip scenario with travel limited to 12 to 24 passengers for an exploration tour to Italy for my group. Most passengers come from the Santa Ynez Valley and surrounding communities, and it is always enjoyable to travel with your friends and neighbors.
Exploring Italy
The Italy's Treasures group trip, which took place from March 19 to 30, was sold out in less than 48 hours with 24 passengers who said they needed "to escape and try bringing some normalcy back into their lives."
We ended up with fewer travelers due to various life and medical issues prior to departure; however, our adventure began in style on a chartered bus from Solvang to LAX while sipping mimosas and eating Olsen's Danish pastry.
Our 12 1/2 hour flight on Lufthansa Airlines via Frankfurt to Milan was a little challenging with masks being required by the airlines, but we all survived. We were picked up at the Milan airport by Collette Tours and driven to Stresa in the Italian Lake region and our beautiful five-star hotel on Lake Maggiore.
The hotel was glorious, complete with massive hanging Venetian Murano glass chandeliers and Hemingway's quaint bar overlooking the lake.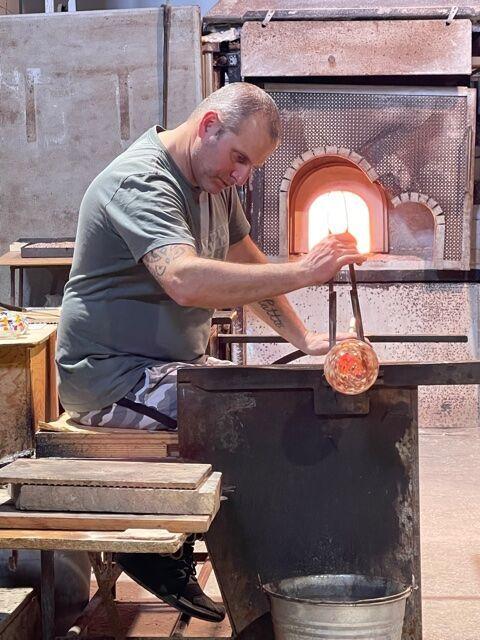 We met our Collette Tour manager Elena Delzanno upon arrival at our hotel and we all fell madly in love with her. She was an excellent guide and tour manager all throughout our trip, babysitting us, shopping with us, finding gelato eateries several times a day, and catering to our every need and whim. She definitely was a keeper and we serenaded her at several dinners with our Danish Skål song which she actually learned by the third night.
Elena was so knowledgeable about so many things and Italy, and she truly enjoyed my group which I so appreciated. I know our paths will cross again with Collette and I can't wait for that to happen. I'm hopeful she will come visit us all here in Solvang sometime in the future. 
After settling into our stunning hotel, we visited a wine and food mercantile and enjoyed wine and food pairings and later cruised across the serene lake to Isola dei Pescatori, the most picturesque of the Borromean Islands, for a lovely group welcome dinner. The restaurant was charming, and as the only guests there, the service was excellent. Our dinner was delicious and a wonderful introduction to Italian foods and wine.
The following morning, adventure was a visit to an ancient village nestled in the mountains close to Stresa. We sampled all of the locals' own artisanal cheeses paired with the region's best wines, and then enjoyed an afternoon scenic lake cruise. Each day included at least one stop for several scoops of different flavored Italian gelato which is absolutely the best. Gelato combined with the most delicious pastas and pizzas certainly doesn't help one's waistline.
One of the highlights of the trip for me was visiting Cinque Terre, a UNESCO site which consists of five medieval villages perched on the edge of the sea along the Italian Riviera. The villages are Monterosso, Vernazza, Corniglia, Manarola and Riomaggiore.
There are hiking trails that connect the five villages as well as a train service and ferry schedules. We visited only two of the villages by rail and took the most beautiful, scenic pictures and enjoyed a scrumptious seafood lunch overlooking the ocean.
We also enjoyed meeting a Danish couple during our lunch who had been to Solvang several times. This always seems to happen on each and every trip, reminding me that this really is a small world and that Solvang and the Santa Ynez Valley are positioned as premier travel destinations.
We visited the medieval city of Lucca, which is encircled by 16th century Renaissance walls, and loved the Old World ambience it offered. We ended our day in Tuscany at the spectacular Villa Lecchi, where we enjoyed a four-night stay with the Ragazzo family who owns and works the villa as a total labor of love. The villa has been in the family for three generations; and the father, seeing the beauty and potential of the property, purchased the two-story villa without a roof or flooring intact on the second floor.
Upon arrival, we were invited to meet on the patio for some wine and appetizers, then walked around the corner of the villa to experience a spectacular view. Tears just started flowing down my cheeks and I realized how desperately I needed travel and people again to fulfill my life.
"Mom" Ragazzo and her son, Giacomo, with his girlfriend, and Mom's sister, treated us to the most wonderful storytelling, foods, wines, service and friendship over the next four nights. It was a wonderful experience at the villa in Tuscany that was complete with a surprise birthday party on the patio for Mike Nedegaard.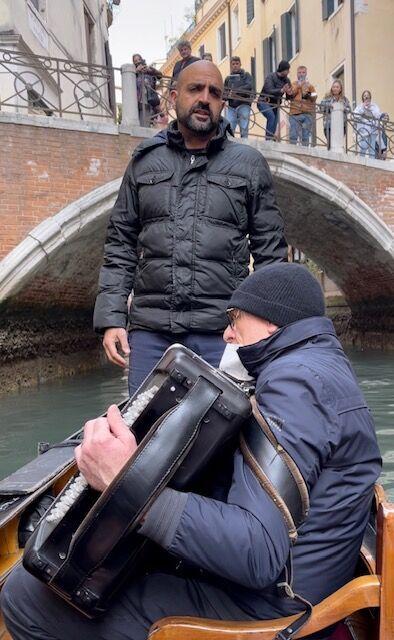 From our villa in Tuscany, we took short day excursions to Florence, the birthplace of the Renaissance and the home of Galileo, Botticelli and Da Vinci, and the Medici family who ruled Florence and Tuscany from 1434 to 1737. We had a walking tour of Florence's treasures and monuments and stood on the Ponte Vecchio (Old Bridge), which was the only Florentine bridge to survive World War II. We enjoyed free time for lunch, shopping and, of course, gelato!
Arriving at the villa after a full day of adventures, we all freshened up for wine and cocktails on the patio overlooking Tuscany and all of the beautiful vineyards. We started a rousing game of LRC — which is a dice game I always travel with that incorporates gambling with $1 bills. There were three games with six players and three different winners with an $18 pot. Of course, we showed our guide Elena how to play — she won and was very excited about that! I gave her an extra game of LRC that I always travel to play with for future groups.
After gambling and having wine and some cocktails, we had a scrumptious dinner which was prepared by Mom, her sister and Giacomo. I think we all would have been happy and content just staying at the villa.
The next morning, we traveled a short distance and toured the UNESCO World Heritage site of Siena. A guide toured us through the medieval streets and a beautiful Gothic cathedral where we saw masterpieces by Pisano, Donatello and Michelangelo.
Our hosts at the villa made delicious pizzas for us that night served with a fresh salad from their garden, dessert and delicious Chianti wine from their vineyard.
Our next adventure was to the beautiful area of San Gimignano which is nicknamed the "Manhattan of the Middle Ages." We wandered cobblestone streets and enjoyed the iconic Tuscan hilltop village with its 14 soaring towers that stand out against the rolling hills. Villa IL Leccio, a family-owned estate and vineyard, greeted us in the early afternoon with wine tasting and appetizers, followed by a cooking lesson and lunch prepared with Italian food that we made from scratch.
Chef Giada guided us through the cooking steps for Pollo al Chianti (Chianti wine chicken) — which was utterly fantastic — and homemade gnocchi with pomarola sauce and cantucci, a small almond cookie for dessert. It was a wonderful experience and all the recipes were sent home with us to try again at a later date. I dare say there will be a lot more flour everywhere without Chef Giada guiding us through all the steps.
The following day took us to Bologna, Italy's food capital and renaissance city. We toured, shopped and ate, of course, before heading to our final destination: Venice, the "Queen of the Adriatic," for our last two nights before heading home.
Venezia is the floating city and home to lavish art collections, wonders of architecture, and where marbled palaces tower over gondola-laden canals. There are no cars in Venice but a maze of canals and gondolas, or water taxis, for your mode of transportation. It is romantic, fun and very unique to glide through the canals in a gondola with an opera singer bellowing songs as you cruise along, looking at the cultural and historic sites.
We traveled by boat to Murano for an expert glass-blowing demonstration before visiting the iconic St. Mark's Square, the Bridge of Sighs, the Clock Tower and St. Marks' Basilica. Getting lost in Venice is almost certain with all the tiny alleyways and canals. Fortunately, every street has several gelato shops, so at least that took our minds off of being lost!
Our last morning in Venice was bittersweet as we traveled by water taxi to the airport from our hotel canal at 3:30 a.m. Two wooden water taxis shuttled us in the dark with all of our suitcases and newly purchased items. After 20 minutes in the open harbor, we docked at the airport pier and made our way to Lufthansa for our long journey via Frankfurt home to LAX.
It was a long day of uneventful travel after almost 13 hours of flying time. Upon arriving in LAX, we were met by our chartered bus and taken home to our beautiful Solvang and Santa Ynez Valley. Italy's treasures proved to be just that — a treasure trove of rich cultural experiences and adventures shared with a group of friends and neighbors that I love.
Arrivederci, Elena and Italy; until we meet again!