WASHINGTON — Bernie Sanders endorsed his former rival Joe Biden for president on Monday in a joint online appearance.
"I am asking all Americans, I'm asking every Democrat, I'm asking every independent, I'm asking a lot of Republicans, to come together in this campaign to support your candidacy, which I endorse," Sanders said in a virtual event with Biden.
The backing is a crucial development for Biden, who must bridge the Democratic Party's ideological divide to unify voters against President Donald Trump in the fall.
Biden and Sanders, a leading progressive, clashed throughout the primary over policy issues such as the "Medicare for All" universal health care plan.
The endorsement stands in contrast to the extended 2016 fight between Sanders and Hillary Clinton, who became the nominee that year. Sanders endorsed Clinton, but only after the end of a drawn-out nominating fight and amid a bitter fight over the Democratic platform that extended to the summer convention.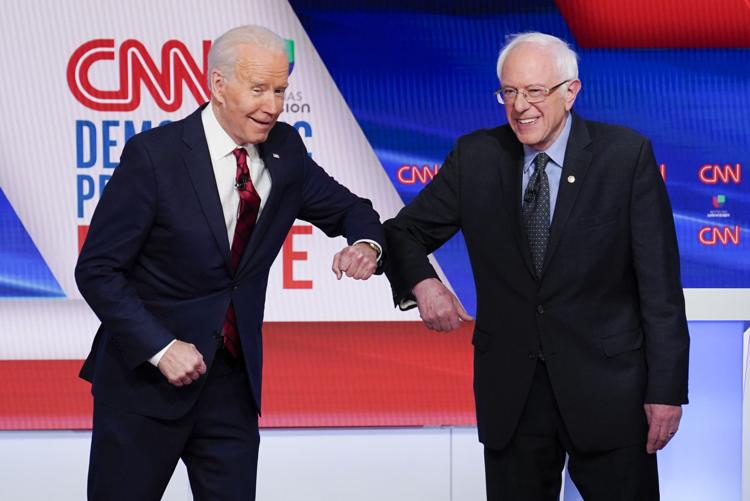 The coronavirus prevented Biden and Sanders from appearing together in person on Monday. But they made clear they would continue working together, announcing the formation of six "task forces" made up of representatives from both campaigns to work on policy agreements addressing issues including the economy, education, criminal justice and immigration.
Biden, 77, has already made some overtures to progressives by embracing aspects of Sanders' and Sen. Elizabeth Warren's policies, like much of Sanders' student debt forgiveness proposal and Warren's bankruptcy plan. He also backed Warren's bankruptcy plan.
Sanders, 78, is sure to remain a force throughout the campaign. When he ended his candidacy last week, he said he would keep his name on the ballot in states that have not yet voted in order to collect more delegates that could be used to influence the party's platform. He didn't say Monday whether he would continue to fight for those delegates.
Still, Sanders and Biden emphasized their mutual respect for each other on Monday.
Sanders referred to the former vice president as "Joe." Biden answered him repeatedly as "pal." The two men asked the other to give regards to their wives, Jill Biden and Jane Sanders.
Appearing in a split screen with Biden, Sanders said there's "no great secret out there that you and I have our differences."
But he cited ongoing work between the two camps on several policy matters as a reason for the endorsement. And he said the biggest priority was defeating Trump.
"We've got to make Trump a one-term president," Sanders said. "I will do all that I can to make that happen."
Get Government & Politics updates in your inbox!
Stay up-to-date on the latest in local and national government and political topics with our newsletter.