CLAIM: Video shows British Labour Party's Brexit minister stumped on question about EU deal.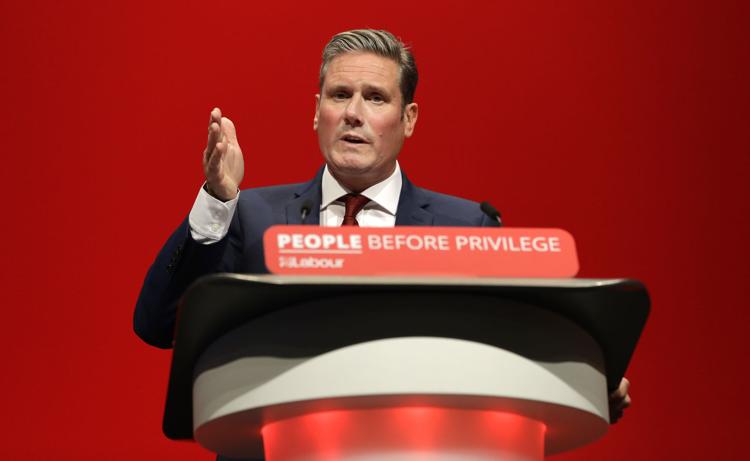 THE FACTS: The false claim that Labour Party spokesman Keir Starmer was too stumped to answer the question was based on intentionally altered video footage that British Prime Minister Boris Johnson's Conservative Party posted on social media on Nov. 5. In the video, the host of "Good Morning Britain," Piers Morgan, asks Starmer, "Why would the EU give you a good deal if they know you're going to actively campaign against it?" Starmer's response to this was deliberately edited at that point to show him staring blankly and blinking as though he didn't have an answer, with "Labour has no plan for Brexit" plastered on the screen in bright red letters.
In the actual interview, Starmer answered Morgan's question immediately, saying, "Well, Piers, I have been talking to the EU, to political leaders across the EU, to 27 countries, for three years. And I know very well what the parameters are of any deal that they would do with a Labour government." The full interview was published to YouTube on Nov. 5.
The Conservatives posted the altered version of the video to Twitter and their official Facebook page. On Facebook alone, the misleading post had more than 300,000 views and 8,000 shares as of Nov. 8. "WATCH: Jeremy Corbyn's Brexit Minister can't or won't answer a simple question about Labour's position on Brexit," the post is captioned. The Conservatives were criticized for posting the doctored video.
In an interview with the BBC on Wednesday, Conservative Party chair James Cleverly said the video was meant to be "satirical." "What we also did, and this is not unique to us, is we did a lighthearted satirical video, obviously so with a comedy soundtrack, highlighting the Labour Party's chaotic position on Brexit," he said. When he was asked whether his party had "posted a lie" online, he responded: "I disagree with your assessment of it." The Conservative Party's press office also linked to the full YouTube video of the interview in a Nov. 5 tweet that said, "Believe it or not, this car crash interview did really take place." Morgan offered his assessment in a tweet of his own: "You doctored the end of the clip you originally put out, to make it look like @Keir_Starmer had no answer to my question. In fact he answered immediately. You could have had plenty of fun with that interview anyway - why fake it?"
You doctored the end of the clip you originally put out, to make it look like @Keir_Starmer had no answer to my question. In fact he answered immediately. You could have had plenty of fun with that interview anyway - why fake it? https://t.co/nskZ0hgnyc

— Piers Morgan (@piersmorgan) November 5, 2019