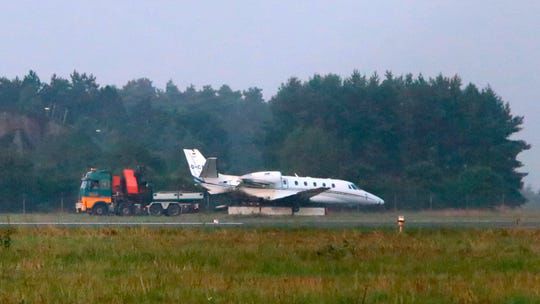 A private Cessna airplane carrying the management team of local singer, P!nk, reportedly burst into flames while landing at Aarhus Airport in Tirstrup Denmark early Tuesday morning, Aug. 6., according to Eastern Jutland Police. 
The singer was not aboard the plane and no persons were injured.
Eastern Jutland Police Media Advisor Janni Lundager reported that local emergency response was called to Aarhus Airport when the Cessna airplane crashed upon landing, which caused it to burst into flames.
The 10 people aboard the plane which included seven passengers and three crew members were unharmed.
P!nk's promoter in Norway, Kristin Svendsen, reportedly told the Norwegian newspaper VG, that the star was not on board but her manager and other members on the tour were. 
Lundager's report states that the fire department extinguished the flames, and all 10 people were taken to a nearby hotel for the night. 
The plane was a German registered Cessna 560XL which arrived from Oslo, Norway and was scheduled to land at Aarhus Airport.
The accident was reported to the Ministry of Foreign Affairs, the report states, and each passenger's respective embassy were contacted.
The incident is under investigation by the Accident Investigation Board Denmark.