After Albert Licerio learned Tuesday that he could reopen Old Orcutt Barber Shop, he received a flood of calls from clients asking to schedule much-needed appointments. 
Licerio and other local hairstylists received the go-ahead to open their shops in Santa Barbara County after Gov. Gavin Newsom granted permission to certain personal care salons in counties that have met state requirements. 
"As we were doing the cleanup here and getting everything ready [Tuesday], I got a call from my attorney that, 'Yes, we're reopening,'" Licerio said. "That was at noon, and I started getting calls at 2:10. There were 60 messages from people." 
Licerio talked to his staff and decided to open Wednesday since they can meet sanitation, social distancing and mask-wearing requirements. 
Under the county's public health order, customers and employees are required to wear masks throughout the duration of their service. 
"The mask orders are not too bad," Licerio said. "We're not doing any real face services, no beard shaves or anything like that. It's another obstacle we'll get by."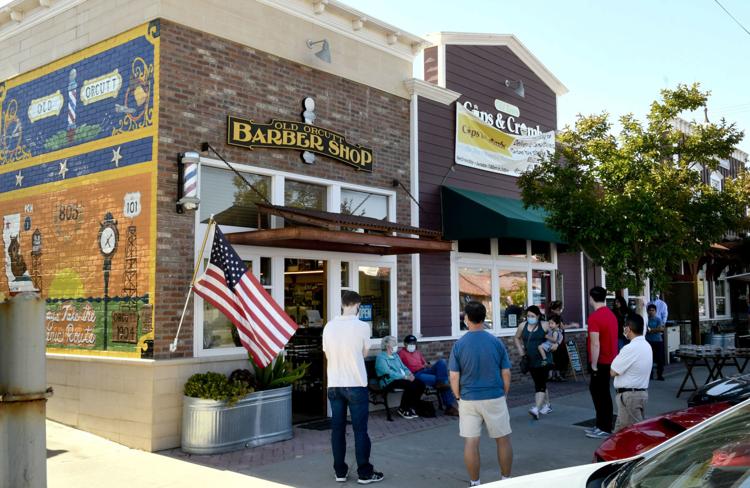 Clients lined up outside the barbershop Wednesday said they were happy to see it open again. 
Resident Jerry Walsh said he has been a client of the salon for 20 years and was eager to get a haircut.
"I don't have a lot of hair, but it still grows," he said.
For Orcutt residents Dinah and Charles Jordan, Wednesday was their first time visiting Old Orcutt Barber Shop, and they said they would like to come again.
They added that wearing masks while visiting businesses is a good idea to prevent the spread of the coronavirus. 
"I think everyone should wear a mask," Dinah said. 
Preparing to reopen 
Other hair salons in the county are taking more time to prepare before reopening to ensure safety for both clients and employees.
However, stylists say they are still fielding multiple calls from eager clients in the meantime. 
"I have 73 clients on my phone that I need to get back to," said Melissa Wisz, owner of Salon Renew in Orcutt. "I'm trying to be patient and not to be overwhelmed. My clients say, 'Do whatever you need to get us on your books.'"
Wisz and her husband will reopen the salon June 1 and on Wednesday took time to sanitize the space and prepare with their staff.
She said her staff is "blessed," since their stations are separated into their own compartments, allowing for appropriate social distancing. 
For Kristi Nickason, owner of Pink Blossom Salon in Santa Maria, accommodating social distancing will require them to limit the number of clients they can have once they open June 9.
"We have four double-sided stations, which makes eight stations. It's 6 feet apart with one station in between," Nickason said.
She added that in order to prevent gatherings, the salon will stop using its break room for employees and will remove the coffee station and waiting room space for clients.
In order to help clients feel comfortable coming into the salon, Nickason said cleaned tools will be provided for each individual client and kept in a sealed bag until their appointment. 
"It will make our clients comfortable," she said. "Some of them are just tiptoeing into the water of even going into the salon, so that would be something to give them some peace of mind."
Trained to sanitize
Nickason highlighted the fact that hair stylists and cosmetologists are trained in sanitation when in school, and that gives her confidence salons will be able to meet the safety requirements mandated by the county. 
"A lot of stuff [the county] didn't realize with hairstylists and cosmetologists is that we basically went to school for sanitation. Our job is to keep people safe," Nickason said. 
Misz echoed the sentiment, saying salons and barbershops are more prepared than most places to ensure cleanliness. 
"The thing that was difficult to [deal with] is that we're trained on sanitation. We're cleaner than anywhere," she said. 
Laura Place covers city government for the Santa Maria Times.
Concerned about COVID-19?
Sign up now to get the most recent coronavirus headlines and other important local and national news sent to your email inbox daily.