Old foes met for the second time in their new league Tuesday afternoon when the Lompoc Braves (3-6, 2-4 Channel League) visited the Santa Ynez Pirates (7-3-1, 4-2) for a Channel League baseball game.
As with the first game, on Feb. 22, this one was a one-run affair but this time the Pirates emerged with a 3-2 victory — avenging their earlier 2-1 loss.
"We call that a Santa Ynez blowout," said Santa Ynez head coach Warren Dickey. "Runs are tough to come by in this league."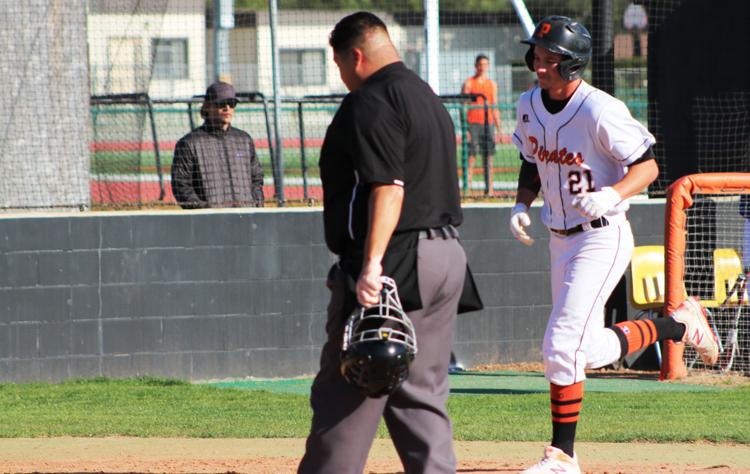 "Every game in this league has been close. They're all low-scoring games, every one of them," said Lompoc head coach Brian Aguailar. "Today was just another example — good pitching, tight defense."
The pitchers were just plain tough.
Santa Ynez's Victor Heredia went the distance, giving up two runs on four hits while racking up six strikeouts without giving up a walk.
"Lompoc is a tough team. They really battle hard," said Heredia. "They put the ball in play a lot but I just trust my defense and they came through today."
"Vic has really stepped his game up," said Dickey. "He pitched a great game today."
Lompoc used two pitchers; Dylon Bailey handled the first three innings giving up the Pirates' first two runs on three hits, five walks and three strikeouts and then Nick Ahedo came on for the final three, yielding one run on three hits with two walks and one strikeout.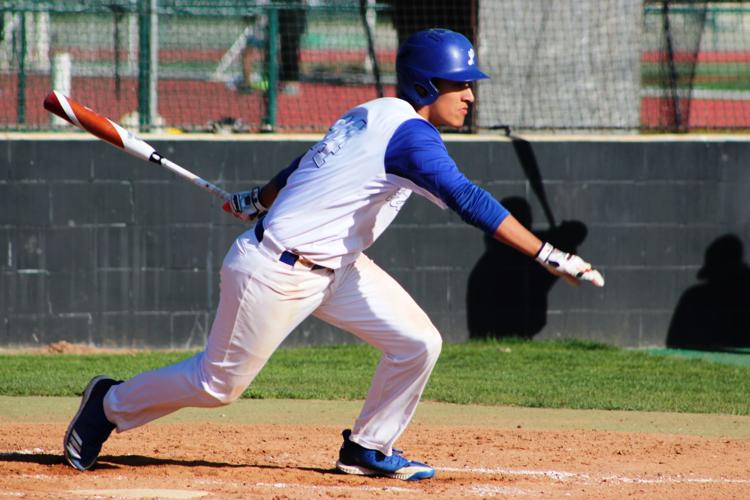 While the hits were hard to come by, the Pirates' Casey Hickman made the most of his lone hit, a powerful solo home run over the left field fence leading off the bottom of third inning.
Lompoc's Kalub Ramirez had the Braves' only extra base hit, a double leading off the top of the fourth.
A wild half inning by Bailey helped the Pirates to a 1-0 lead in the second.
Santa Ynez's Merek Mercado led off with a walk and advanced to second base on Dante Berouty's sacrifice bunt.
With two outs, Logan Ast singled with Mercado moving over to third.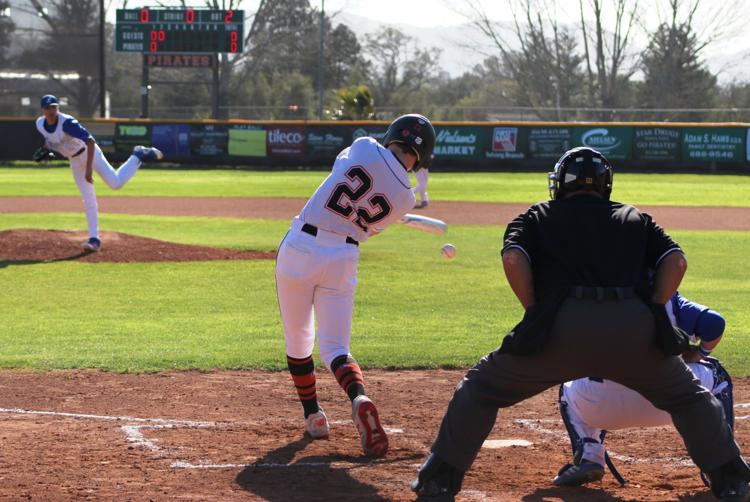 Heredia walked, loading the bases, and Justin Koslosky walked, scoring Mercado.
Hickman made it 2-0 with his third inning homer.
"The ball was a little inside so I was going to turn on it," said Hickman. "Once I hit the ball, I knew it was gone."
Lompoc got both runs back in the top of the fourth.
Ramirez led off with his double, went to third when Oscar Rojas got aboard on an error, and scored the Braves' first run on Isaiah Hernandez's sacrifice bunt.
Rojas then scored on Sean Moua's single to left.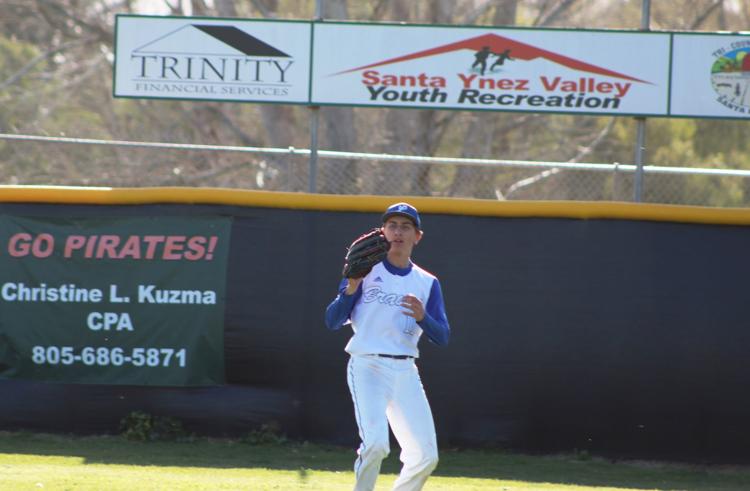 With one strike on Nick Ahedo, Moua took a big lead, too big, off first base.
Berouty, Santa Ynez's catcher, saw the big gap, took the pitch from Heredia, rifled the ball to first baseman Ben Perez and caught Moua in no-man's land. Moua took off for second but was caught sliding into second by Pirates' shortstop Cole Knightley.
Ahedo then hit a shot to deep first base. Perez caught the ball and threw to Heredia covering first to end the threat.
Santa Ynez threatened in the bottom of the fourth but Lompoc's defense bailed the team out.
With one out, Heredia was hit by a pitch and Koslosky singled.
Lompoc's defense then turned a gem of a 6-4-3 double play — Hernandez to Moua to Rojas — to end the threat.
Another walk came back to haunt Lompoc in the fifth.
Hickman led off with a walk and went to second on Mason Young's sacrifice bunt.
Mercado got aboard on an error that scored Hickman for a 3-2 lead.
Berouty got on board on another error but Lompoc's defense turned another 6-4-3 double play to get out of the jam.
"Casey is just a class act and he played a great game today," said Dickey. "He hit that home run but that walk in the fifth turned out to be the game winner."
"We just gave them too much free stuff, that's the story for today. Too many walks, too many errors — too many free bases," said Aguailar. "But Kaleb, Oscar, Isaiah and Sean all played really well today. They got us back in the game."
Santa Ynez's then stepped up, killing a potential sixth-inning Lompoc rally with its own double play.
Ramirez was hit by a pitch to start the inning but was erased when Rojas hit a rocket to short. Knightly caught the ball and sent it over to first, completing the double play before Ramirez could get back to the bag.
Hernandez and Moua both got on base on errors, trying to get the Braves' offense back on track, but a ground ball to second baseman Mason Young ended Lompoc's final scoring threat.
The teams meet again on Friday at Lompoc High.