The Santa Ynez Pirates dropped a 46-35 non-league decision to the Cate Rams last Wednesday night in Carpinteria.
"It was a good test for us, playing on the road against a team that's ranked in our division," said Santa Ynez head coach Ray Vazquez in a telephone interview after the game.
The Pirates led 22-19 at the half but the Rams turned things around in the third quarter, outscoring the Pirates 17-8.
"Things got a little chippy in the third quarter and we struggled with our response to that," said Vazquez. "We had our opportunities. We just missed some wide-open looks."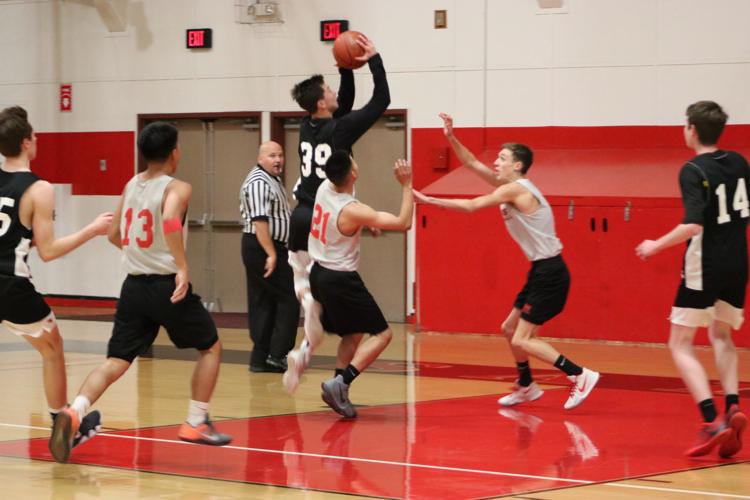 Nate Rogers led Santa Ynez with 11 points.
"All three of our point guards — Nate, Landon Lassahn and Scotty Bunch — did a good job of running our offense," said Vazquez.
Siggy Porter added seven points and Tyler Rasmussen had eight points and four blocked shots.
"Tyler is looking better every time out. He'll be ready for league play," said Vazquez.
Santa Ynez (4-8) is off until after Christmas when they'll play at the Santa Maria Tournament beginning Dec. 26.
"Those three game at the Santa Maria Tournament (against Santa Maria, Lindsay and Taft) are really big for us," said Vazquez. "They give us the chance to improve even more before we open Channel League play (at home) against defending league champion Santa Barbara on Tuesday, Jan. 7.
Girls Soccer
Santa Ynez 5, Laguna Blanca 0
Neta Ofiaeli scored four goals and Peyton Lishman one in the Pirates shutout of the Laguna Blanca Owls at home.
Goal keepers Brookelyn Fletcher (first half) and Callie Grieco (second) shared the shutout.
"The defense led by Olivia Torres completely shut down Laguna Blanca," Santa Ynez coach Rob Cantrell said in the telephone interview after the game. "Laguna Blanca didn't get one shot on goal in the game."
Lishman also assisted one of Ofiaeli's goals. Amelia Villa assisted on two goals and Jazz Felley had one assist.
Santa Ynez heads to Tustin Saturday for the semifinals of the Best of the West Tournament.
The first two games of the tournament were played last Saturday.
"Neta also had four goals in our 5-1 victory over Lakewood in the first game at the Best of the West and then scored one of our two goals in our 2-0 victory over Tustin," said Cantrell.
Santa Ynez faces Valley Christian of Cerritos Saturday at 11 a.m. in the semifinals. A second game, either the championship or third place game, will be played later Saturday afternoon.
Boys Soccer
Santa Ynez 2, Laguna Blanca 2
The Santa Ynez Pirates battle to a tie at Santa Barbara's Laguna Blanca last Thursday afternoon.
Erik Guerrero and Leo Valencia each scored a goal for the Pirates.
Pirates Youth Baseball Camp
The Santa Ynez High School coaches and players will be holding a youth baseball camp on Saturday, Jan. 11, 2020, at the high school's baseball field.
The camp is for players ages 6 to 13 and runs from 9 a.m. until 1 p.m.
Registration begins at 8:30 a.m.
The camp will teach basic fundamentals including the mechanics of hitting, fielding and base running.
Contact head coach Warren Dickey to reserve a spot at wdickey@syvuhsd.org. Checks should be made payable to SYVUHSD Baseball Boosters.
Elliott Stern Fave 5 Collection
2020 is here, and wow we are already almost through January?!? In this collection reporter Elliott Stern chooses the top five stories that he wrote in 2019. Follow more of his work on SantaMariaTimes.com, and sign up for a News+ membership to support the work of local journalists in your community.
Get in the game with our Prep Sports Newsletter
Sent weekly directly to your inbox!