Eight Santa Ynez High School football players were named to Lee Central Coast Newspapers' All-Area Team for the 2018 season.
Santa Ynez junior Tyler Germani earned one of the top individual honors, being named the co-Defensive Lineman of the Year.
The sports staff at Lee Central Coast Newspapers, which covers prep sports in Arroyo Grande, Nipomo, Santa Maria, Lompoc and Santa Ynez, votes on the All-Area team after every football season.  
Germani, a junior, had 38 tackles and 11 1/2 tackles-for-loss. He led the Pirates with 8 1/2 sacks. Germani split the Defensive Lineman of the Year honor with Nipomo's Carmelo Hernandez, a senior who had 61 total tackles and 10 tackles-for-loss with a team-high seven sacks. 
Five Pirates earned All-Area First Team honors as Santa Ynez finished 6-5 on the season and advanced to the CIF Southern Section playoffs for the first time since 2013. From 2015 through the 2017 season, Santa Ynez went a combined 23-7 and wasn't able to land a CIF playoff appearance. 
With the ending of the Los Padres League, the Pirates moved to the Channel League and finished 3-2 in league play, good for a three-way tie for second and a spot in the CIF-SS Division 7 playoffs. The Pirates lost to top-seeded Northview in the first round. 
Santa Ynez senior Jasper Kadlec landed All-Area First Team honors. Kadlec was named to the All-Area Second Team the previous two seasons, as a defensive back as a junior and receiver as a sophomore. 
Kadlec hauled in 10 touchdown passes last season. He finished his Santa Ynez career with 22 touchdown catches and caught 107 passes for 1,766 yards in his three-year varsity career. He also rushed for 215 yards and three scores. On defense, he made 63 total tackles, had 3 1/2 sacks and intercepted a pass. 
Santa Ynez senior Cash Transeth is a First Team running back. Transeth rushed for 22 touchdowns in his career. As a senior, he fought through injuries, playing in 10 games, and totaled 900 rushing yards and 11 touchdowns. Transeth carried the ball 149 times last season, averaging six yards per rush. He also caught two touchdown passes in his three-year varsity career and only fumbled twice despite touching the ball over 300 times.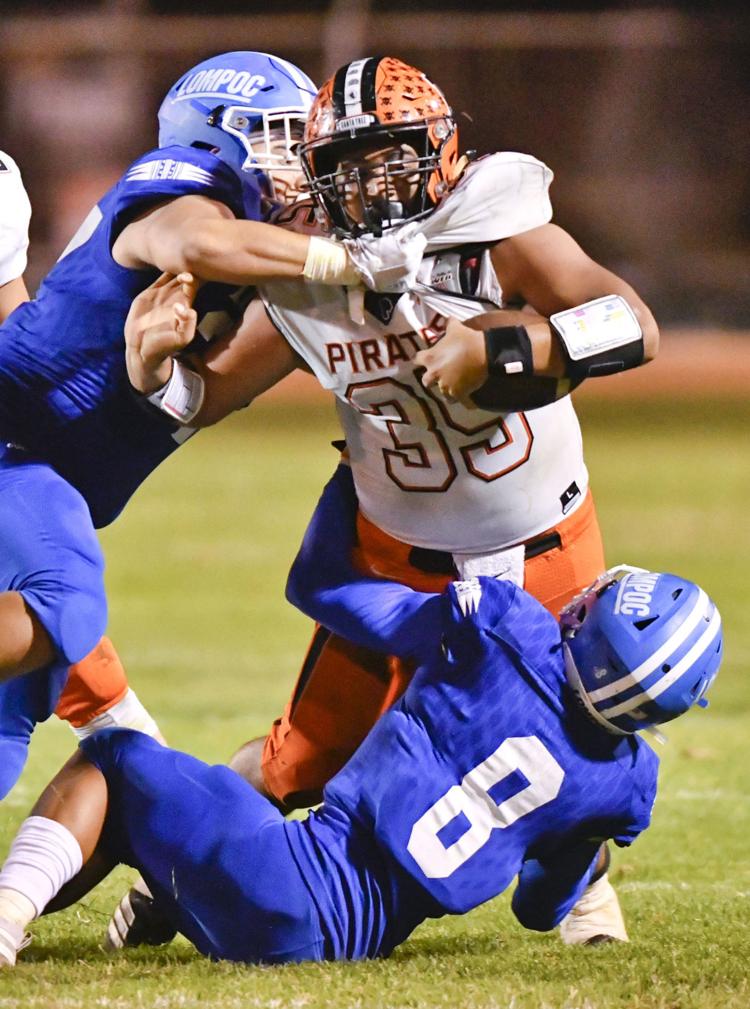 Juan Sanchez is the First Team co-All-Purpose Player. Sanchez did a little bit of everything for the Pirates in 2018, filling in at quarterback, being the Pirates' primary punter and playing high-level defense in the trenches.
Sanchez threw for 280 yards, two touchdowns and an interception. He also ran 27 times for 87 yards and a score while catching three passes for 44 yards.
On defense, Sanchez totaled 51 tackles (33 solo) with 7 1/2 tackles-for-loss, a pass breakup, a fumble recovery and a blocked field goal. He was also Santa Ynez's punter, kicking the ball away 54 times for 1,873 yards and 13 punts downed inside the 20. 
Moving to defenese, Alex Lammers is a First Team linebacker. Lammers led the Pirates with 84 total tackles and 17 tackles-for-loss. He had 44 solo tackles and 40 assists. On offense, the senior also caught two touchdown passes, finishing the year with eight catches for 142 yards.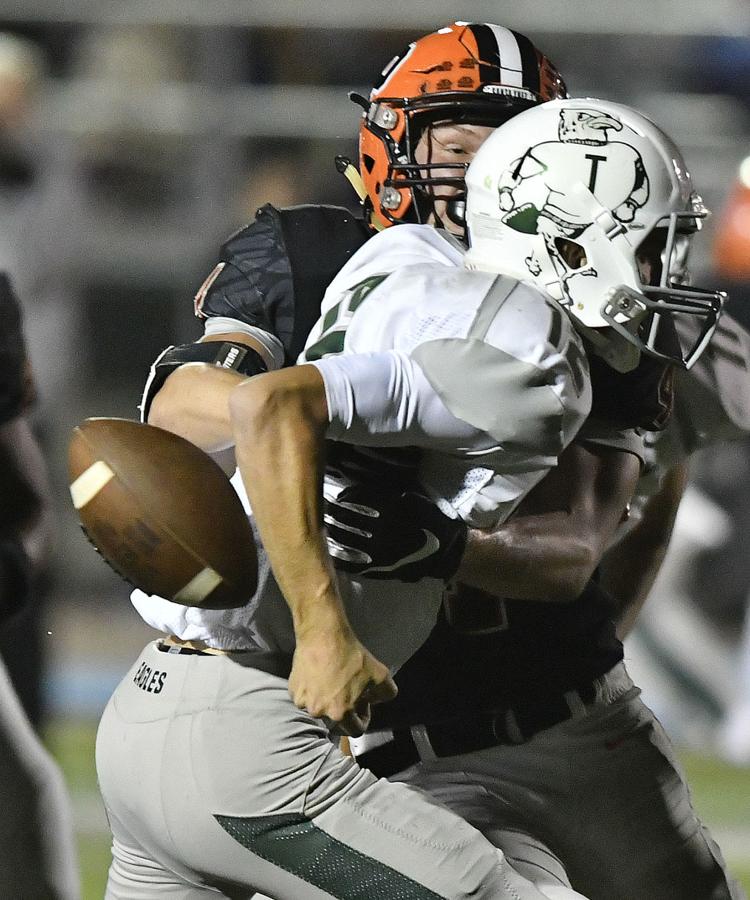 Lammers also had 5 1/2 sacks, picked off a pass and caused a fumble.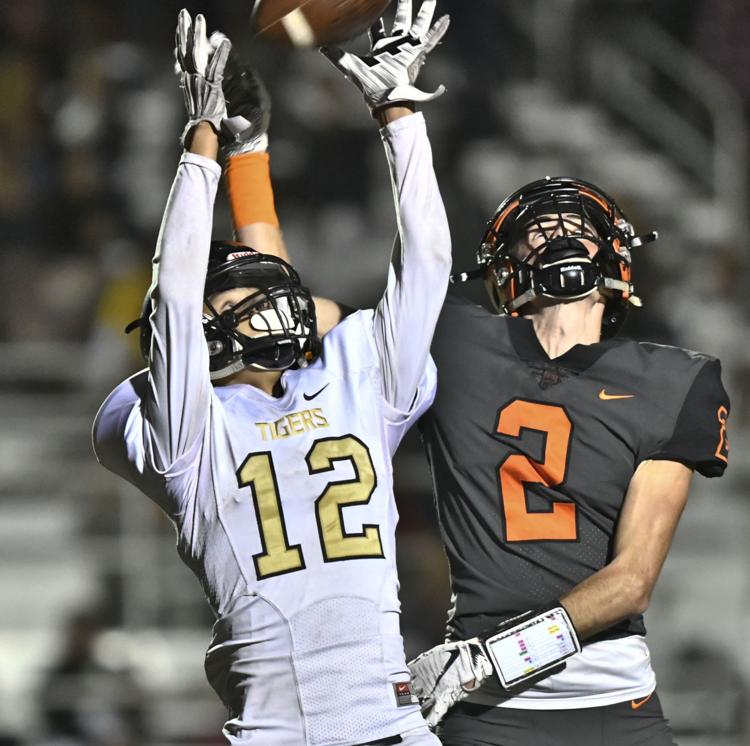 Santa Ynez's Dylan Hamilton is a First Team defensive back. Hamilton led the Pirates with five interceptions on the season. He also piled up 10 pass breakups and 46 total tackles, 31 of which were solo.
Marco Lazarit is a Second Team offensive lineman and Vinny Vacca is a Second Team linebacker. Vacca tied for second on the Pirates, along with Nathan Crandall, with 81 total tackles. Vacca had nine tackles-for-loss and 30 of his tackles were solo stops. He also had 2 1/2 sacks and three pass breakups. 
Vacca had 145 total tackles over a three-year varsity career. He also had 3 1/2 sacks and an interception in 29 varsity games played.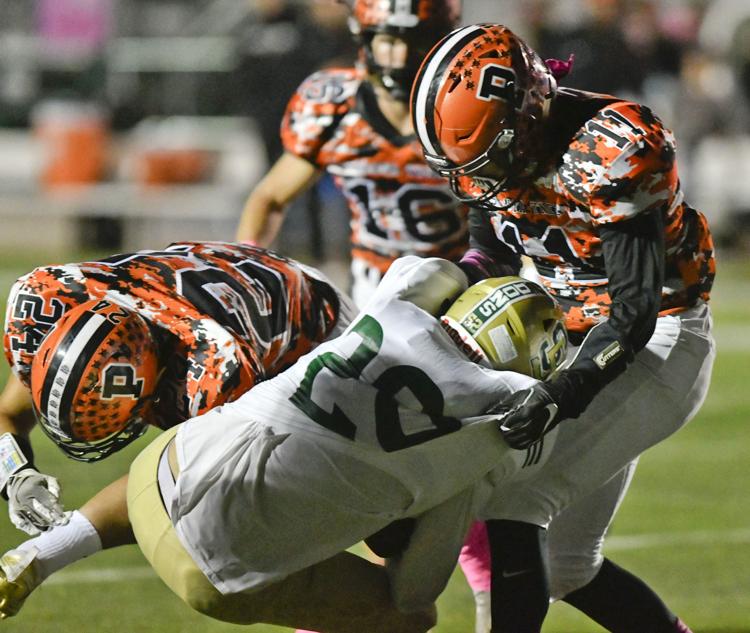 Righetti's Adan Solis, off his 1,800-yard rushing season, has been voted the All-Area Offensive Player of the Year by LCCN sports staff. 
Lompoc's Leondre Coleman is the LCCN All-Area Defensive Player of the Year. The junior had a case for All-Area MVP after playing at a high level on both offense and defense. On offense, he rushed for 980 yards and 11 touchdowns while also catching five touchdown passes.
On defense, Coleman, the younger brother of Green Bay Packers running back Lavon Coleman, piled up 60 total tackles (42 solo) and led the Braves with 9 1/2 sacks, his second straight season with 9 1/2 sacks. He had 14 tackles-for-loss.
Solis had 25 rushing touchdowns and over 1,800 yards on the ground as the Warriors finished 10-3 on the season and played in the CIF Central Section Division II title game. 
St. Joseph senior Chase Artopoeus has been voted the LCCN Offensive Back of the Year. The quarterback threw 26 touchdowns against just one interception. He completed 62 percent of his passes for 2,610 yards as the Knights won the Mountain League championship.
Artopoeus also scored five rushing touchdowns. 
Righetti junior Jake Steels is the All-Area Defensive Back of the Year. Steels intercepted seven passes for the Warriors and made 23 total tackles. 
Lompoc's Jacob Nunez, a junior, has been voted the All-Area Offensive Lineman of the Year. Nunez helped the Braves rush for 2,733 yards and 31 touchdowns on 410 carries. The Braves also added 870 yards and 14 touchdowns through the air.