Vai Taua has risen to the heights the game of football has to offer.
Taua has starred in high school and college. He's earned All-American honors and nearly etched out a career playing in the NFL. Taua is now a rising assistant coach with a Division I football program that also happens to be his alma mater. 
Before all that, though, Taua was just a kid from Lompoc -- a kid who was really good at football.
Back in 2001, Taua went by Vai Davis and played for the Vandenberg Village Titans youth football team. He and friend R.J. Davis starred on that squad. 
Taua was a prodigy, even back then. 
For instance, in a 24-16 win over the Santa Barbara Lions, Taua scored on runs of "58, 31, 26 and 15 yards," according to Alan Hunt, then Lompoc Record sports editor. 
That wasn't all, though. Taua also led the Titans with 15 tackles in that game. He eventually led that Titans team to the Super Bowl title in the Senior Division of the Coast Valleys Youth Football League, scoring the game-winning touchdown in an 8-6 overtime win over the El Rio Spartans from Oxnard. This came after the Titans had not won a game for the two seasons prior.
The following year, Taua played for the Cabrillo JV team as a freshman in 2002. He was still a prodigy. In a 31-19 win over Dos Pueblos, Taua "motored 85 yards up the middle to stretch the margin," for Cabrillo.
In 2003, Taua moved up to the Cabrillo varsity team, coached by Don Cross, joining star Lydell Sargeant. Taua was a sophomore fullback for Cabrillo. In a 28-6 win over Bishop Diego, Taua capped a 15-play, 76-yard, 9-minute drive with a 1-yard touchdown run.
That year, though, Boo Jackson and Lompoc beat Sargeant and Taua in the Big Game in a 35-3, with Lompoc finishing the regular season 8-2 and Cabrillo winding up at 4-6. 
Sargeant and Taua teamed up again in 2004 as Cabrillo went 7-4, but lost to Lompoc 42-14 in the Big Game as Lompoc finished 12-1. Sargeant had 1,771 yards rushing and Taua had 777 while also blocking for Sargeant. 
Sargeant left for Penn State in 2005 and Taua was left to take over the program. As a 5-foot-10, 225-pound senior, Taua led the Los Padres League in rushing with 1,709 yards and 30 total touchdowns. Taua finally got a win over Lompoc as the Conquistadores upset a great Lompoc team 28-18 in the Big Game, forcing a split LPL title between Cabrillo and Lompoc. 
Taua powered Cabrillo all the way to the CIF Southern Section Division X semifinals, where the Conqs lost 54-39 to Encino Crespi, the defending champion who eventually beat Lompoc 24-14 in the 2005 title game. 
"He rarely leaves the field," Don Cross once said of Taua. "It's not like he plays offense and stands around on the sidelines drinking water."
"I don't think I've reached my full potential," Taua said during his senior year of high school. He was right.
Taua also played defensive line in high school and spent much of his first two years on varsity blocking for Sargeant at fullback. Some college programs recruiting him thought he'd make a better linebacker.
"Tailback is what I want to play in college," Taua said. "It was a actually a bigger adjustment for me switching to fullback last year, but that was to block for Lydell."
Cross said after Taua's senior season: "I think he'll play running back in college. A lot of guys have asked me if he can play linebacker, and I think he can. But... he has excellent feet, and he's also faster than you'd think at 225."
Cross and Taua were both right: Taua could definitely play running back in college.
Playing at Nevada from 2007-10, Taua rushing for 4,512 yards and 53 touchdowns. He earned All-WAC honors three times and was an All-American, playing alongside future NFL quarterback Colin Kaepernick.  
After starring at Nevada, Taua went undrafted in 2011 but signed with Buffalo and was let go during pre-season cuts. He joined the Seahawks later that summer and nearly made that roster after playing well in the final pre-season game, but was eventually released by Seattle in 2011 and again in 2012. 
Shortly thereafter, Taua got into coaching. He spent a season with UCLA in 2014, working with receivers and another working with the defensive line in 2015. Taua then coached at East Los Angels College before working with the Nevada program in 2017 and 2018. He then became an assistant coach in 2019. 
Last week, Taua, 32, learned he was being enshrined in University of Nevada Athletic Hall of Fame, along with Kaepernick. 
The_Lompoc_Record_Tue__Dec_20__2005_.jpg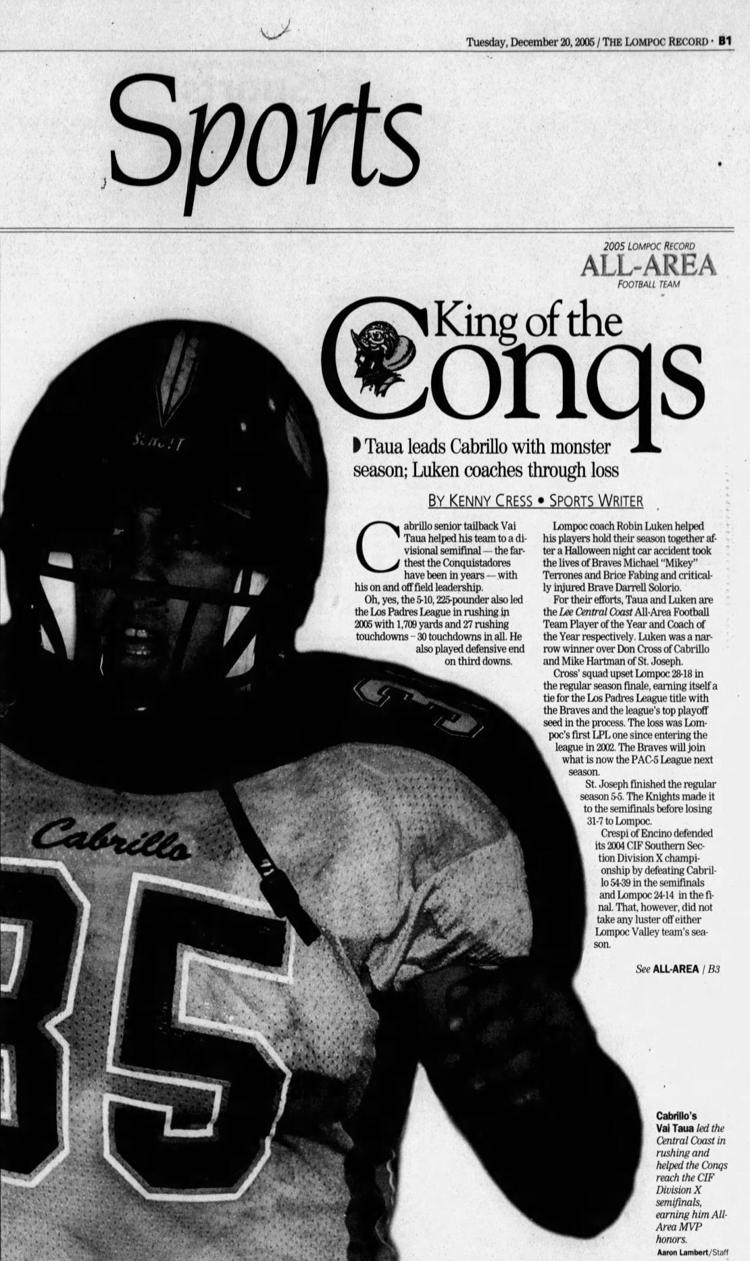 The_Lompoc_Record_Tue__Dec_20__2005_ (1).jpg

The_Lompoc_Record_Fri__Nov_14__2003_ (2).jpg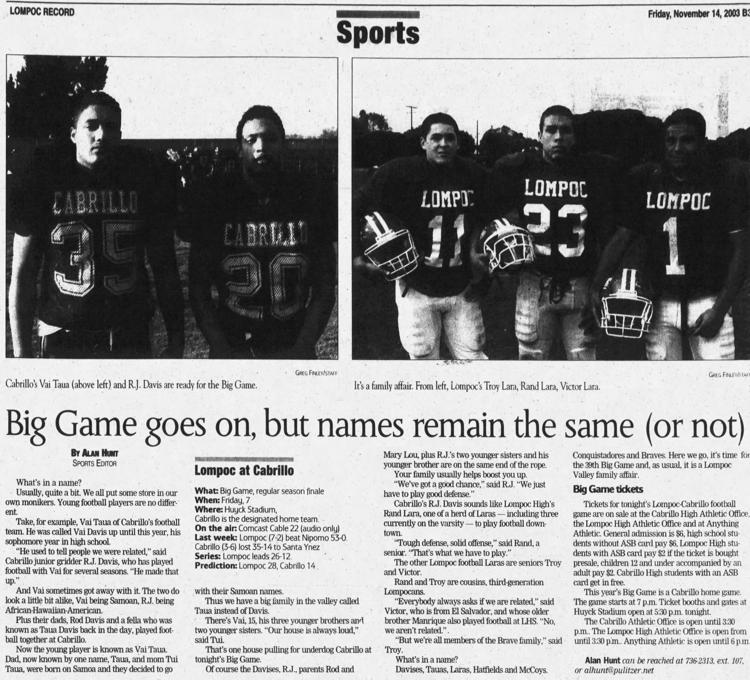 The_Lompoc_Record_Sun__Dec_4__2005_ (1).jpg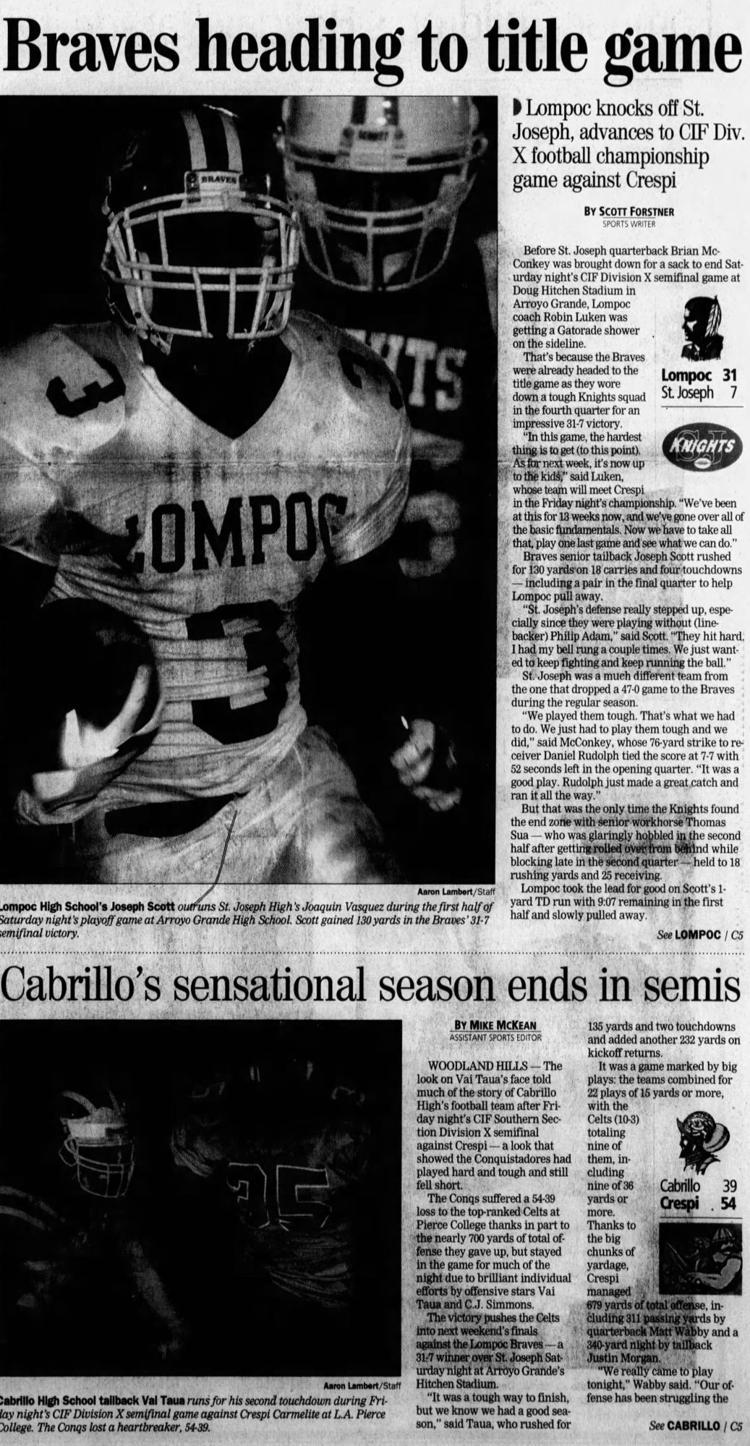 The_Lompoc_Record_Sun__Dec_4__2005_ (2).jpg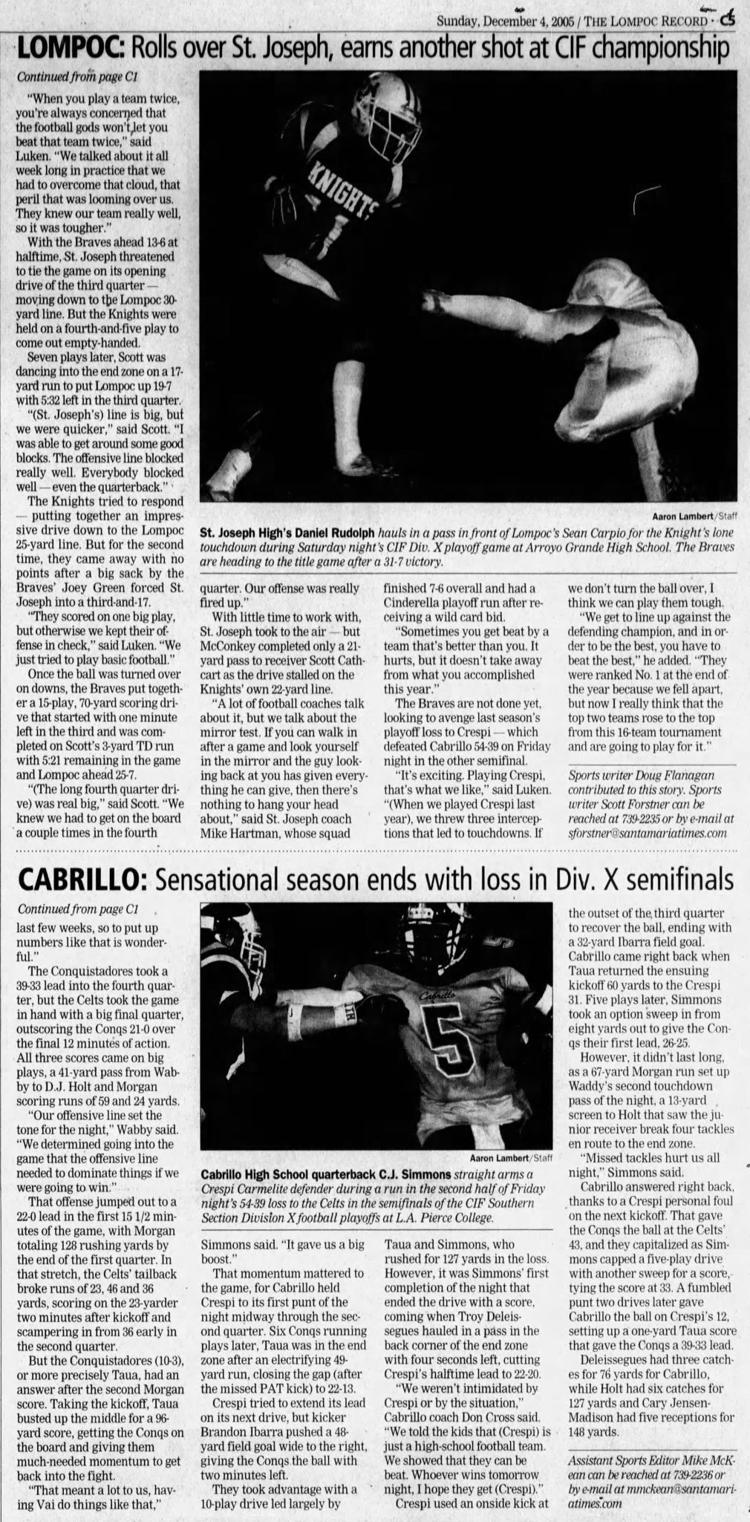 The_Lompoc_Record_Tue__Dec_13__2005_.jpg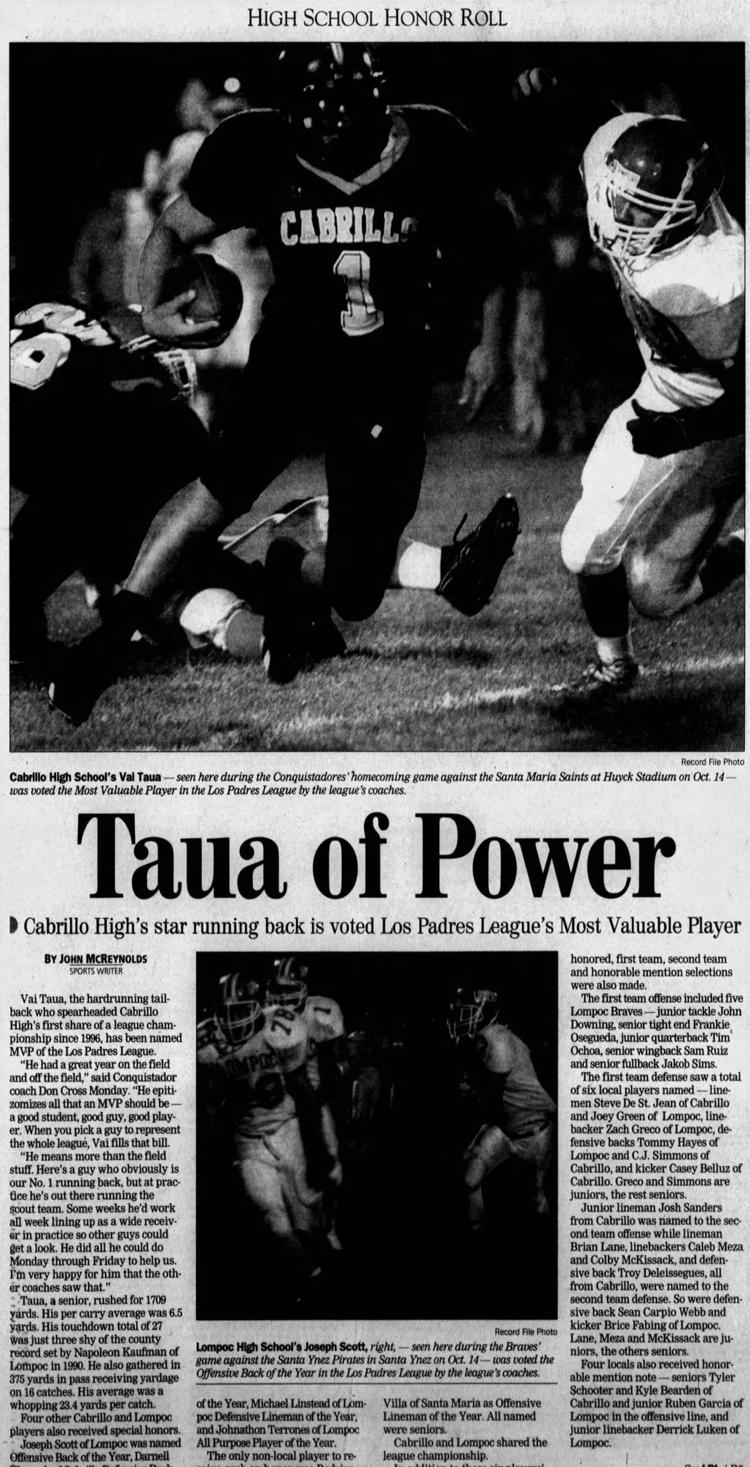 The_Lompoc_Record_Thu__Nov_18__2004_ (1).jpg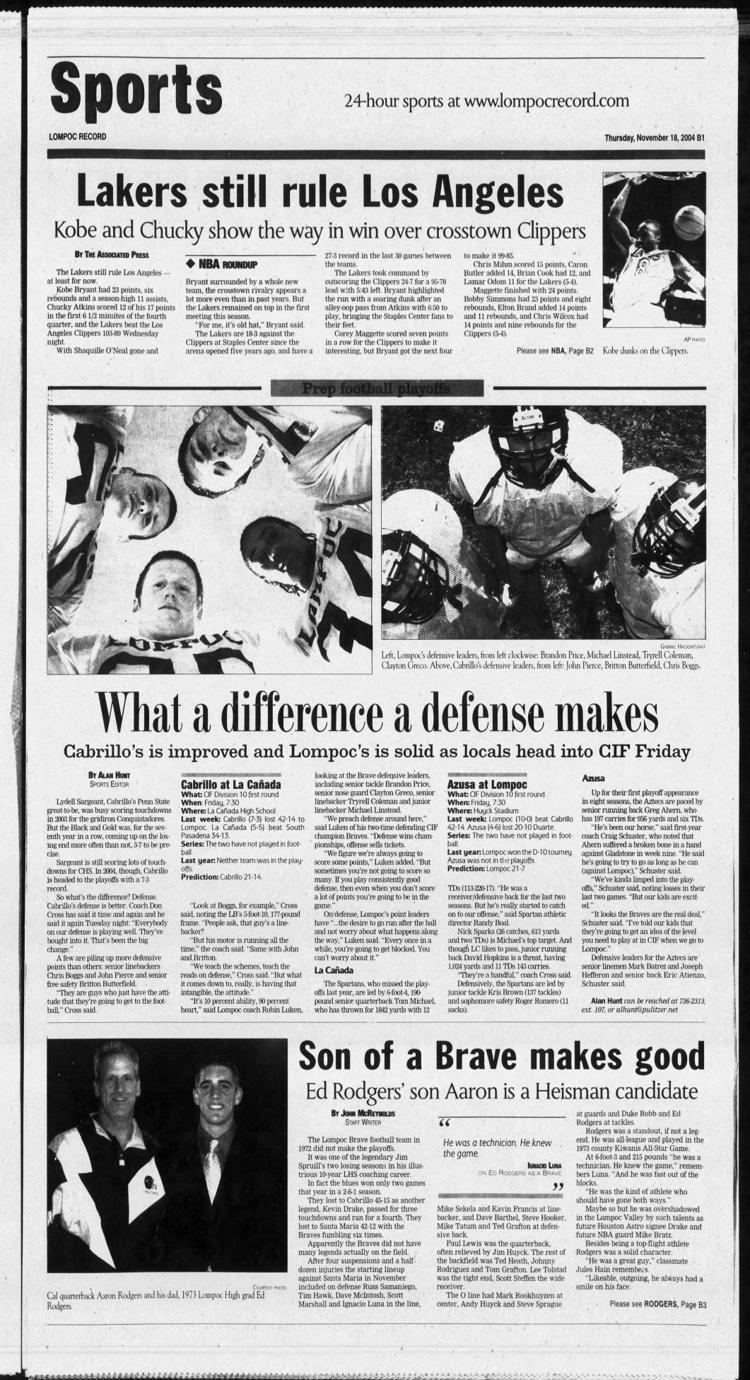 The_Lompoc_Record_Fri__Nov_20__2009_.jpg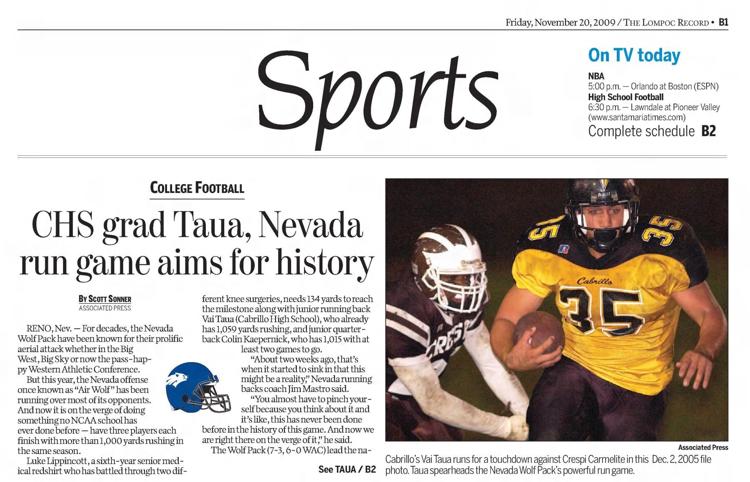 The_Lompoc_Record_Fri__Nov_16__2001_ (1).jpg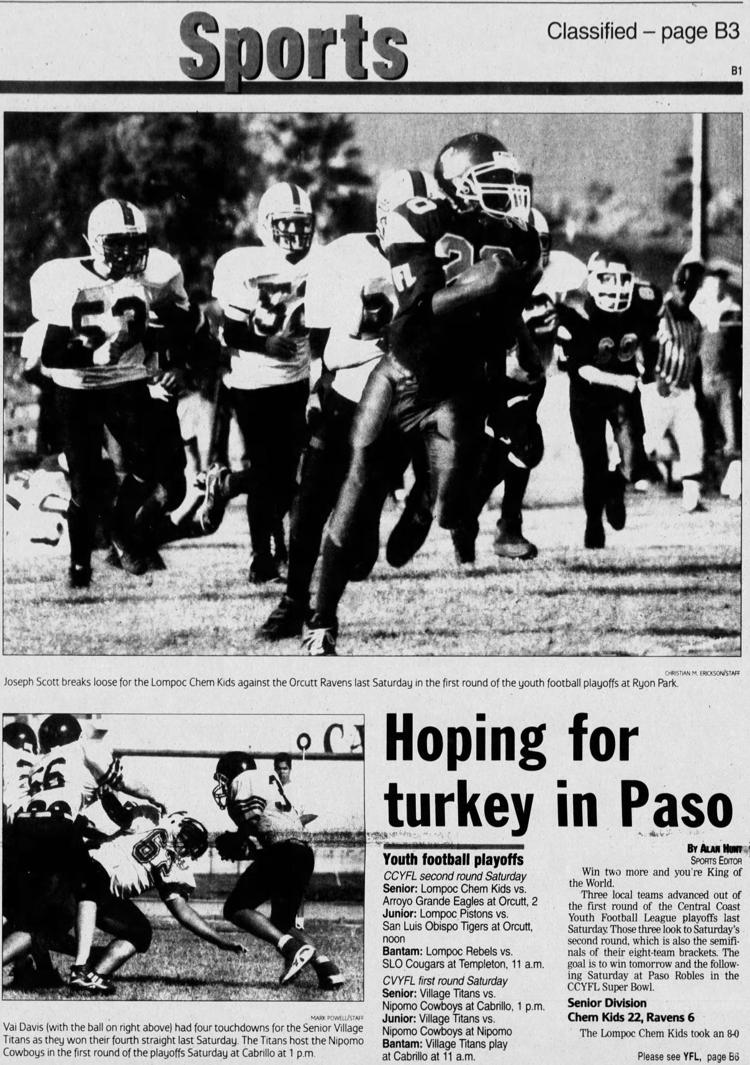 The_Lompoc_Record_Sun__Mar_12__2006_ (1).jpg
The_Lompoc_Record_Sun__Mar_12__2006_.jpg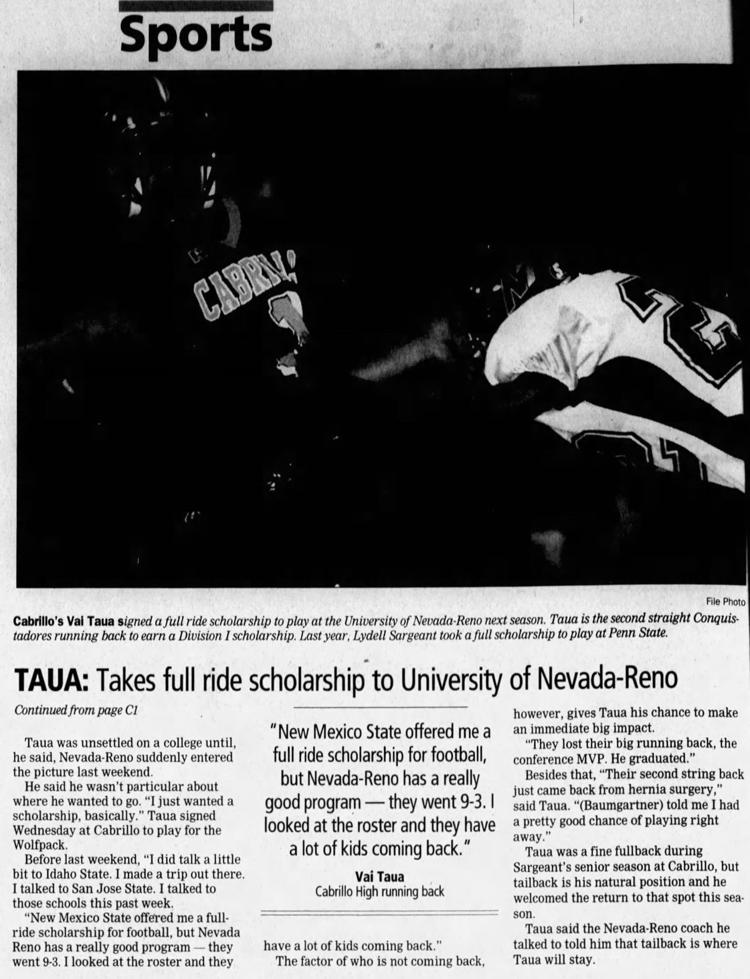 The_Lompoc_Record_Sun__Oct_27__2002_.jpg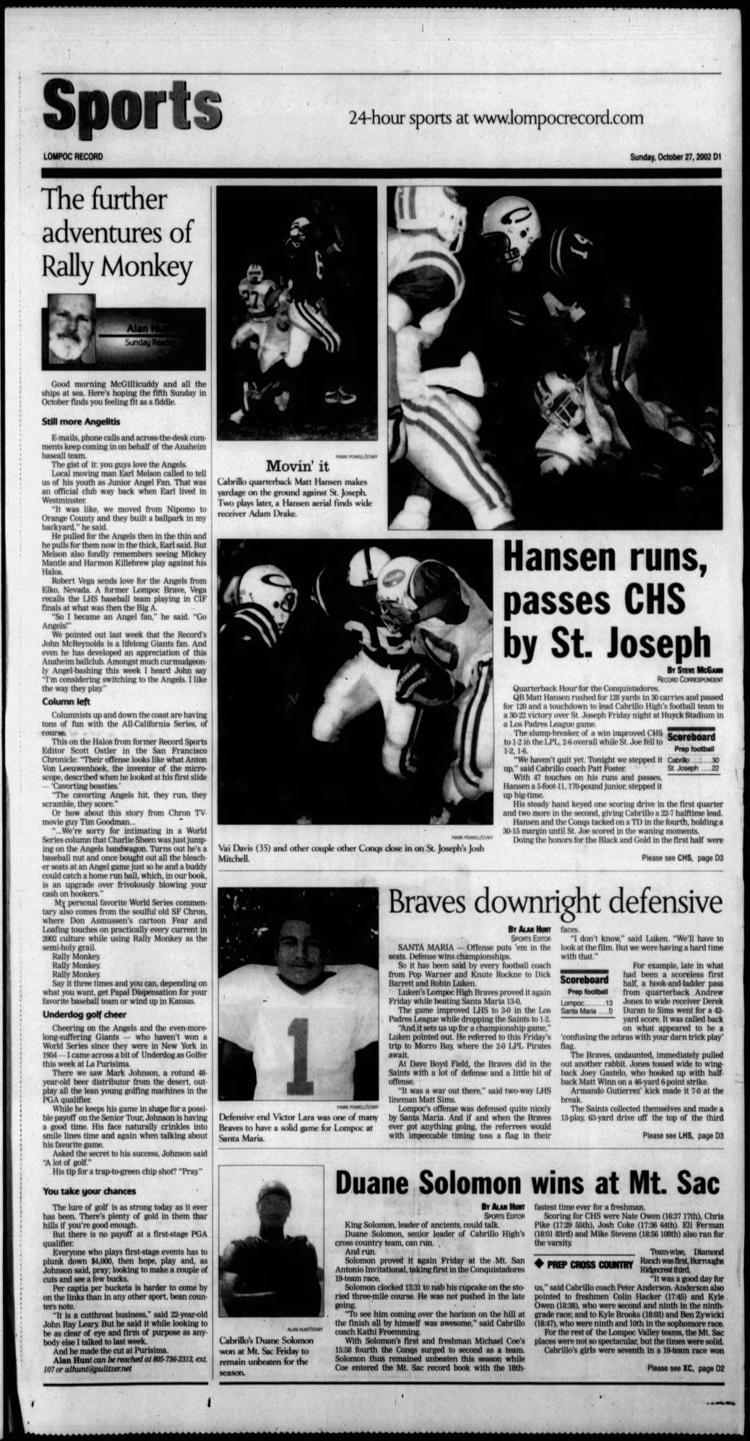 The_Lompoc_Record_Sat__Nov_13__2010_.jpg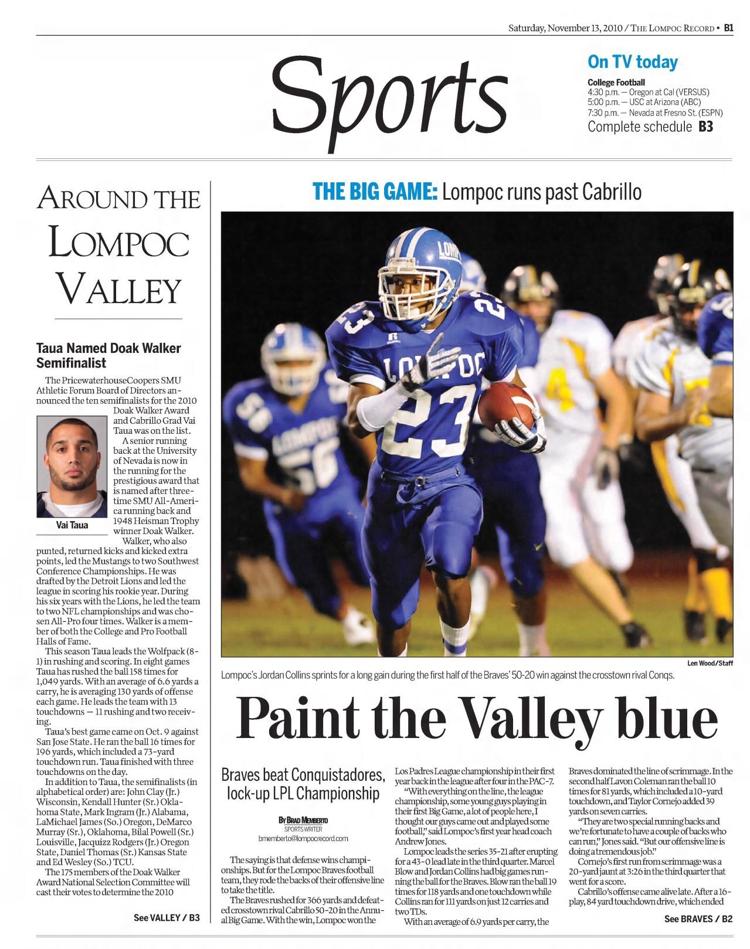 The_Lompoc_Record_Sun__Sep_21__2003_.jpg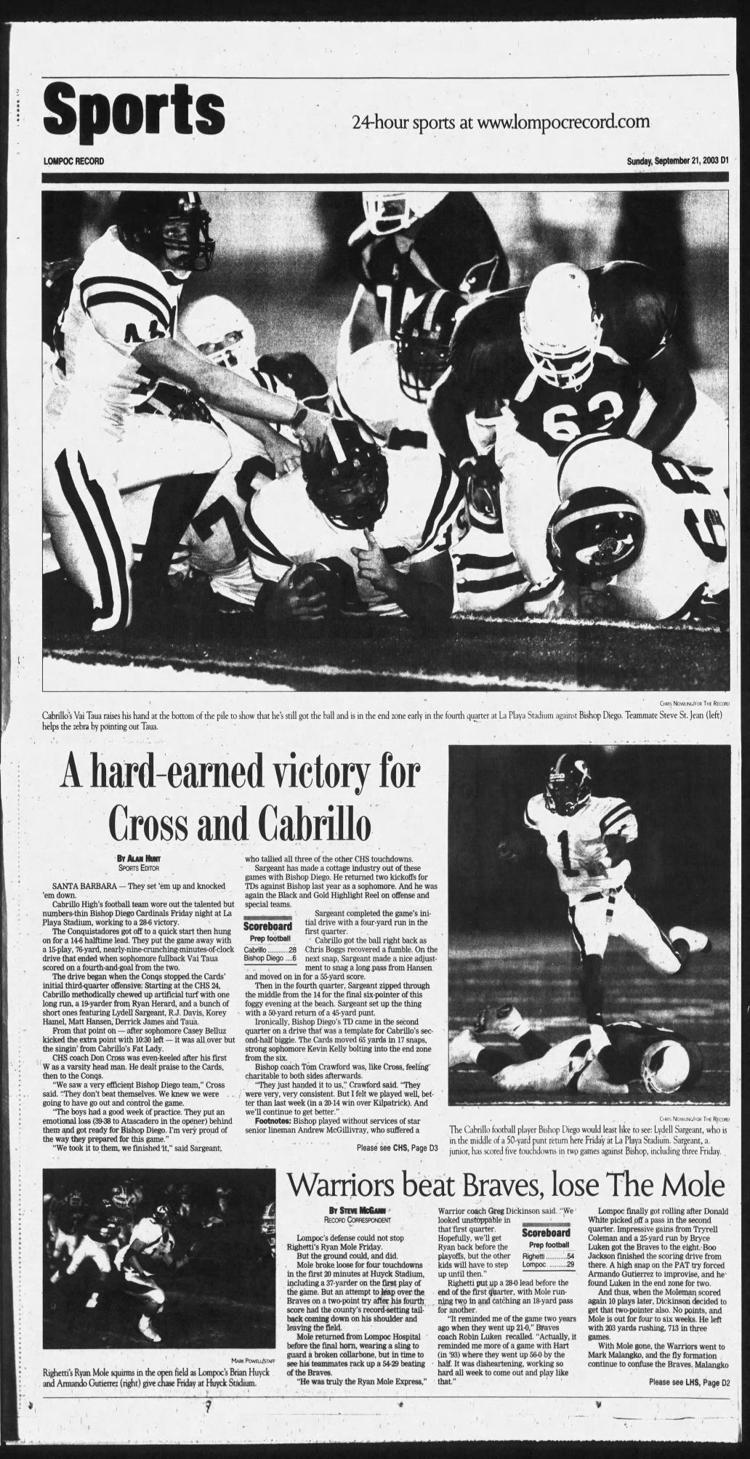 The_Lompoc_Record_Fri__Dec_7__2001_ (2).jpg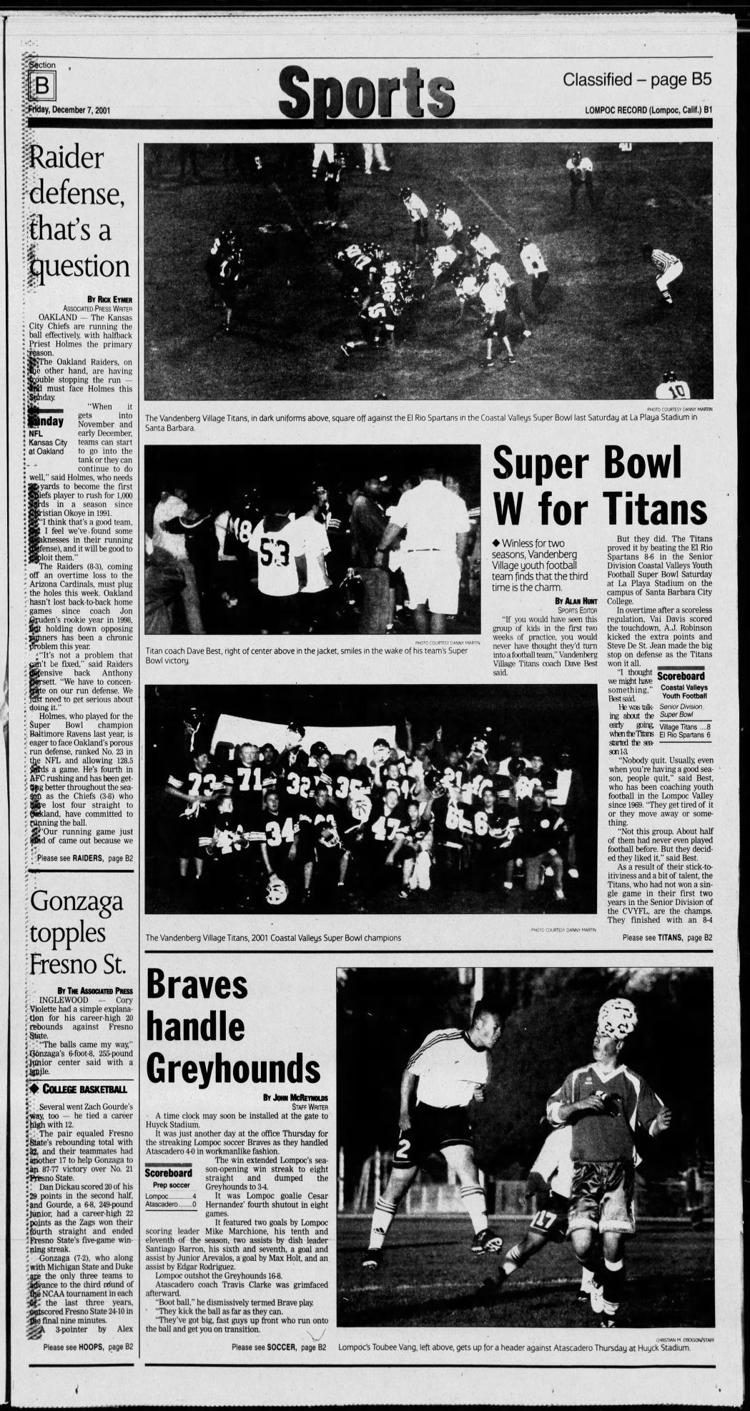 The_Lompoc_Record_Fri__Dec_7__2001_.jpg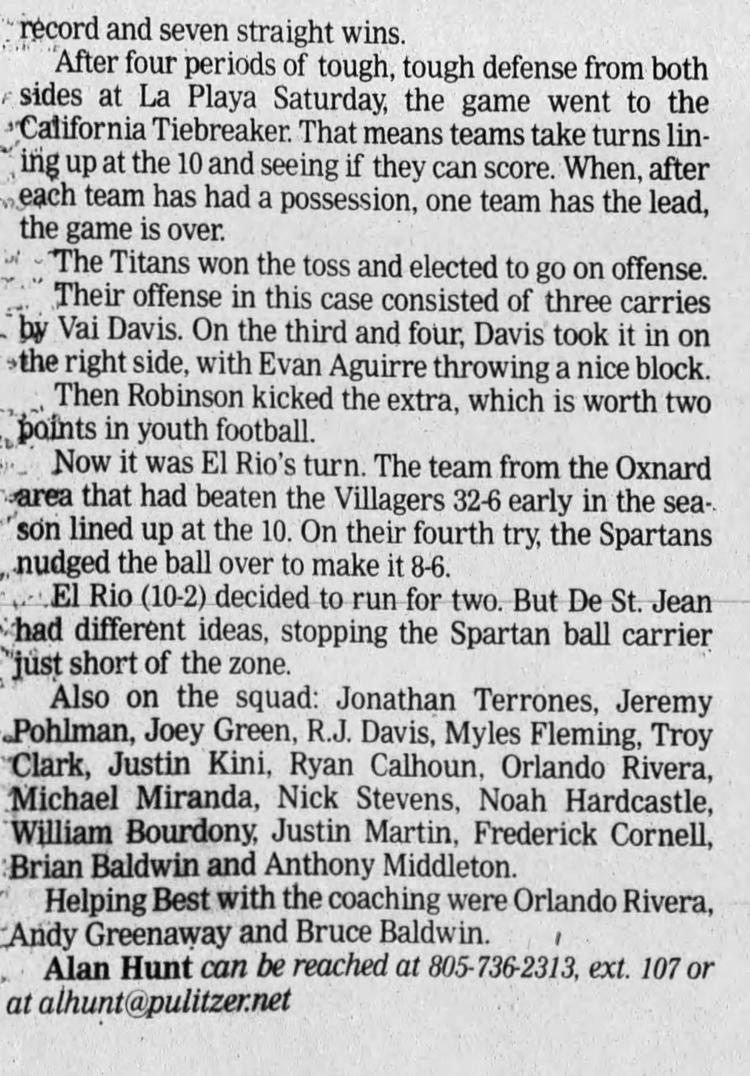 The_Lompoc_Record_Fri__Nov_2__2001_.jpg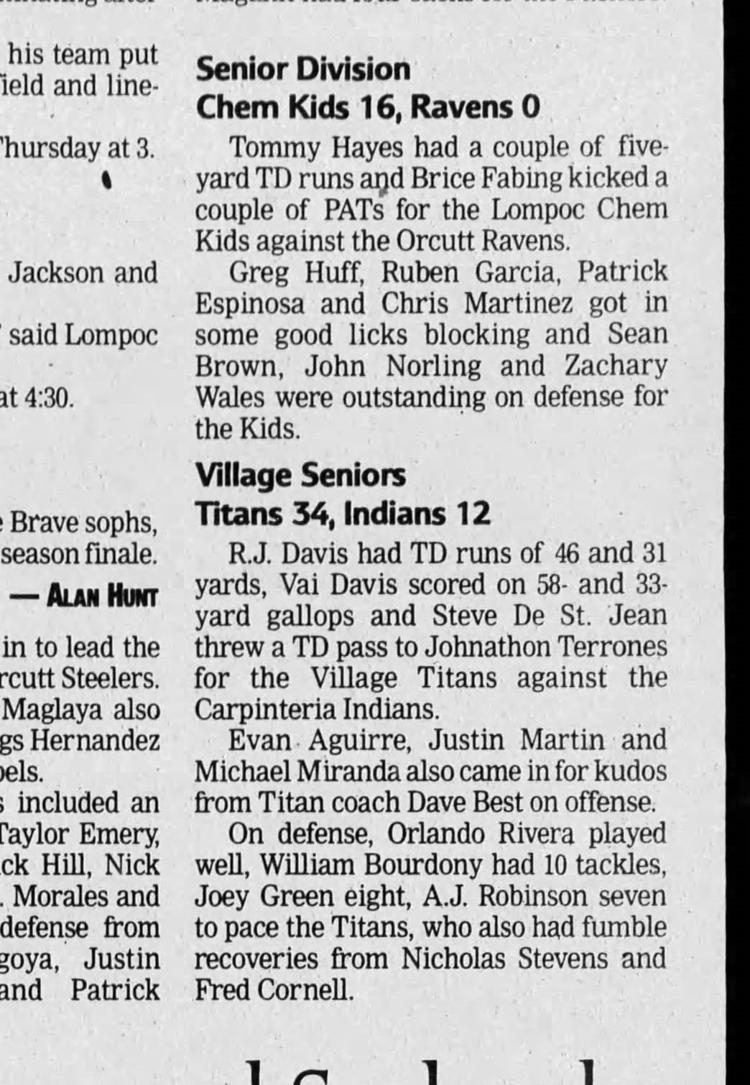 The_Lompoc_Record_Fri__Nov_16__2001_.jpg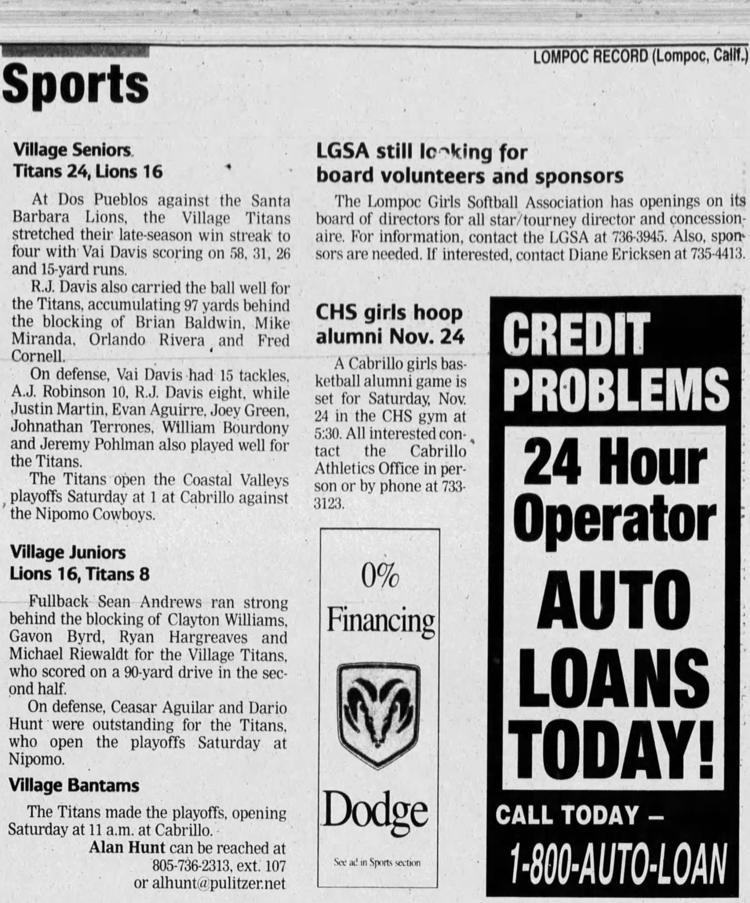 The_Lompoc_Record_Fri__Nov_30__2001_.jpg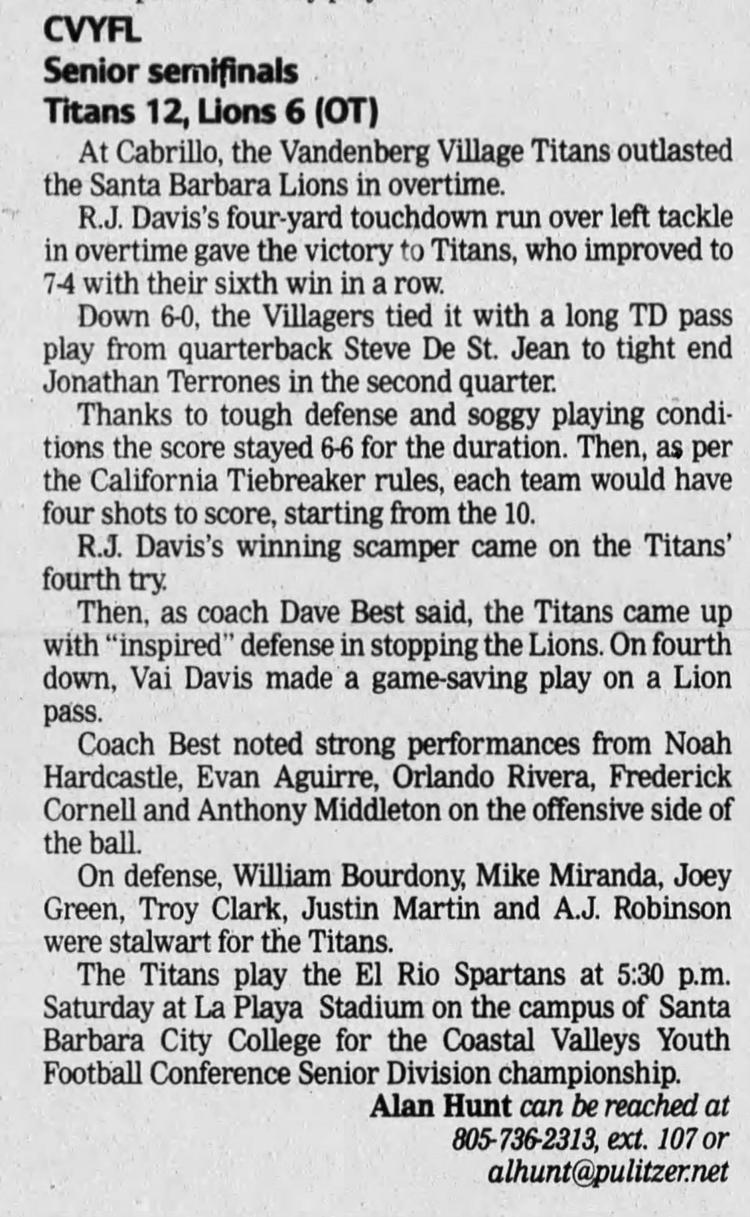 The_Lompoc_Record_Fri__Sep_27__2002_.jpg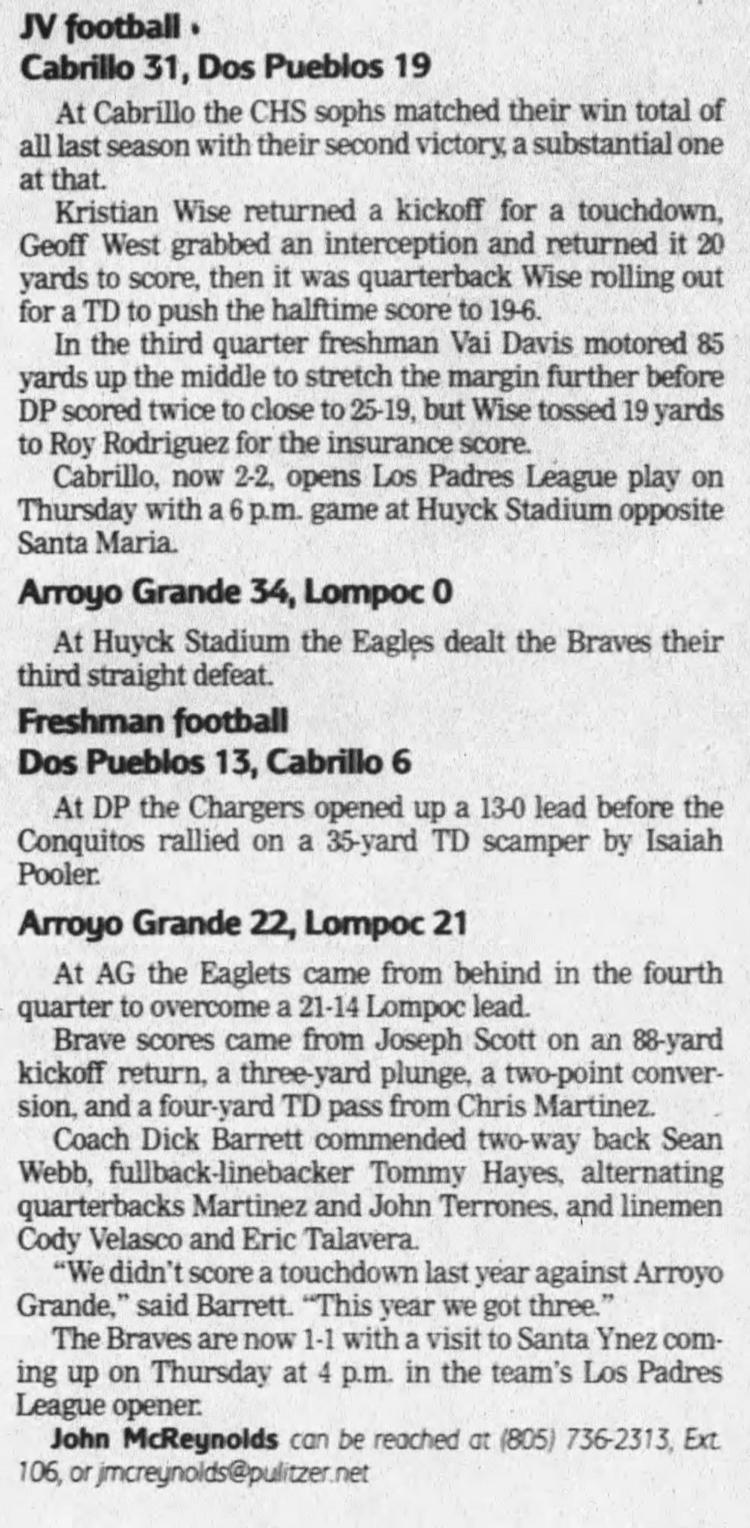 The_Lompoc_Record_Sun__Sep_7__2003_.jpg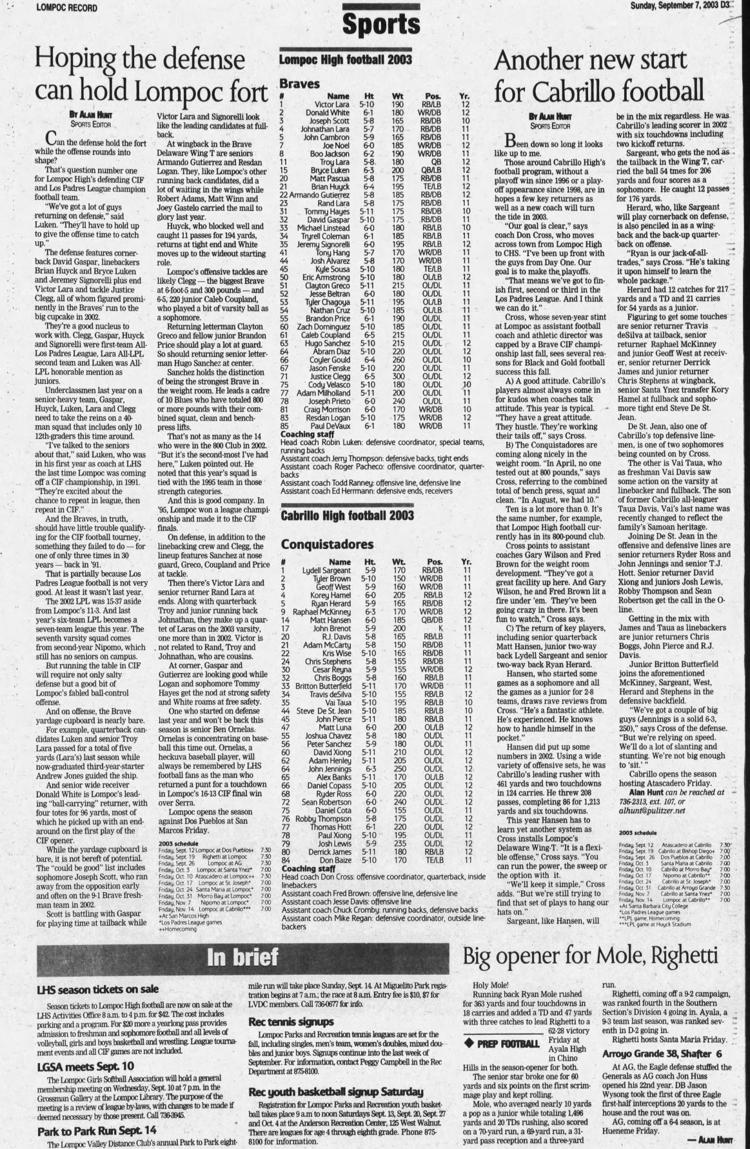 The_Lompoc_Record_Thu__Nov_10__2005_.jpg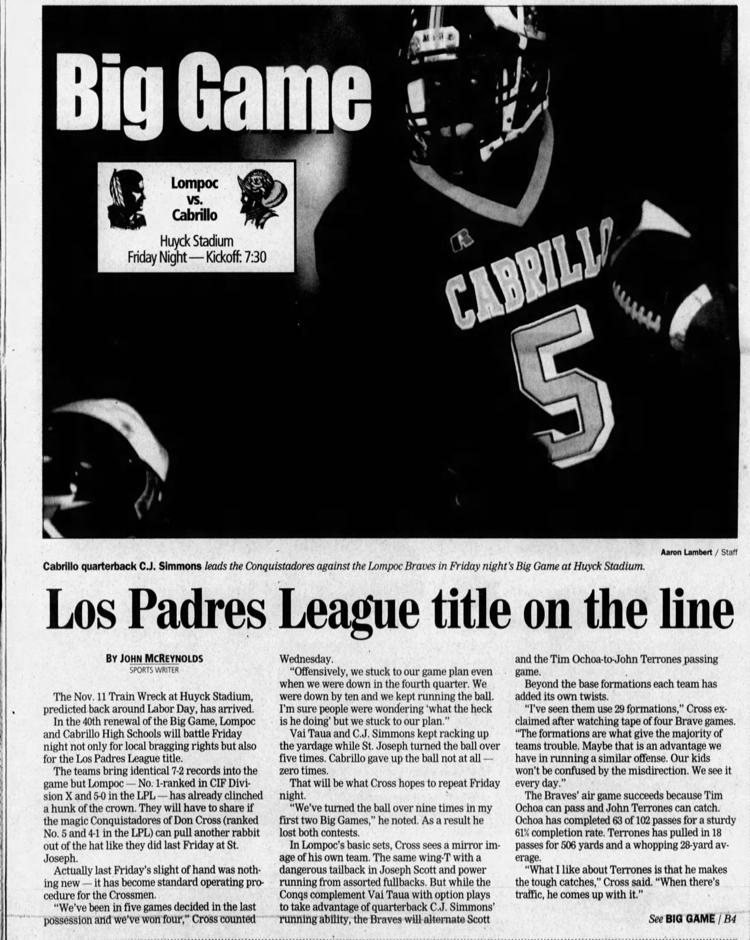 The_Lompoc_Record_Thu__Nov_11__2004_ (1).jpg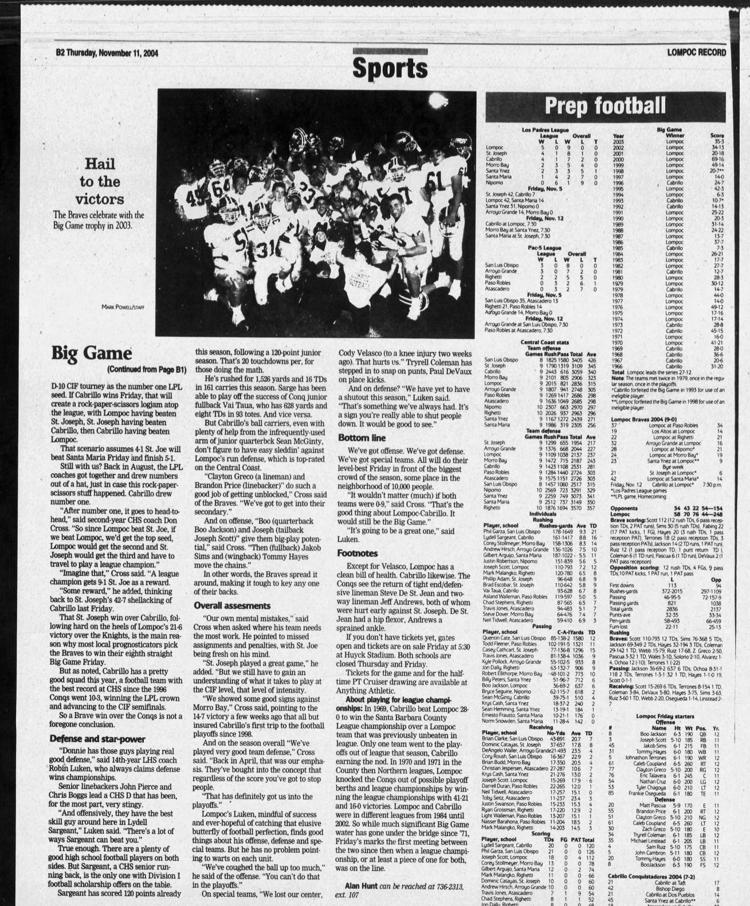 The_Lompoc_Record_Thu__Nov_11__2004_ (2).jpg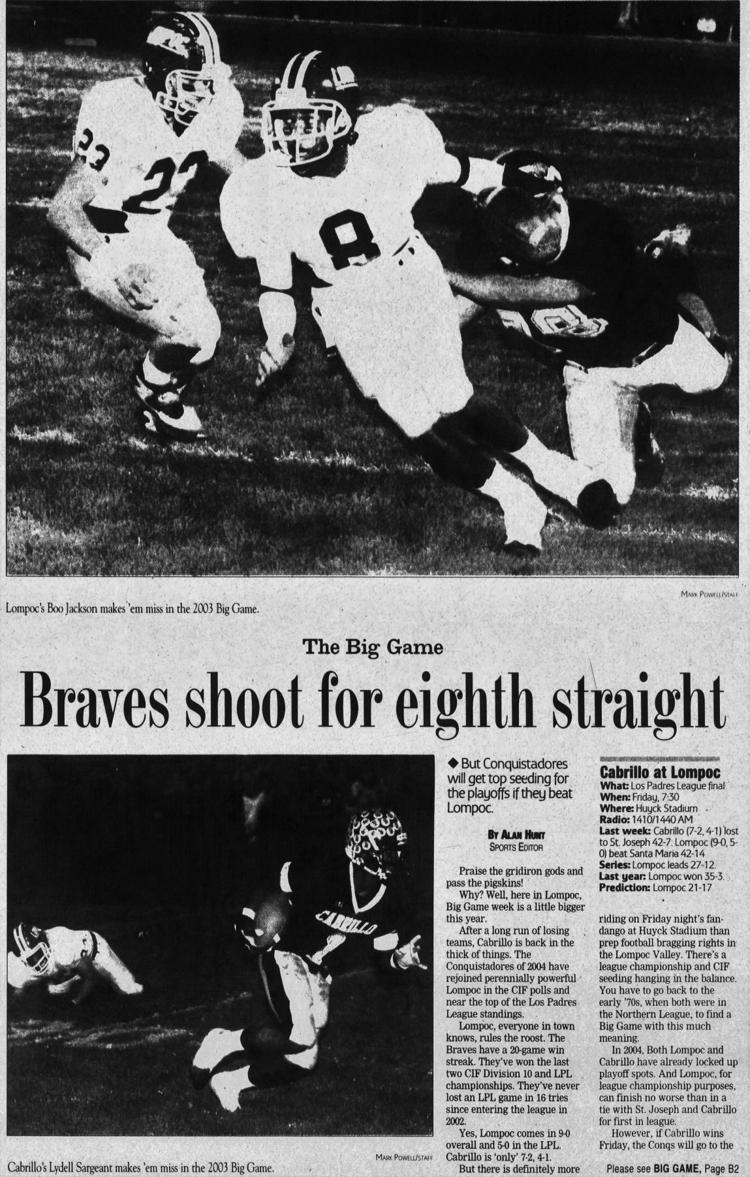 The_Lompoc_Record_Thu__Nov_13__2003_.jpg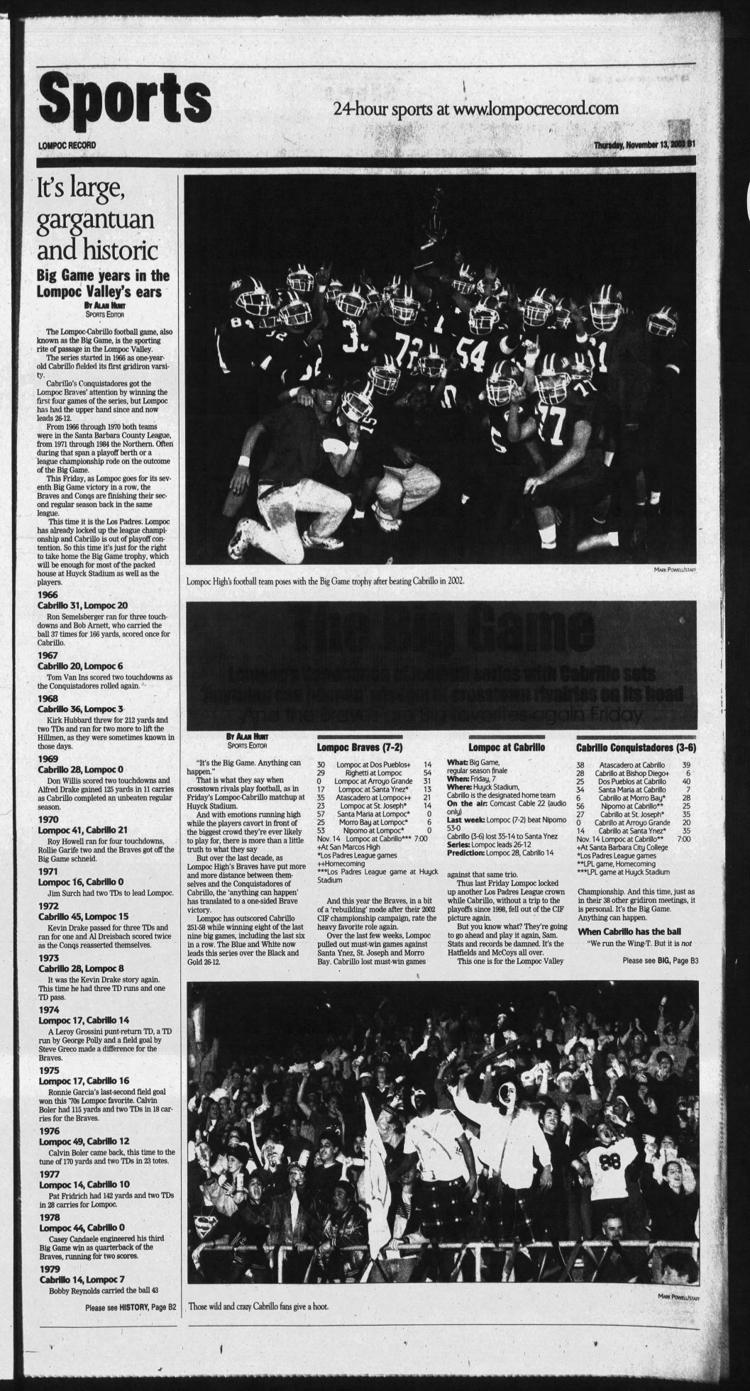 The_Lompoc_Record_Thu__Nov_18__2004_.jpg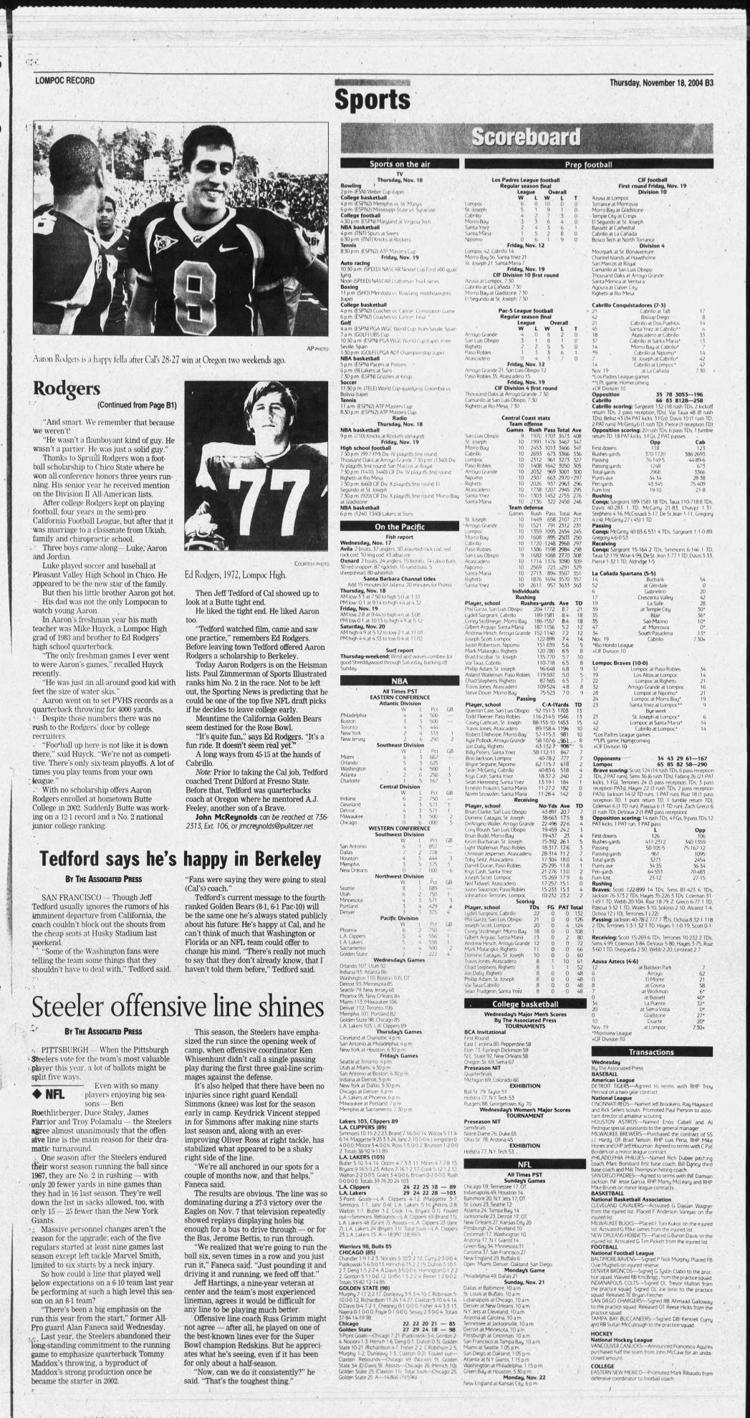 The_Lompoc_Record_Thu__Oct_13__2005_.jpg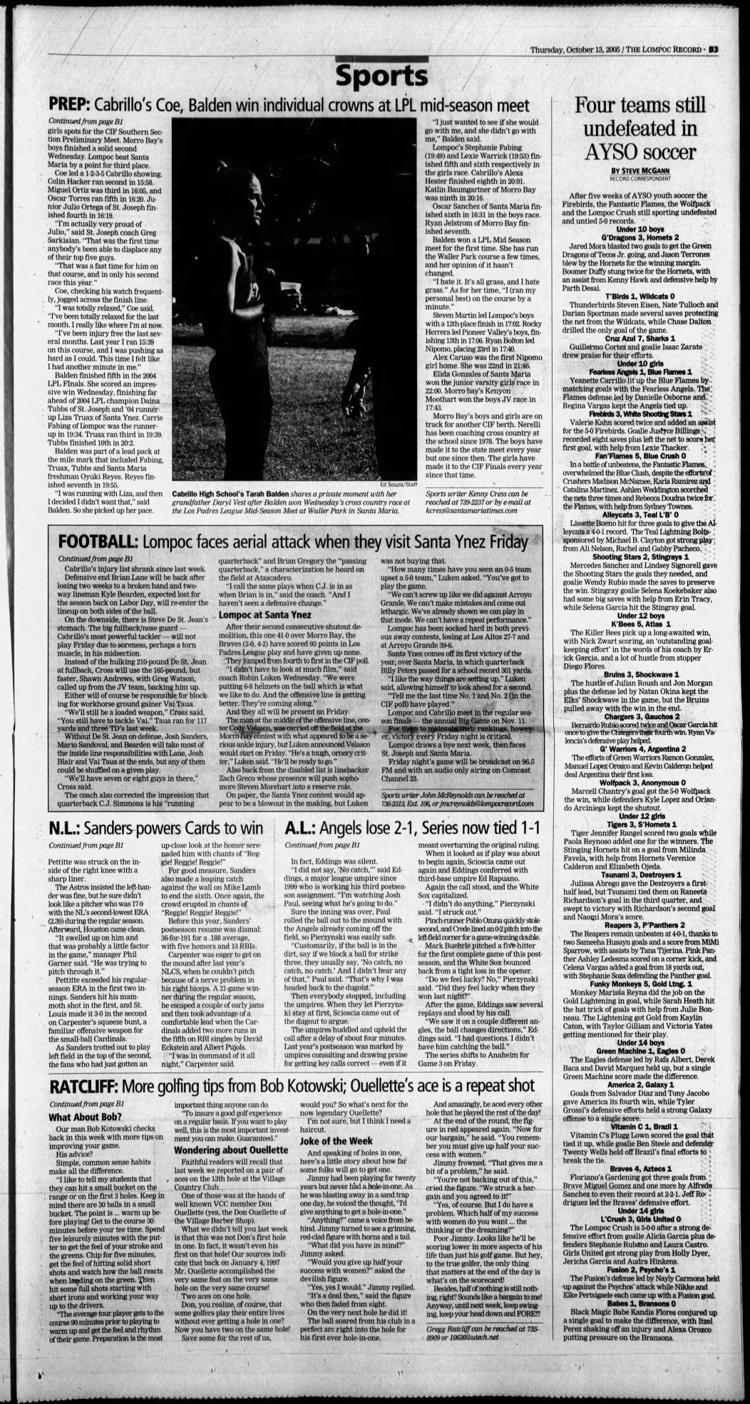 The_Lompoc_Record_Thu__Oct_28__2004_.jpg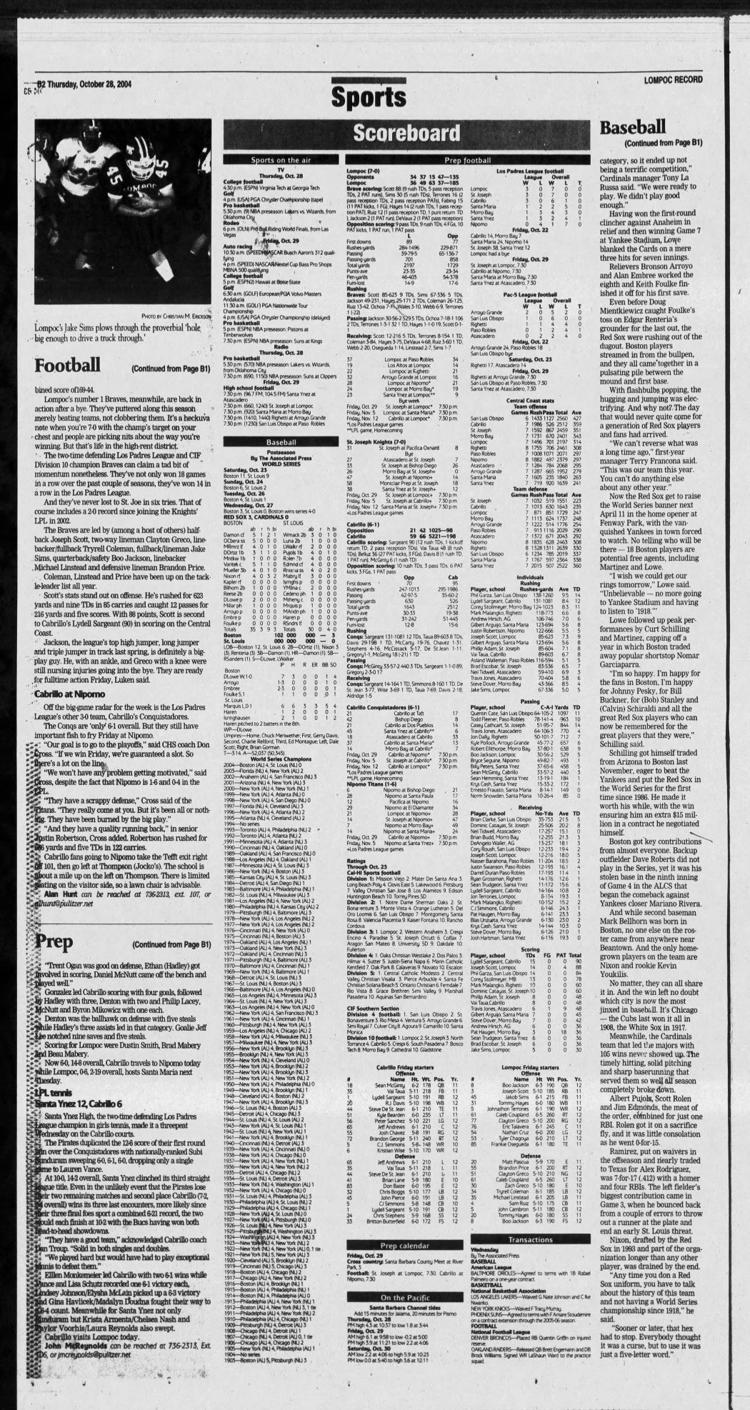 GBB: Player of the Decade Final Round
Kaitlyn Flowers vs. Tatiana Dunlap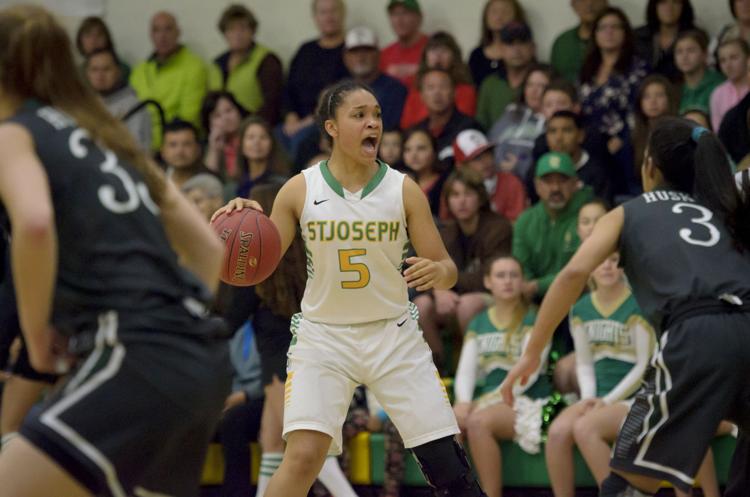 Flowers made it to the final round without too much drama. Dunlap, on the other hand, had to grind out a win over the top remaining seed.
Dunlap narrowly fended off Ashlyn Herlihy of Arroyo Grande in the semifinals. It was a close fight, but Dunlap pulled away late to score the victory, 1,089 to 876.
On the other side of the bracket, Flowers cruised past Heather Madrigal, who played at both St. Joseph High and Arroyo Grande with Flowers and Dunlap, in the semifinals. Flowers voters have consistently led the round-by-round voting. 
In this round, Flowers received 1,443 votes, edging Madrigal, who tallied 1,023 votes as of 4 p.m. Tuesday.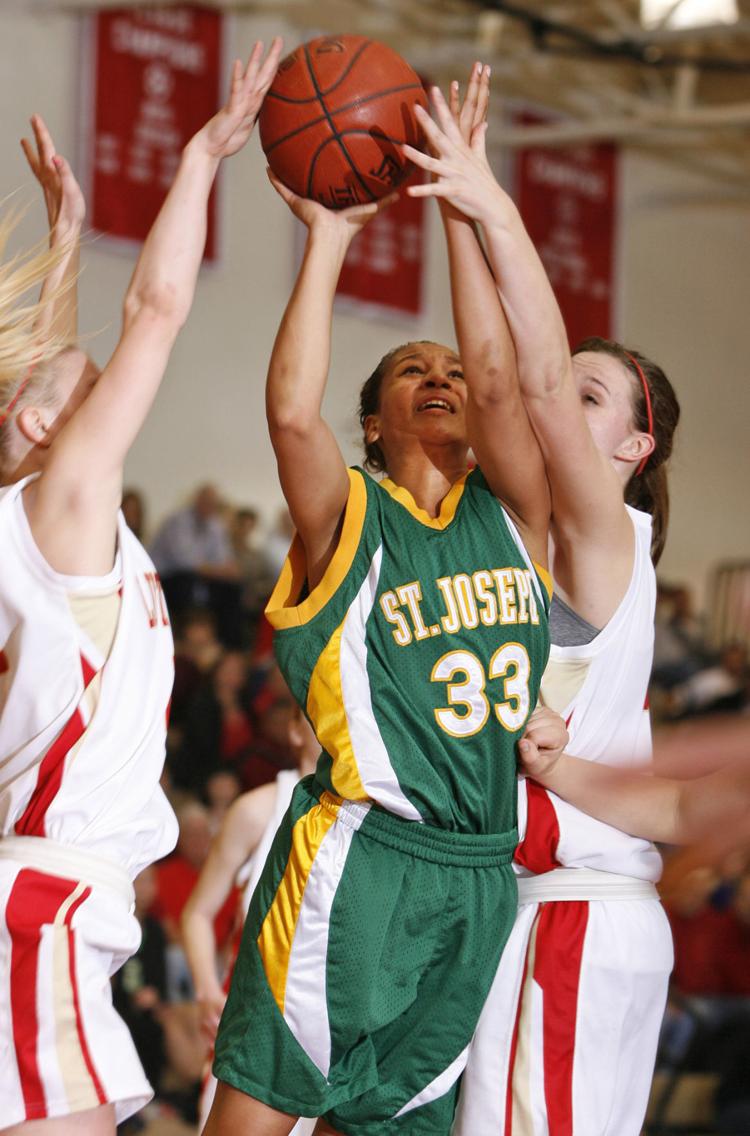 Voting ran from Wednesday, Oct. 28 to closing at 4 p.m. Tuesday.
In all, 4,431 votes were cast in the semifinal round. There were 3,044 votes cast in the quarterfinals and 4,500 votes in the opening round, meaning readers have cast about 12,000 total votes in this contest.
Flowers led the opening round with 446 total votes. She then had 520 in the quarterfinals before taking in over 1,400 votes in the semifinals. Dunlap had 422 votes in the opening round, then 351 votes in the quarterfinals before hauling in 1,089 votes in the semifinals.
Flowers defeated Lompoc grad Danielle Morgan 446-187 in the first round and Cabrillo High grad Erin Jenkins 520-88 in the quarterfinals before defeating Madrigal in the semifinals. Dunlap beat Santa Ynez grad Hailey King in the first round 422-76 and Righetti grad Mariah Cooks 351-260 in the quarterfinals.
Dunlap won a CIF state title in her sophomore season with the Knights. Flowers was a freshman that year and, as fate would have it, filled in for an injured Dunlap in the state title game, giving the Knights valuable defense and rebounding in their win over Bishop O'Dowd.
In Dunlap's three seasons at St. Joseph, she scored over 1,300 points and the 5-foot-8 guard averaged 23.7 points, 3.0 assists, 9.2 rebounds and 2.6 steals per game as a senior.
Dunlap earned one All-Area MVP award, during her senior season. For her career, Dunlap averaged 15.1 points over 87 games with the Knights. As a junior in 2011-12, Dunlap averaged a double-double for the season, with 15.3 points and 10.3 rebounds per game, while also dishing out 3.0 assists and swiping 2.4 steals per game. 
A 2014 St. Joseph graduate, Flowers eventually scored over 1,400 points during her Knight career. As a senior in the 2013-14 season, she averaged 17.9 points, 7.3 rebounds, 3.7 assists and 4.8 steals per game. 
As a junior, Flowers averaged 18.1 points, 4.5 rebounds, 4.9 assists and 4.7 steals. As a sophomore, she scored 18 points a game, adding 4.3 rebounds, 3.2 assists and 4.4 steals per game. She finished her St. Joseph career with 1,448 total points, 503 total rebounds, 326 assists and 391 steals in 110 games. She averaged 18 points a game over the 75 games she played in her sophomore, junior and senior seasons.
Flowers also averaged nearly five steals a game in that span.
Readers have cast votes on the Santa Maria Times' three websites, santamariatimes.com; lompocrecord.com and syvnews.com. The voting for the final round is now live on those three websites and will close on Tuesday, Nov. 10 at 4 p.m. The Times polled current and former coaches to develop its list of nominees for Player of the Decade.
Get in the game with our Prep Sports Newsletter
Sent weekly directly to your inbox!