The Santa Ynez Pirates left a lot of points on the foul line in Thursday night's Channel League girls basketball game against the San Marcos Royals.
The Pirates made just nine of 23 free throw attempts, missing seven straight in the fourth quarter, and that added up to a 40-35 loss on their home court.
"We were getting our shot but we just didn't put enough in," said Santa Ynez head coach Jason Finley. "If we made our layups, we would have won going away regardless of what we did from the free throw line."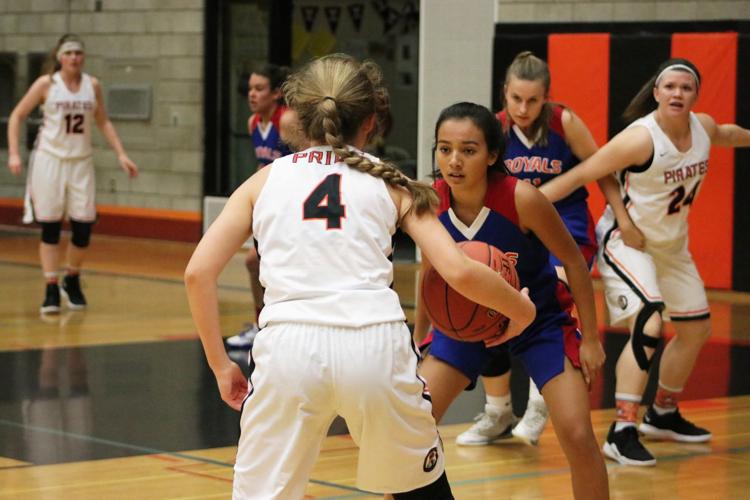 Both teams used pressure defense to throw their opponent off stride.
The Pirates dominated the first quarter, yet trailed 5-4 at the end of the period.
It took awhile for both teams to settle down before Madison Holbrook got Santa Ynez on the scoreboard with a layup two minutes into the game.
Malia Loos was fouled on a 3-point attempt and hit two of her three free throws for a 4-0 Santa Ynez lead.
The Pirates held the Royals scoreless until there was just 1:31 left in the quarter when San Marcos' Kiani Rojas broke free on the left baseline and hit the first of her five 3-pointers.
"Kiani really picked us up tonight — she's our shooter, a pure scorer," said San Marcos head coach Chris Hantgin. "We were really stalled. She gave us a big lift and it was just a tough, scrappy battle the rest of the way. This game could have gone either way. Fortunately, it went our way."
When Ashley Day hit a short jumper just before the quarter ended, the Royals held a 5-4 lead after one quarter of play.
Rojas hit three more 3's in the second quarter but the Pirates kept pace with six different players sinking shots.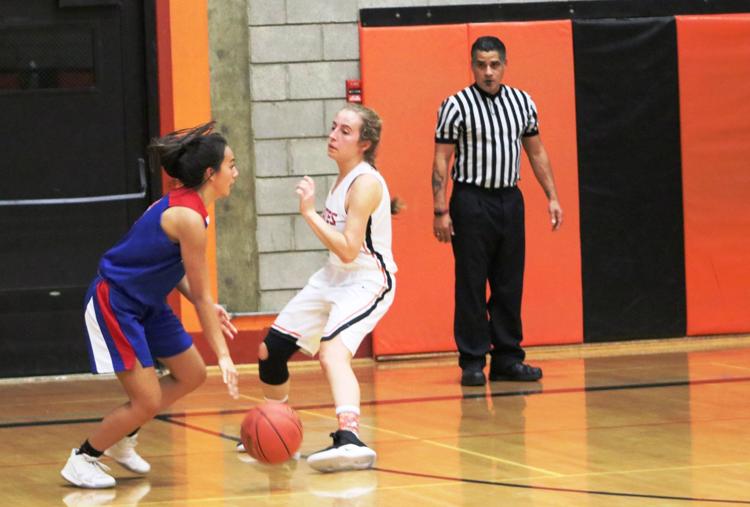 When Morgan Blunt's scoop shot fell with 33-seconds left in the half, Santa Ynez was able to take a 17-16 lead into the break.
Rojas hit her final 3-pointer in the third quarter and Loos, Santa Ynez's 3-point ace, matched that with her only three of the night.
"Loos is a great shooter. She's going to set all kinds of records for hitting 3's," said Hantgin. "Our girls really held her in check. I'm proud of the job they did."
"Every great shooter has a night like this," said Finley. "She had her chances but the shots just would go so we wanted to work it to our bigs but they did a great job of bottling things up inside."
The quarter ended with San Marcos on top 30-29.
The Royals made only two baskets during a 10-point fourth quarter but they hit six of eight foul shots to put the game on ice.
Santa Ynez trailed 34-31 with 3:25 left in the game but missed six straight free throws that would have turned the tide.
Playing entirely in the Santa Ynez end, they missed two free throws, got the rebound and another foul, missed two more and got that rebound before losing the ball out of bounds.
After a missed San Marcos shot the Pirates were fouled again and missed on both.
When the Royals' Juliet Dodson hit two free throws with just under two minutes remaining, the 36-31 lead was too much for Santa Ynez to overcome.
"Usually our free throws are our downfall," said Hantgin after his team sank eight of 12 from the charity stripe. "We were way better than normal from the line tonight but I think the key to our win was our defense. The girls battled for every ball, contested every shot and did a great job of rebounding."
Still the Pirates weren't giving up.
Loos hit a layup with 35-seconds left to close within 39-35.
Santa Ynez got the ball back but Lita Wright's driving layup went in and out, ending Santa Ynez's final chance.
"Leticia Romero played a great game for us in the middle tonight. Their height really got us but she was a force in the middle, battling their taller players for rebounds," said Hantgin. "And Fran Pereira did a great job coming off the bench, scoring seven key points and hitting three big free throws in the fourth quarter. This was one tough game. The league is going to be like this every night."
"Madison Holbrook at center always stands out. She had another great game tonight," said Finley. "Grace Padilla was a force tonight, she really pushed the ball to the hoop, and our point guard Lita Wright always brings fire and energy to our team. It was a battle of two tough, scrappy teams tonight.
Rojas led all scorers with 15 points. Ashley Day added nine and Fran Pereira seven for the Royals.
Lita Wright led the Pirates with 10 points. Malia Loos added another seven.
San Marcos (9-6, 2-0 Channel League) next faces Bakersfield North next Thursday in the Arvin Tournament.
Santa Ynez (8-6, 1-1) next play Foothill Tech in Ventura's Tournament on Wednesday, Jan. 2, 2019.