Merek Mercado and Cole Knightley are preparing for their next great adventure.
They are both heading east to continue their academic and athletic careers.
The Santa Ynez High School seniors took part in an official signing ceremony Wednesday morning in the SYVUHS boardroom, inking their national letters of intent to their chosen four-year universities.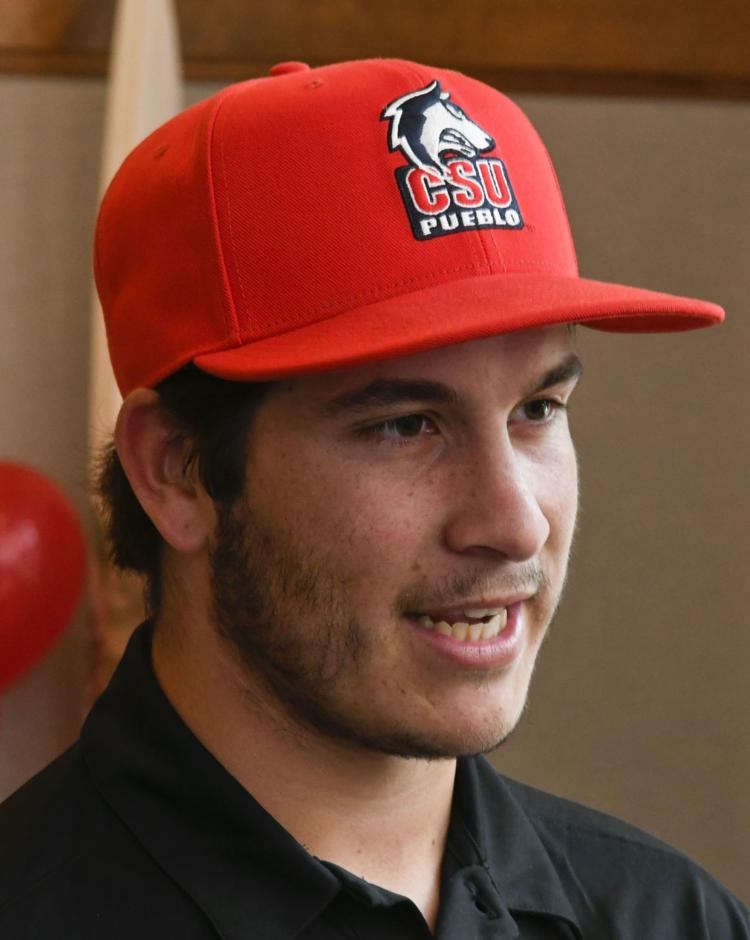 Mercado is moving to the shores to Castine, Maine, which is on Penobscot Bay, along the cold North Atlantic Ocean to attend Maine Maritime Academy where he'll be able to continue his basketball career.
Knightley will be off to the Rocky Mountains, to the nearly mile-high city of Pueblo, Colorado, to study and play baseball at Colorado State University-Pueblo.
"We are here today to celebrate and acknowledge the achievements of both of these young men and to the community that supported their athletic careers — careers that have now culminated with them each being accepted to college," said Santa Ynez athletic director Cris Avery. "No path is straight. These young men have overcome many challenges to reach this point. They couldn't have done it without their parents, teachers, youth coaches, high school coaches and the community's support."
Santa Ynez' Cole Knightley hits a two-run home run against in the third inning of an April 9 game at Cabrillo. On Wednesday, Knightley signed …
"I appreciate every one of you in this room," said Mercado. "We wouldn't be here without you."
"I just want to thank everybody who helped me through this process," said Knightley.
Mercado plans to major in International Business and Logistics.
He played both baseball and basketball for the SYHS Pirates but will compete only in basketball for the Maine Maritime Mariners.
"I got a call from one of their assistant coaches at the beginning of November," said Mercado. "At first I was skeptical about going there but we continued our talks.
"I visited the school over Thanksgiving break and the campus was breathtaking. It's right on the Atlantic Ocean. It's a beautiful campus with beautiful scenery."
Castine is also home to some of the coldest temperatures in the country.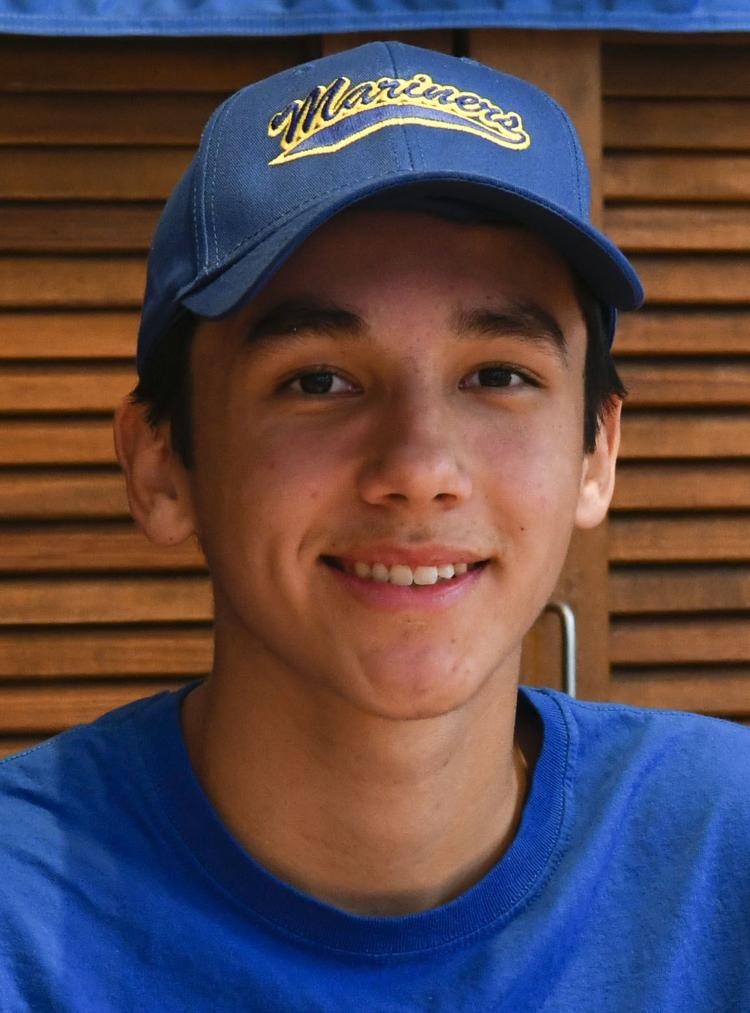 "They have pretty wild winters so I'll have to bring a lot of layers (of clothes), but I actually love the snow," said Mercado. "And remember, we play basketball indoors. At least it's a little warmer in there."
Santa Ynez High's Merek Mercado (11) finishes off a fast break against the Orcutt Academy Spartans in a Dec. 4, 2018 game at Santa Ynez High S…
Mercado's parents, Nicole and Robert, were in the audience celebrating their son's signing.
"He really fell in love with the school and I told him, 'Then that's where you should go, even though it's far away,'" said Nicole Mercado.
Maine Maritime is a small college with about 1,000 students.
"The class size will be about the same as Santa Ynez High — 15 to 25 students — so I'll be able to get that personal touch from my teachers just like in high school," said Mercado. "The best thing is that I get to continue playing basketball at the college level. Before this year, I thought this was it for me in basketball. The opportunity came along to continue playing while getting a quality education that will help me for the rest of my life."
CSU-Pueblo is a bigger university but it is still a small school with 4,500 students.
It's where Knightley will prowl the baseball infield for the ThunderWolves.
"It's pretty small but it should allow me to focus on what I need to," said Knightley who is thinking of majoring in either Business or Computer Science. "I think going to a smaller university will help me get a really good education. I think I'll do well there."
Santa Ynez junior Cole Knightley fields a grounder and throws out Santa Maria's Chino Nunez during a game on March 12, 2018. On Wednesday, Kni…
"It's good to see Cole get this," said David Lawrence, the head coach of the Dunn School baseball team. "I coached Cole along with (Dunn seniors) Ethan (Cloyd) and Brandon (Lawrence, the coach's son) since they were 6 years old. They all played on the original Santa Ynez Titans and they've all played either with or against each other since they were little so I came out to show my support for Cole today."
Knightley's parents, Kay and Andy, were on hand for the signing.
"I'm very excited for Cole. He went out there over spring break and really liked it," said Kay Knightley. "The have 22 varsity sports so the university is sports-oriented — that's right up his alley. I think it's going to be a great place for him."
"I've been playing shortstop for Santa Ynez. CSU-Pueblo is talking about having me move to third base," said Knightley. "But the best thing is being able to continue my education and have the opportunity to continue to play baseball."
Santa Ynez High's Merek Mercado (11) shoots a 3-pointer against the Orcutt Academy Spartans in a Dec. 4, 2018 game at Santa Ynez High School. …
"These are two great additions to their new programs," said Avery. "Their parents are going to do a lot of traveling to see them play. Hopefully, their games will be streamed online. I need to check out our internet connections."