The sun is back, temperatures are climbing but the weather has been playing havoc with Ashley Coelho's plans.
Despite all the recent rain, the Santa Ynez Pirates' track and field season is off and running.
Head coach Ashley Coelho has high hopes as the squad heads into its first season in the Channel League.
"It's a new league, a new season," said Coelho during a rare outdoor practice at Santa Ynez's stadium. "The team and I are looking forward to it."
Despite losing two All-Stars from her 2018 team, record-setting thrower Sarah Perkins and outstanding distance runner Emily Donahue, Coelho thinks this year's girls will do well against the larger schools that make up the new league.
"I think our girls have a really good shot at finishing in second place in the league," said Coelho. "We've got a great core of girls coming back and we're adding two fantastic freshman sprinters."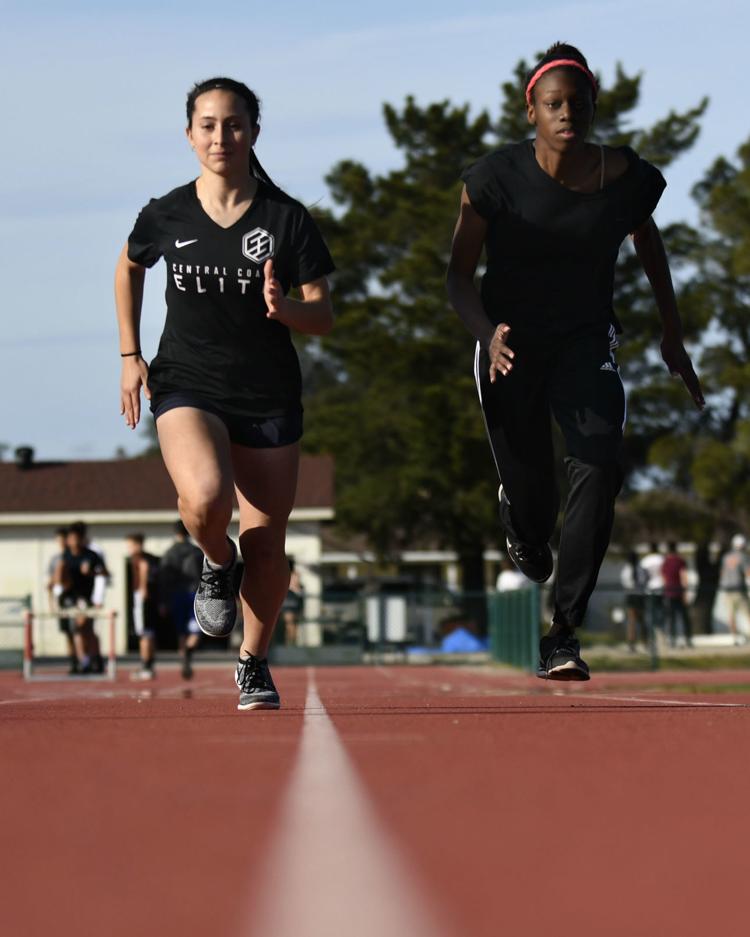 Alaynna Garza will step into Perkins' role in the shot put and discus, while Quincy Valle will double up in the shot put and pole vault.
And then there are the incoming freshman.
"Amelia Villa and Neta Ofiaelic are going to be two of the most talented runners this school has seen in a long time," said Coelho. "Amelia is going to race in the 100, 200, relays and do the long jump. Neta will run the 100, 200 and relays. They are a great addition to our relays teams."
The boys team has several returning athletes who are expected to pile up points during the season.
"Jasper Kadlec and Anthony Gills are two of the best sprinters and two of the best jumpers," said Coelho. "And sophomore Camron Prendergast is going to step up and do the sprints."
In addition to the 100 and 200 meter sprints, Kadlec will also compete in the long and triple jumps.
Dean Tipolt will also be found lining up for the 100. Tipolt will also pole vault and throw the shot put and discus.
Coelho has high hopes in the distance races with Shane Silva expected to compete at the highest level in the 1,600 and 3,200 meter races.
"There are so many kids coming out that I can't possible mention all of them," said Coelho. "We have about 100 athletes on this year's team – a little more than last year. We just need to keep building our program."
The Pirates' team is growing thanks in large part to the Santa Ynez Valley's youth track program.
"They've got kids out working hard. They've learned that running and jumping is really fun and it's starting to pay off for us," said Coelho. "We're seeing more and more kids stick with it and our high schools numbers are now growing every year. If this keeps up – and I think it will – we're in for a bright future."
But along with the new season comes the very big challenge of being the smallest school in the Channel League.
With just under 1,000 students, Santa Ynez is a bit smaller than both of their old Los Padres League opponents, Lompoc and Cabrillo, who also made the move to the new league.
And all three schools are about half the size, or less, of the three Santa Barbara Channel League holdovers, Santa Barbara, San Marcos and Dos Pueblos.
But Coelho sees the numbers stacking up favorably.
Despite being the smallest school, Santa Ynez fields a similar number of track athletes as the others.
"And we have a great coaching staff that's teaching the kids and helping them get the most out of their abilities," said Coelho.
Cross country coach Ron Misner is working with distance runners and high jumpers, Marissa Scoggins is also working with distance runners, Ken Gruendyke, Paul Heron and Chris Chirgwin work with the throwers, Lance Trupe coaches the triple jumpers, Kaci Morrell handles the hurdlers and football head coach Josh McClurg covers the relays and works with runners on the blocks.
With the return of dry weather, the Pirates hit the track Wednesday when they hosted a three-way meet against Lompoc and Santa Barbara High Schools.
The meet highlights one more change occurring with the move to the Channel League.
After a preseason meeting of coaches and athletic directors, it was decided that only three of the league's schools will host track meets – Santa Ynez, San Marcos and Dos Pueblos.
Those three schools have all-weather, synthetic track surfaces.
Santa Barbara High is undergoing a major stadium renovation and both Lompoc and Cabrillo have dirt tracks.
The league decided that their student-athletes stand a much better chance of hitting CIF qualifying times on the synthetic surfaces and made the decision to consolidate all track meets to the three schools.