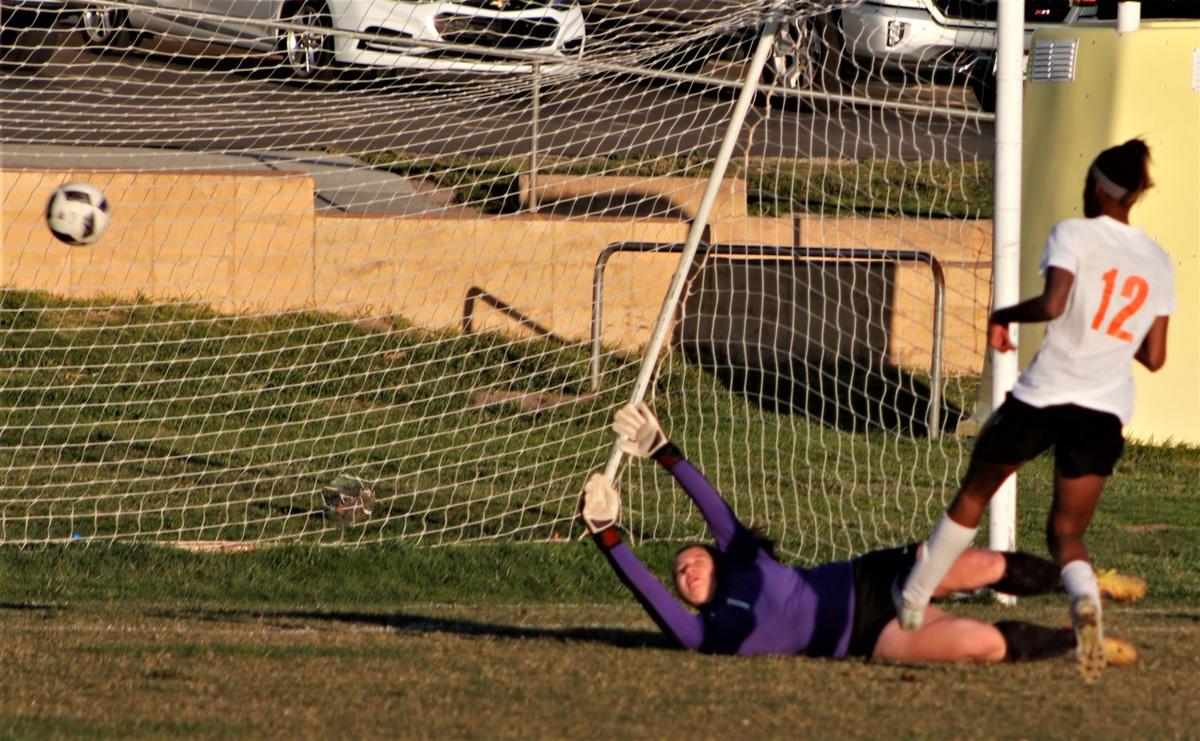 Maya Mendek made the play of the game.
The Cabrillo Conquistadores' junior goal keeper stopped a point-blank shot by the Santa Ynez Pirates' Neta Ofiaeli in the middle of the second half of Tuesday's Channel League girls soccer match at Cabrillo High.
The save kept the game scoreless.
"Neta had about six breakaway opportunities but for most of them she either hit the side of the net or the goal post," said Santa Ynez head coach Rob Cantrell. "We created a lot of great scoring opportunities. You've just got to finish them. This could easily have been a 6-1 game if we finished our scoring opportunities."
"Our keeper was a standout but the entire team stepped up and battled today," said Cabrillo head coach Derrick Wong. "We didn't want the girls to go out chasing passes. We did a good job of keeping their players in front of us so they couldn't break through."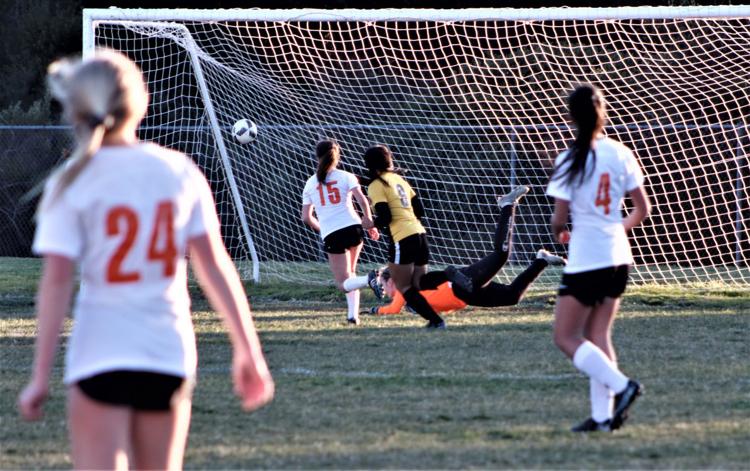 Mendek's save was a huge play because moments later, in the 63rd minute, the Pirates' Amelia Villa scored an unassisted goal on a rainbow of a shot from about 30 yards out to give Santa Ynez a 1-0 lead.
But it was not 2-0, and the Conqs battled back to salvage a 1-1 tie when, in the 68th minute, Cabrillo's Alexia Wilhite converted a Lauren Pulido pass into the game-tying score.
"Right after you score, you know the other team is going to come back real hard and that's what Cabrillo did," said Cantrell.
"We've been down one goal before and fought back," said Wong. "We know we're capable of coming back and getting one of our own."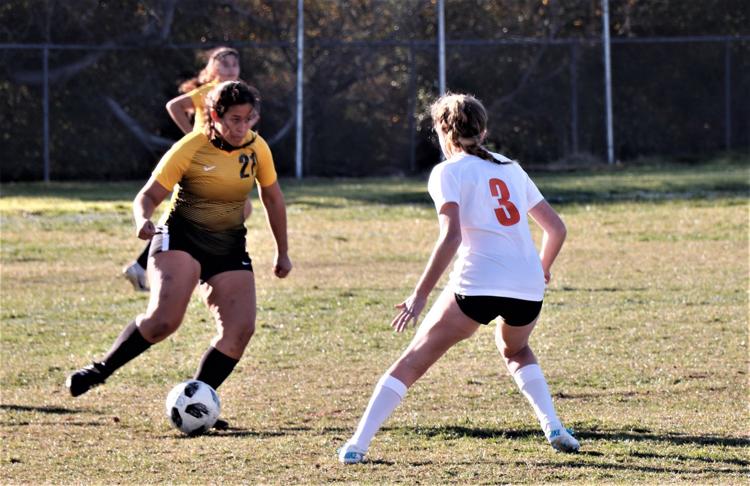 The Pirates controlled the action throughout.
But the Conqs' defense, which was seriously tested, held strong, regularly stopping the Pirates before they could get a clean shot on Mendek.
When she was tested, Mendez passed with flying colors, making several diving stops among her seven blocked shots.
Santa Ynez's Brookelyn Fletcher pitched a shutout in the first half, stopping three Cabrillo shots. Callie Grieco handled two Cabrillo shots in the second half.
"Santa Ynez is a well-coached team," said Wong. "As much as Cabrillo/Lompoc is a big rivalry, so is our Cabrillo/Santa Ynez rivalry. Many of these girls play together on club teams and when we get together, it's always a playoff atmosphere.
"This was punch-counter punch action. We know the other team is not going to quit – we aren't, either."
"This is a young team but a good team," said Cantrell. "The girls have to learn that it's a different level of competition now that we're in league play. We'll learn from this and be ready for the next one."
Cabrillo then lost to Santa Barbara 2-1 on Thursday. Santa Ynez beat San Marcos 4-0 on Thursday.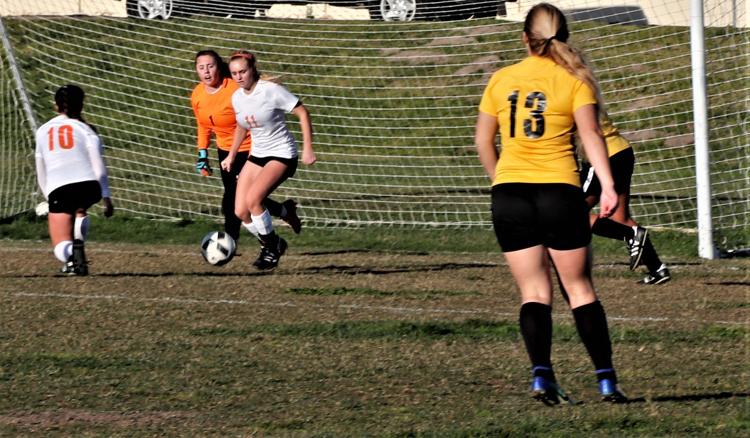 Santa Ynez's (7-3-2, 1-1-1 Channel League) next game is Thursday night at 5 p.m. at home against San Marcos.
Cabrillo is also back in action Thursday afternoon with a 3:15 p.m. home game against Santa Barbara.
The Santa Ynez boys' picked up a Channel League victory at home over Cabrillo.
Bryan Garcia scored the first goal in the 4th minute, Josh Kobayashi had two goals and
Diego Reynoso had one goal and, according to head coach Rick Joyner "played great defense."
Diego Virgin scored the final goal.
Erik Guerrero had four assists.
Santa Barbara 12, Santa Ynez 3
The Pirates lost a Channel League game on the road at Santa Barbara.
Northern Santa Barbara County Round Table female Athlete of the Week Taye Luke had one of the Pirates goals to go with two assists, three steals and four positive kickouts.
Hannah Allen had one goal and two steals. Ally Alderete had the other Santa Ynez goal.
Pirates' goal keeper Peyton Pratt had three blocked shots and one steal.
San Marcos 53, Santa Ynez 27
Santa Ynez stayed close through the first half against the San Marcos Royals at San Marcos but saw its chance at victory slip away after halftime.
The Royals led 13-9 after the first quarter and 29-17 at the half.
"They had a big third quarter, outscoring us 16-8 and we only scored two points in the fourth," said Santa Ynez head coach Ray Vazquez in a telephone interview after the game. "We've just got to do a better job of taking care of the ball."
Nate Rogers scored seven points and Landon Lassahn six to lead the Pirates.
Santa Ynez next hosts Cabrillo on Friday night. 
Santa Ynez 45, San Marcos 36
The Santa Ynez Pirates picked up a Channel League victory over the San Marcos Royals at Santa Ynez High.
Grace Padilla led the Pirates with a double-double; 21 points and 19 rebounds.
Get in the game with our Prep Sports Newsletter
Sent weekly directly to your inbox!