It went down to the wire but the Cabrillo Conquistadores were able to post a 10-8 victory over the Lompoc Braves in a Channel League girls tennis match Tuesday afternoon at Cabrillo High School in Vandenberg Village.
"This is a cross-town rivalry. I love that," said Cabrillo coach Randy Hohimer. "I love that you had a battle down to the wire. I'm just sorry somebody had to lose."
"It came down to those last two sets. I always like to see that," said Lompoc coach Mike Montross. "The match went their way this time. We'll get them next time."
It was the first league win of the season for Cabrillo (1-2 Channel), dropping Lompoc to 0-3.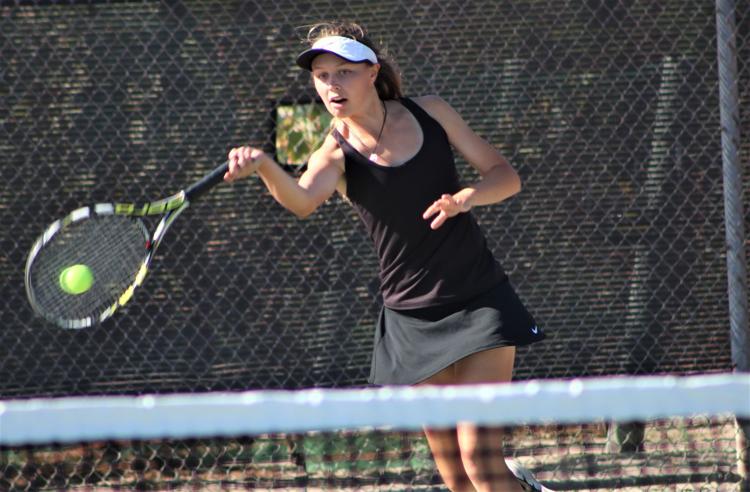 With the final two singles sets underway, the match was all even at 8-8.
If the players split those final sets, the victory would go to the team with most games won and Cabrillo had the slimmest edge, 69-68.
When Cabrillo's No. 1 singles player Kayla Kling closed out her set 6-0 against Lompoc No. 2 Liset Villalobos, it gave the Conqs a 9-8 lead and, more importantly, an insurmountable seven-game edge, wrapping up the match for the Conqs.
"Every time I go out there, I say to myself that winning this set would be preferable for my team. It's always beneficial to get that point for your team," said Kling. "But their serves were ridiculously good. They all have deceptive slices that are hard to get. You don't know where they are going. Props to all of them."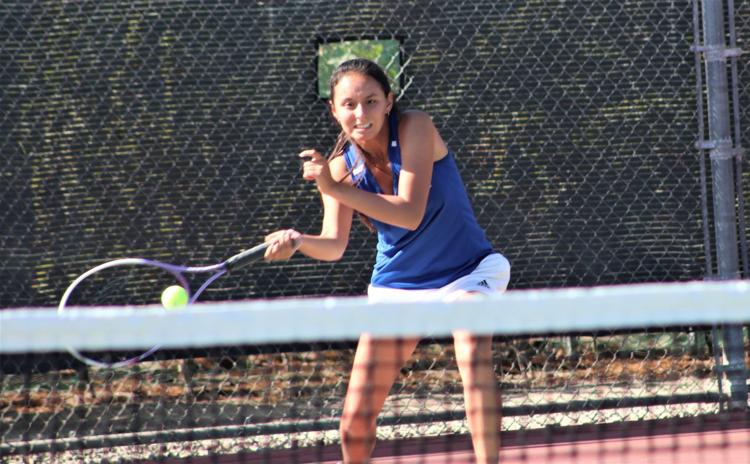 Then Cabrillo No. 3 Isabella Morales closed out the match with a 6-3 win over Lompoc No. 1 Karla Paniagua.
"I wasn't feeling any pressure even though we were tied when I played my final set," said Morales. "I had to come back to win my first two sets and then had to face their No. 1 in my final match. I just went out there to have fun and when I got up 4-1 I thought 'I can beat this girl,' but I knew my team would support me no matter what happened."
The Conqs strength came from its singles players who went 9-0 against the Braves.
Kling swept her three sets 6-0, 6-0, 6-0.
At No. 2, Rachel Carlos came back from being down 0-2 and later 2-4 to Lompoc's Villalobos to win her first set 7-5. Carlos then defeated Paniagua 6-1 and No. 3 Hailey Fernandez 6-2.
"That first set, I was down 4-1. She had a really short serve and the wind pushed it," said Carlos. "I had to adjust to that and that was hard."
"That was an awesome comeback," said Kling after watching her teammate rally. "Now I need to keep it going because it's going to be a close game. It could end up 9-9."
"Yeah, it's still anyone's game," said Carlos.
Morales posted comebacks in both of her early sets, eventually winning 7-5 over Villalobos and Fernandez.
It was in doubles that the Braves showed their strength, going 8-1 on the afternoon.
"I feel we're pretty good in doubles, we're pretty swell balanced," said Lompoc No. 1 doubles player Jessie Elenes. "The thing I like most about playing doubles is having a partner on the court to cheer you on. It really helps. And, as a group, our doubles teams played really well today."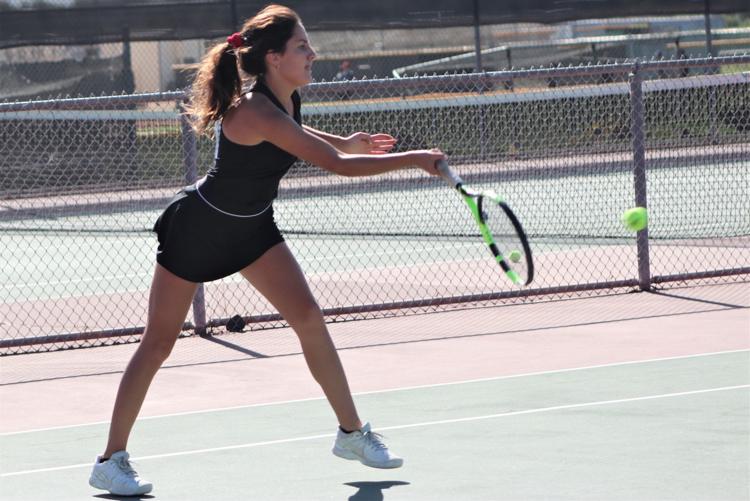 No. 1 Cheri Battle and Elenes topped Lauren Pulido and Victoria Gordon 6-3; Isabel Hapil and Madelyn Berry 6-2; and Erin Mars and Mia Crissone 6-0.
At No. 2, Denise Robles and Sandi Fahle swept 6-3, 6-0, 6-1.
At No. 3, Rosa Flores and Evelin Lopez were down 0-4 in their opening set against Mars and Crissone before battling back to win 6-4. They dropped their second set, 1-6, to Pulido and Gordon before coming back for a 7-5 win against Hapil and Berry.
Both teams continue Channel League play Thursday. Cabrillo is on the road at Santa Barbara while Lompoc will be home against Santa Ynez.
"This was a rivalry game, rivalry but competitive friendliness," said Hohimer. "It makes me proud of both teams and both schools."
Dos Pueblos 12, Santa Ynez 6
Santa Ynez fell to 1-2 in Channel League play (5-7 overall) with a home loss to the Dos Pueblos Chargers.
Claire Collison swept her three sets, winning two of them 6-0, 6-0 and then having to battle Dos Pueblos No. 1 singles player Alessa Somer into overtime, winning a tiebreak 7-4.
Kaitlyn Thompson won two of her three sets to give the Pirates a 5-4 edge in singles.
But in doubles, only Alexa Yacoub and Sophia Curti were able to pick up a point, winning in a tiebreak 7-3 over Dos Pueblos.
Santa Ynez heads to Lompoc on Thursday.
Dos Pueblos 3, Santa Ynez 0
Later Tuesday, the Chargers posted a straight-set win over the Pirates, 25-12, 25-11, 25-20, in Channel League girls volleyball action.
Kylie Clouse had four kills and three blocks, Michaela Baker had three blocks, Dakota Blunt had three assists and Rylynn Ibarra had 14 digs.
Santa Ynez is at Santa Barbara on Thursday.
Coast Union 3, Valley Christian Academy 0
The Coast Union Broncos won three straight, 25-19, 25-16, 25-23, for a Coast Valley League win at VCA in Santa Maria.
VCA (4-5) was led by Emilie Czap with 28 digs.
"It was her first time playing libero and she played great," said coach Rebecca Maples.
Gabby Sassenberg had 11 assists and four service aces.
"We won 15 points off her serve and that really helped us," said Maples.
Jenna Mason had 13 kills. VCA is off until next Tuesday when they continue CVL play at Shandon.
Claire Alford shot a 39 to lead all scorers and lift Righetti past the Tigers.
Righetti had three other golfers shoot under 50 as Grace Minetti shot 47 and Kayla Minetti and Kira Kase each shot 49. Cameron Reynoso scored a 52.
"It was a good win for us," Righetti coach Brian Tomooka said. "We had all the girls play real well and it was windy. Grace Minetti had the best score that she's ever had. She's a freshman. Everybody was consistent and that's what you're going to need to contend with these Mountain League schools. SLO is a really good team and it'll be a tight match on Thursday."
SLO was led by Ellery Yasumoto's 45. Sophia Silacchi shot 47 for the Tigers and Katie Leebrick scored a 49.
Righetti is now 4-1 in Mountain League play and 7-3 overall. The Warriors' lone loss was to Atascadero. They play the Tigers at SLO Country Club on Thursday. 
Santa Ynez 224, Nordhoff 230
The Pirates shot a team record 224 at Soule Park in Ojai as the Pirates beat Nordhoff by six strokes in a non-league match.
Santa Ynez' Morgan Blunt shot a 41 to earn medalist honors. Marina Vengel, the reigning Northern Santa Barbara County Female Athlete of the Week, shot a 42 for the Pirates. 
Caelyn Linane carded a 45 and Ryann Melville and Emily Ruiz each shot 48.
Nordhoff was led by Ella Guilliani's 42 and Alex Kenie's 43.
"This is the lowest score Santa Ynez has ever scored in a match and the first time all five scorers were in the 40s in the last 7 seasons," Santa Ynez athletic director Ashley Coelho said.