The Hancock College bid for its third straight unbeaten Pacific League campaign began Saturday with Eddie Battle taking the opening kickoff at his 14 and out-running the Pasadena City College pursuit for a score.
A Maurice Smith 10-yard touchdown run gave the Bulldogs two touchdowns in the first 2:02. The Lancers withstood that early Hancock surge but the Bulldogs eventually pulled away for a 45-14 win at Hancock in the league opener for both teams.
"We has a good week of practice and it translated into a good game for us," said Hancock offensive tackle Logan Faitau.
The Bulldogs moved to 4-2, 1-0. The Lancers are 2-4, 0-1.
Pasadena pulled within 21-14 when backup quarterback Kade Wentz evaded a rush and hit a wide open Justin Campbell for a 33-yard touchdown pass at the 3:29 mark of the second quarter. The Bulldogs did the rest of the scoring.
Edgar Zacarias extended the Hancock lead to 24-14 when he kicked a 39-yard field goal.
The Bulldogs got a big score near the end of the half. With a defender draped on him, Hancock tight end Mike Dutra grabbed a 38-yard pass from Hancock quarterback Matt Garcia. That set up a 2-yard DJ Whitmill run with 15 seconds left in the half to give the Bulldogs a 31-14 halftime lead.
The Lancers were driving on the first possession of the second half when Hancock's Kyron Smith, in front of a Pasadena receiver, made a leaping interception in the Hancock end zone.
That essentially sealed the outcome. The Lancers couldn't come close to scoring the rest of the way.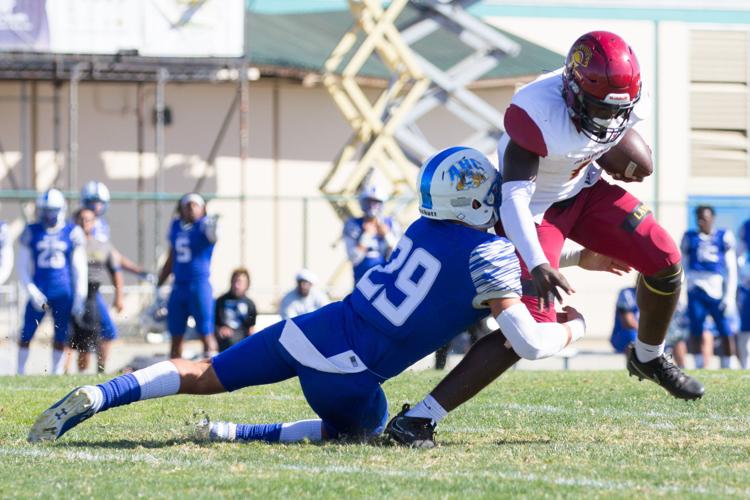 Linebackers Richard Goldhammer and Honus Wagner led a Bulldogs defense that contained a Lancers offense that featured lots of faking and two good option quarterbacks, Wentz and Pasadena starter Edward Norton.
"Their whole MO was to try to get us confused in our backfield," said Goldhammer.
"We just stuck with our assignments. Everybody just stayed in their lanes." The Bulldogs kept the Lancers to 120 yards of offense in the second half after they rolled up 288 in the first.
"Our defense did a good job," said Hancock coach Kris Dutra.
"You have to deal with their quarterbacks on that option. Norton has most of their rushing yardage and (Wentz) is better than I thought he was."
After running for 111 yards, on just seven rushes, and throwing for 90, Norton went down late in the first half and did not return. The extent of his injury was not known at press time.
After a scoreless third quarter, Hancock pounded out two scoring drives in the fourth quarter.
Typically, most of Hancock's work on those drives came on the ground but Garcia hit his 6-foot-4, 260-pound tight end, Jerome Afe, for a 16-yard touchdown pass and the last TD of the game.
Whitmill ran for 166 yards, including a 34-yard score early in the fourth quarter.
Hancock churned out 265 yards on the ground.
"I've gone against (the Hancock ground attack) in practice, and you can't defend against that for four quarters," said Goldhammer. "You're going to get tired out."
Afterward, Dutra praised Hancock's special teams and offensive line.
Besides the Battle kick return and Zacarias field goal, Bulldogs kickoff man and punter Cade England was solid again.
As for the Hancock offensive line, "It was more intact at Antelope Valley, in a 47-14 Hancock win last week" said Dutra.
"When Gerardo Fernandez went down early today, a lot of guys had to shift again. They did a really good job responding."
Faitau moved from his regular guard spot to tackle.
"The blocking's a lot different," said Faitau. "The guards pull. With a tackle, it's a lot of straight-up blocking."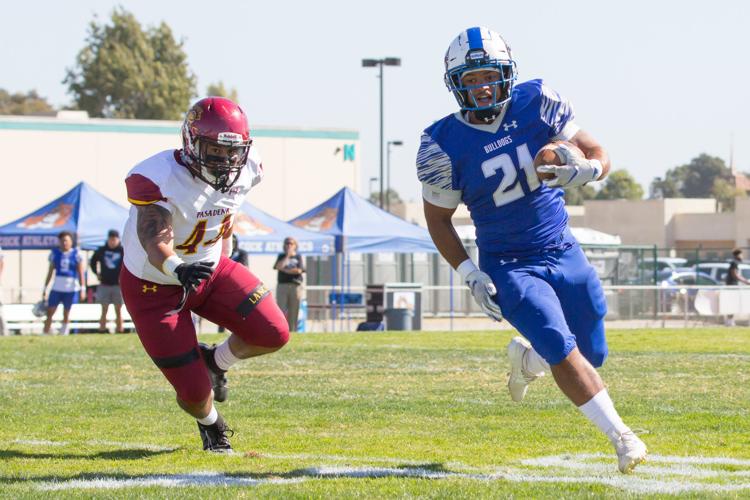 Garcia was 9-for-12 passing for 161 yards in blustery conditions.
"His passing loosened them up on defense," Faitau said.
Pasadena broke out three trick plays, all in the first half. One worked.
Backed up near his own goal line after the Lancers stopped the Bulldogs at the 10, Norton took the snap on a fake punt and bolted 67 yards to the Hancock 23. That set up his nine-yard touchdown pass to David Telles.
Curt McDonald knocked the ball out of Pasadena kicker Bracamante Bucio's hand as Bucio was reaching to try to get a first down on a fake field goal try. Hancock's EJ Barrera scooped the ball up and ran 95 yards to the end zone to make it 21-7.
The Lancers tried an onside kick after their first touchdown. The Bulldogs recovered it.
"This was a good team win for us," said Goldhammer.
Hancock will host Santa Monica College at 2 p.m. next Saturday in a Pacific League game.
High School Football
Riverdale Christian 48, Orcutt Academy 14
The Orcutt Academy Spartans lost a Central Sierra League 8-man football game Saturday in a battle for first place in the league in Riverdale.
The game was close through the first quarter with Riverdale Christian scoring twice and Orcutt Academy once for a 16-7 Riverdale Christian lead.
But Riverdale (5-1, 3-0 Central Sierra) exploded for 32 points in the second quarter to take command of the game.
Although the Spartans (3-5, 2-1) held Riverdale Christian scoreless in the second half, Orcutt Academy managed to score just one fourth quarter touchdown.
Orcutt Academy hosts Laton next Friday night on the Spartans' Senior Night.
101919 Hancock Pasadena Football 02.jpg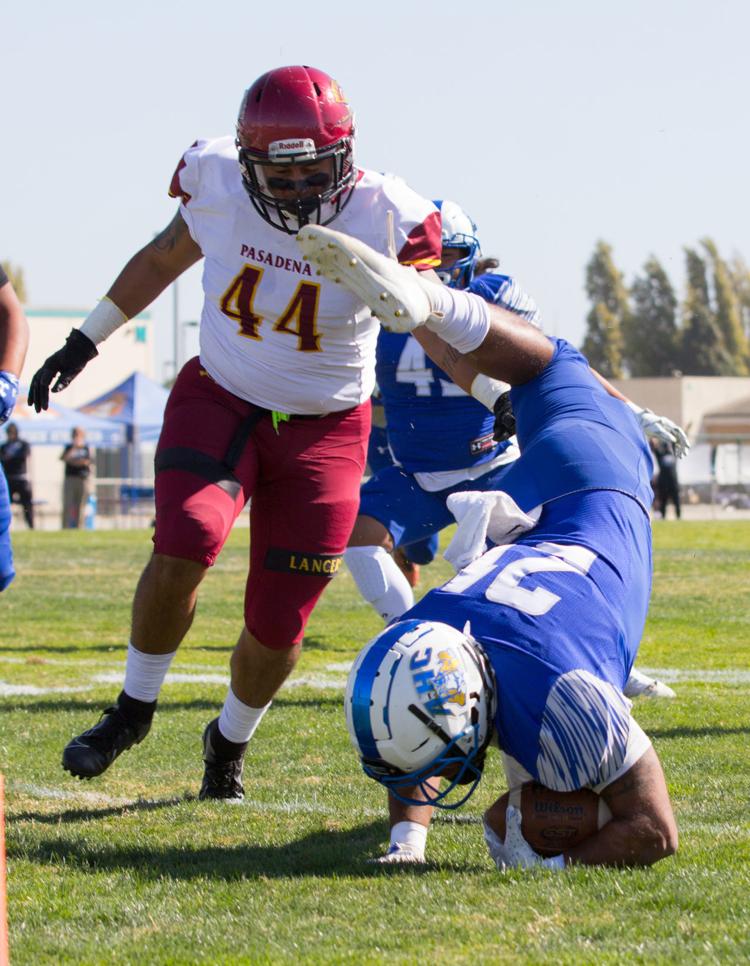 101919 Hancock Pasadena Football 01.jpg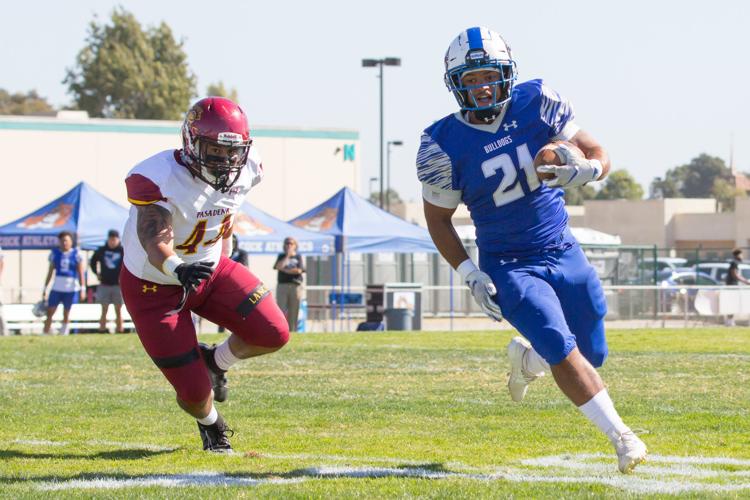 101919 Hancock Pasadena Football 03.jpg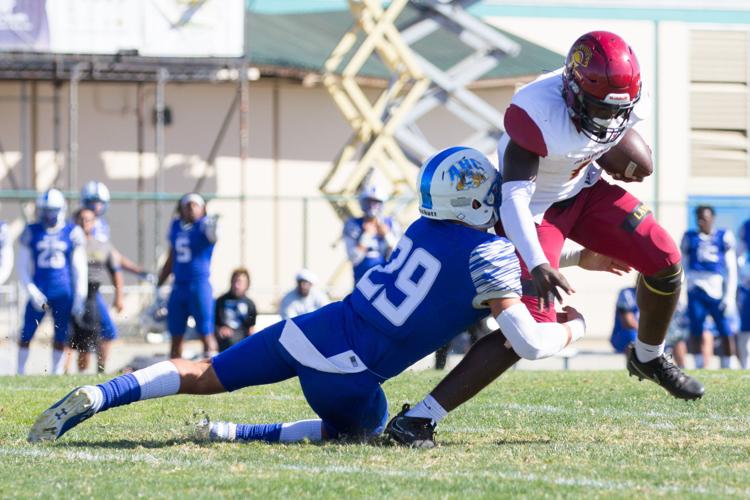 101919 Hancock Pasadena Football 04.jpg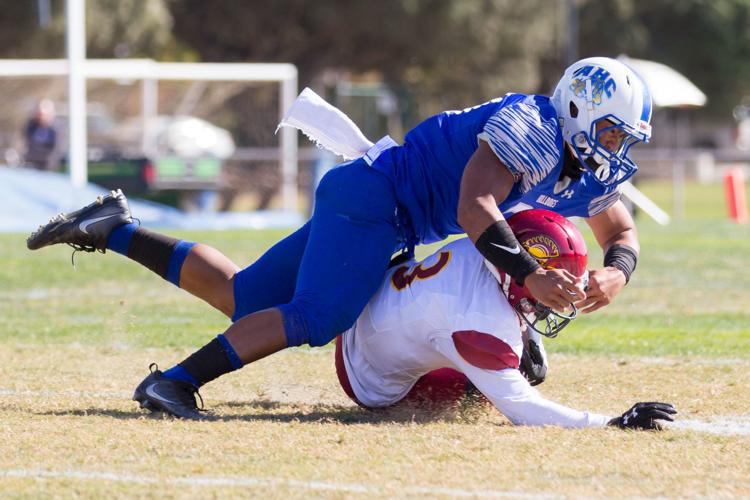 101919 Hancock Pasadena Football 05.jpg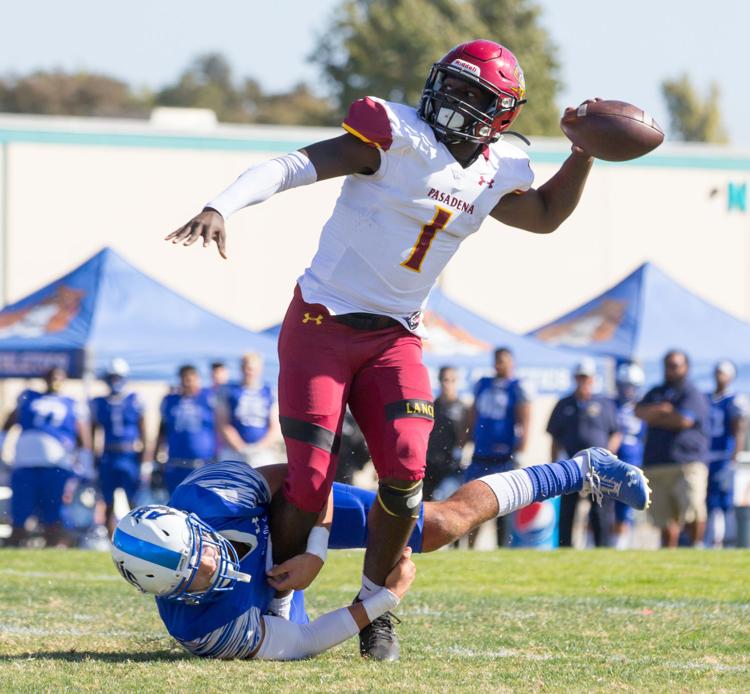 101919 Hancock Pasadena Football 06.jpg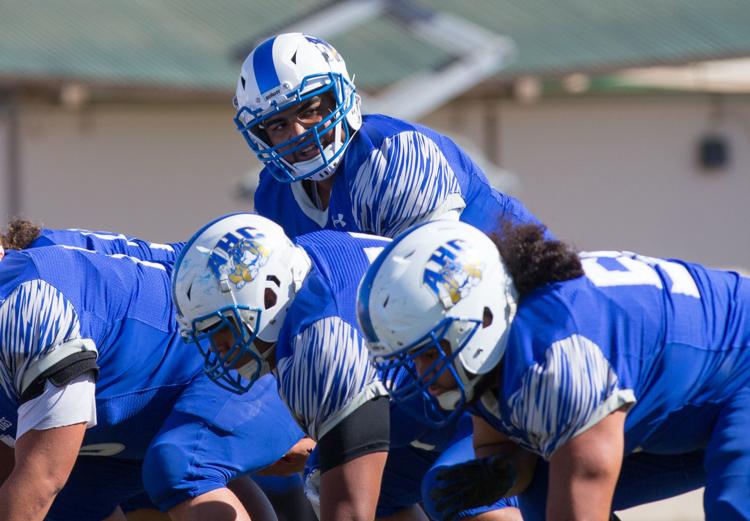 101919 Hancock Pasadena Football 07.jpg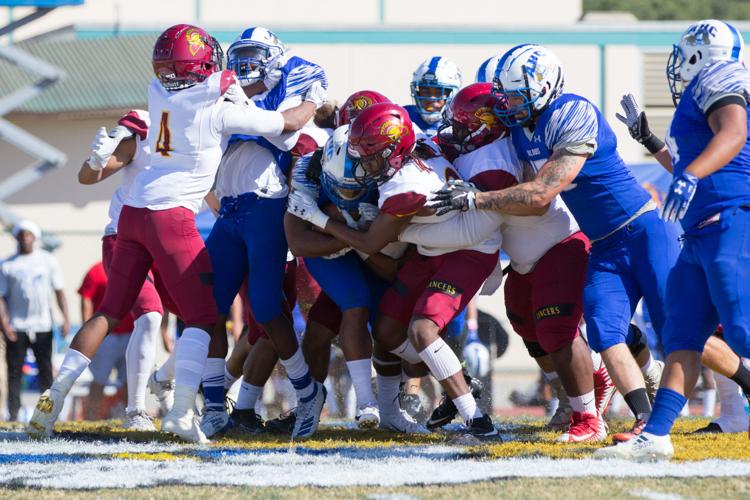 101919 Hancock Pasadena Football 08.jpg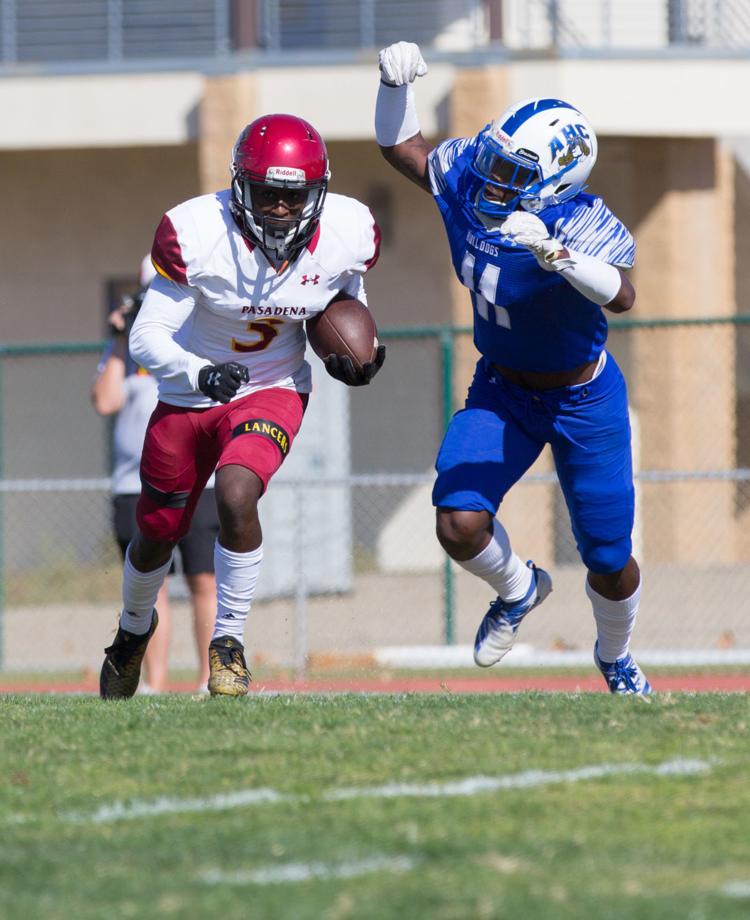 101919 Hancock Pasadena Football 09.jpg
101919 Hancock Pasadena Football 10.jpg
101919 Hancock Pasadena Football 11.jpg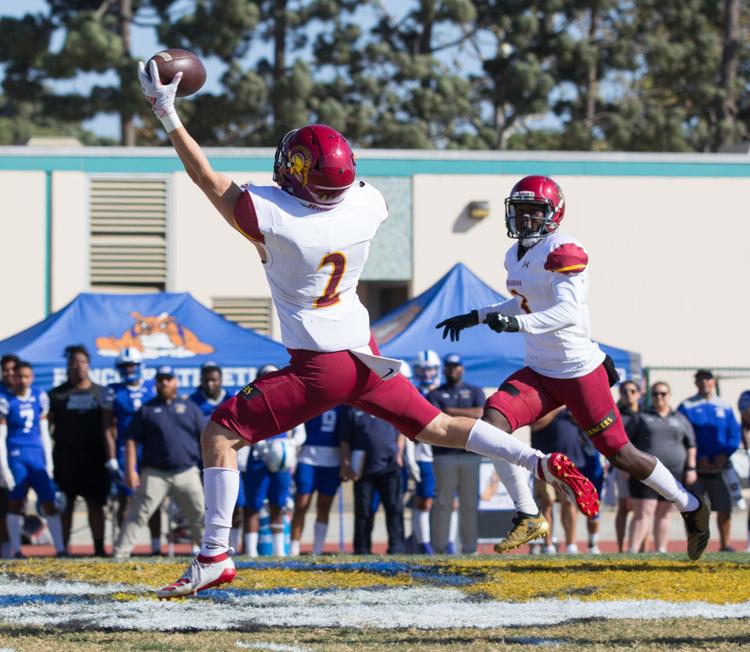 101919 Hancock Pasadena Football 12.jpg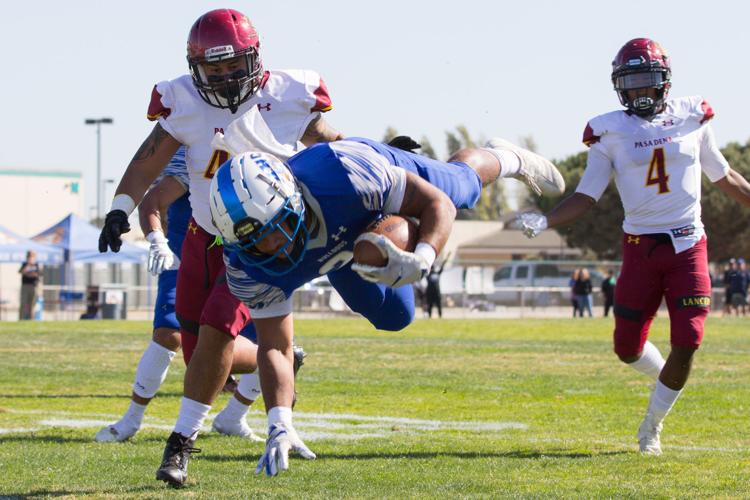 101919 Hancock Pasadena Football 13.jpg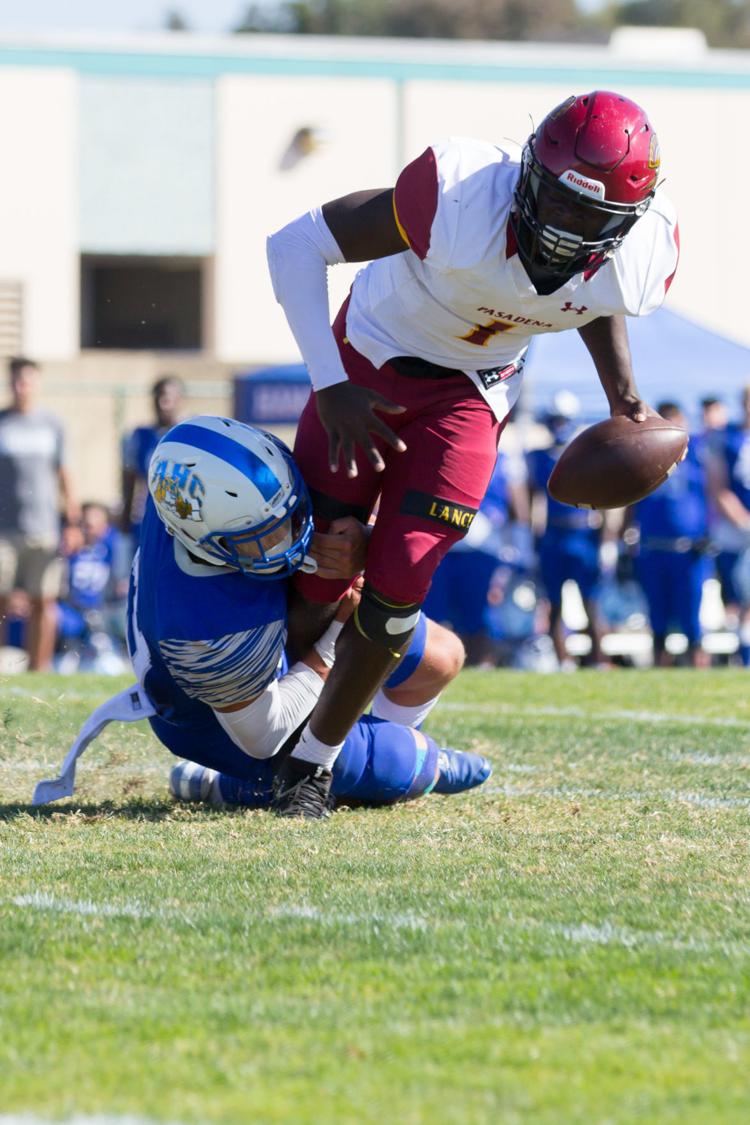 101919 Hancock Pasadena Football 14.jpg