Coming off three straight wins at home in the Central Section Division 3 Girls Volleyball Playoffs, Santa Ynez will hit the road in its quest for the Division 3 championship.
The No. 7 Pirates will play at No. 1 Kingsburg at 6 p.m. Thursday night for the divisional championship. The Vikings are 24-6 overall going in. The Pirates are 18-17.
Kingsburg has played nine sets in these playoffs and has won them all. The Vikings swept No. 16 Visalia El Diamante, No. 9 Fresno Bullard and No. 5 Yosemite by 3-0 counts to reach the final.
Santa Ynez defeated No. 10 Reedley 3-1, No. 15 Bakersfield Garces by the same score then swept aMountain League rival, No. 14 Mission Prep 3-0 (25-19, 25-21, 25-18) in the semis Tuesday night to get to the championship match.
Senior outside hitter Jayda Henrey leads the Pirates into this one. Henrey set a Santa Ynez school record for kills, 360 so far, this season. Henrey has 276 digs and 23 blocks on the year and, said Pirates coach Amelia Brown, Henrey has been solid in serve receive all season.  
"I came into this program when most of this team (consisted of) freshmen, and I always know they were a special group of girls," said Brown.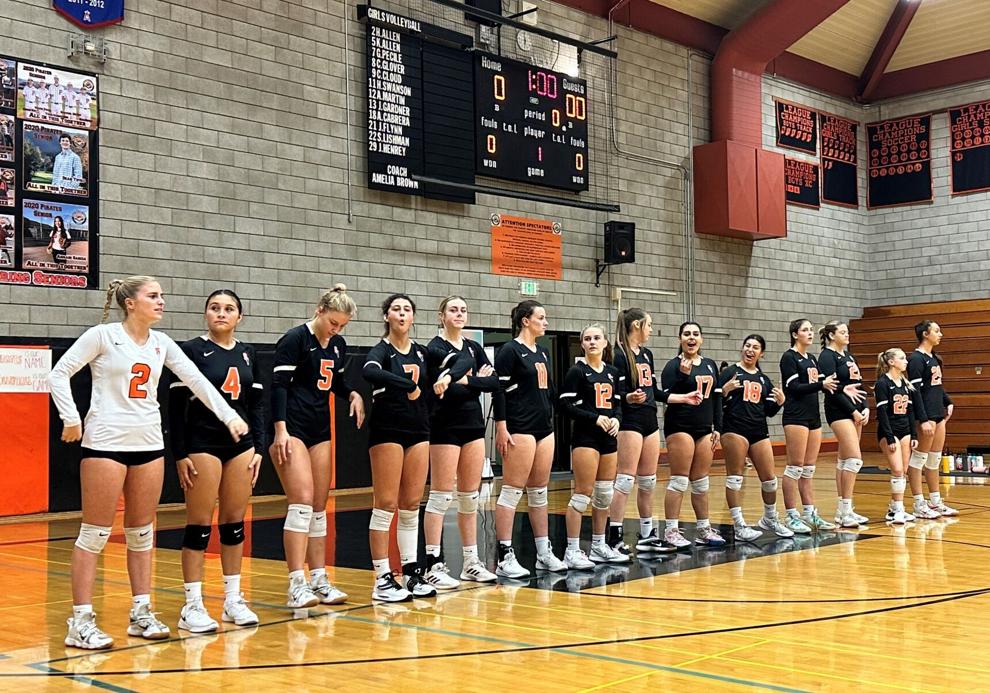 "Our team has seven seniors whose high school volleyball career has been nothing but chaotic. Most of them were sophomores on the varsity when they spent their season on the grass (because of the COVID-19 pandemic). Their junior year, we competed in a very challenging Channel League in the Southern Section where they didn't get a bid for (the CIF Southern Section Playoffs) and never had a full team due to COVID."
Santa Ynez moved to the Central Section effective the 2022-23 school year.    
No season stats for the Vikings were listed at press time. Kingsburg is a seasoned group. Nine juniors and eight seniors are listed on the Vikings roster.
The tallest player listed on the Kingsburg roster is 5-foot-10 junior middle blocker Evelyn Mousesian.
Outside hitter Gianna Pecile has given Santa Ynez strong overall play this season. Pecile has 241 kills on the year, second on the team behind Henrey. Pecile has amassed 384 digs, has served 44 aces and, "She is the leader on the team on defense," Brown said.
The Pirates played a strong overall match against Mission Prep's Royals Tuesday night.  
Henrey, with 13 kills, 11 digs and four service aces, gave the Pirates a strong all-around match. Pecile racked up eight digs, six kills and two aces.
Hannah Allen led the Pirates in digs with 11. She also served three aces. Sadie Lishman chipped in with 12 assists and three digs.
Pirates setter Ashley Martin leads the team in assists this season with 474. She has amassed 191 digs and 38 service aces for a Santa Ynez team that has been strong on its serve this year.
"Aliyah Cabrera, who is a setter and defensive specialist for us, has come in as a serving specialist and been one of our top servers throughout (the playoffs)," said Brown. Cabrera has 171 assists on the year.
Lishman, a team captain, is a setter and libero. She is another one who has given the Pirates strong all around play. Going into the Kingsburg match, Lishman had 256 assists, 210 digs and 42 aces on the year.
Middle blocker Cailin Glover leads the team in blocks with 51. She also has 142 kills going into the Kingsburg match.  
Allen, a Santa Ynez libero and outside hitter, leads the team in aces with 51 and in digs with 349. "She has played almost every position on the floor for the team," said Brown.
Kaki Allen, a middle blocker and another team captain, has contributed 184 kills and 47 blocks for the Pirates. "She is a vocal leader on the floor," said Brown.
A lot of Pirates have contributed to this big season for Santa Ynez, Brown said.
The coach said opposite Halle Swanson, middle blocker-opposite Jaydn Gardner, opposite Jessie Rae Flynn, opposite/outside hitter Helina Pecile, Arelie Perez, Kylie Lapointe and Helena Pecile have all made big contributions down the stretch.
"Jadyn played great at middle blocker when we had injuries," said Brown. "Helina is a freshman who has played the last two (playoff) games at opposite and has impressed her teammates and coaches with her play.
"Arelie, Kylie and Helina were all called up from the junior varsity and have contributed in our CIF run," said Brown.
Kingsburg finished 4-4 and in third place in the tough Tri-County Kings League.
League champion Exeter (26-6, 8-0) landed in Division 1 for the playoffs. The No. 7 Monarchs lost 3-0 to No. 2 Clovis North.
Central Valley Christian, the Tri-County Kings League runner-up, is the No. 3 seed in Division 2 and will play at No. 1 Clovis Buchanan Thursday night for the Division 2 championship.
Santa Ynez finished 6-8 in the Mountain League behind San Luis Obispo, Arroyo Grande, Paso Robles and Templeton. San Luis Obispo competed in the Division 1 playoffs. Arroyo Grande, Paso Robles and Templeton were in Division 2.
Brown said she and her coaching staff has been impressed by their team's grit.
"This team has more desire to win than any other team we've seen come through this program in a long time," said Brown. The Santa Ynez head coach said her players battled through injuries and have managed to peak at the end of the season.
"It has been a pleasure to see this team develop into mature and dedicated volleyball players who truly love and respect each other, and I can't wait to see how they finish the season," said Brown. "I am extremely proud of all of them."