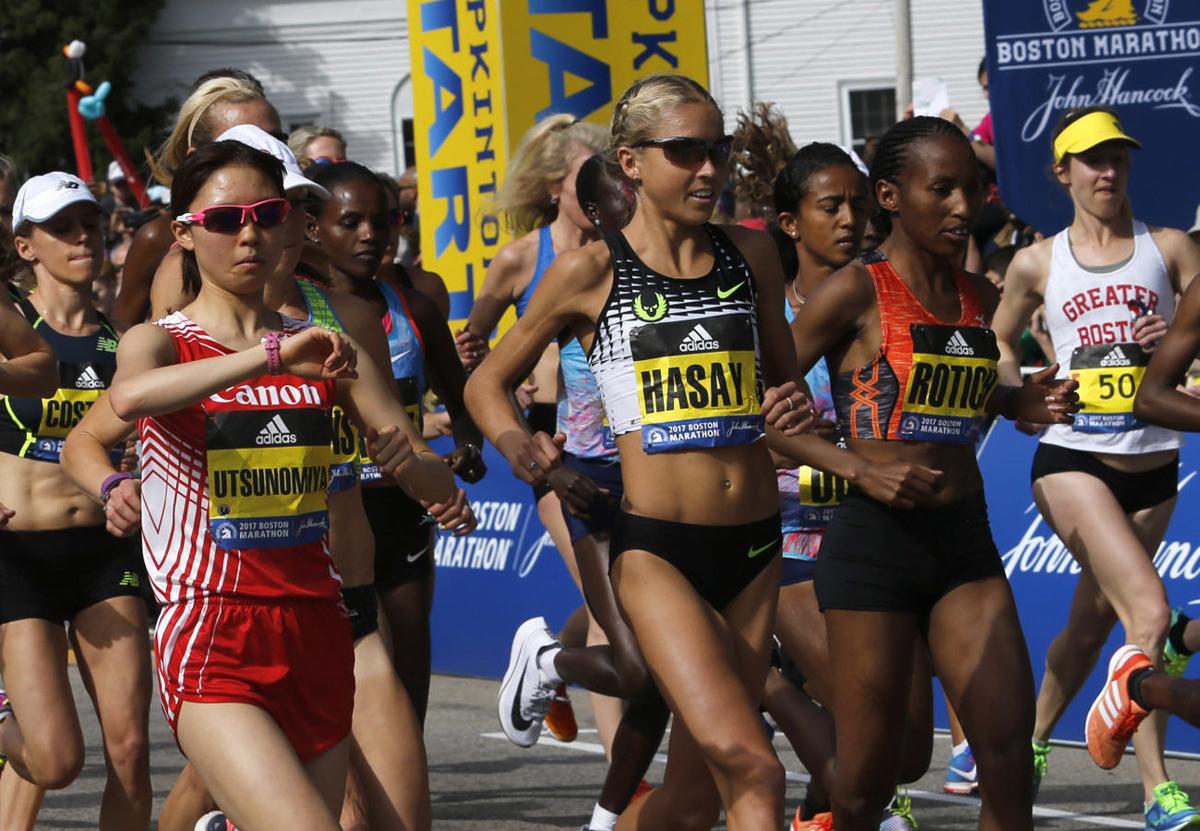 Arroyo Grande native Jordan Hasay debuted in the marathon in 2017 with the fastest first marathon for an American woman ever, 2 hours, 23 minutes, good for a third-place finish at the historic Boston Marathon.
Dogged by injuries in 2018, she has not run another marathon since.
That is about to change.
Finally free from injury, Hasay is set to run in the 123rd edition of the Boston Marathon Monday. NBC will televise the event at 5:30 a.m. PDT. Hasay will compete in the elite women's race that starts at 6:32 a.m. PDT.
Defending Boston Marathon women's champ Des Linden of the U.S.A. is also scheduled to race Monday.
As for Hasay, her training routine has changed, she told Runner's World recently, and that has benefited her.
"I feel like I'm getting older," Hasay, 28, told Runner's World. "I used to just go out and run. Now I have to do all this stuff."
Some of the "stuff," Hasay described to Runner's World, includes a 20-minute routine before each morning training run that consists of a 20-minute board and foam roller routine she calls "Prehab," to activate her abs, back, hip flexors and feet.
"I guess what I've learned is that with the marathon training, you're asking your body to do quite a lot," Hasay told Runner's World. "You have to respect it."
She was one of the most decorated high school runners in history before she graduated from Mission Prep in 2008. Hasay became the first runner ever to win the Foot Locker highs school national cross country championship as a freshman and then as a senior.
Hasay was a four-time state cross country and track (in the 3,200 meters) state champion in high school. She stayed relatively injury-free during her time at Mission Prep.
She also stayed healthy, for the most part, during her career at the University of Oregon. Hasay did not win an outdoor NCAA national title, but she did win two national indoor championships, in the mile and 3,000 meters.
Her luck turned for the worse when injuries wiped out her 2018 season. Hasay pulled out of the 2018 Boston Marathon the night before the race, citing a stress reaction in her left heel. She also had to scrub her plans to race in the Chicago Marathon later that year, again because of injury.
In 2017, Hasay followed up her smash marathon debut in Boston with a 2:20.57 in Chicago, the second-fastest marathon time for an American woman, behind Deena Kastor's 2:19.36.
Hasay has been able to race some this year. She won the 15K Shamrock run at Portland, Oregon, near where she now lives, in 51:34 on March 17. Earlier in the month, she finished sixth, in 1:11.06, in a half marathon in Rome.
Besides Linden and Hasay, the fourth-fastest women's marathoner of all time, Worknesh Degefa of Ethiopia, is slated to run at Boston Monday.
After she graduated from Oregon, Hasay joined the Nike Oregon Project in Beaverton. She still runs for the Nike Oregon Project, and is coached by Alberto Salazar.
The congenial Hasay remains hugely popular. She has tens of thousands of Twitter followers, and tweeted recently, "I want people to be inspired by the performance. Be inspired to use their gifts."
Be the first to know
Get local news delivered to your inbox!