Just when things were finally coming together, everything fell apart last Sunday for Luke Branquinho, the five-time world steer wrestling champion from Los Alamos.
After injuries cost Branquinho most of the 2017 and all of the 2018 seasons, he was finally back in the saddle, working his way up the Professional Rodeo Cowboys Association (PRCA) money list for a shot at his 15th National Finals Rodeo (NFR).
But that all changed on Sunday when Branquinho was injured during the final performance of the 76th annual Santa Maria Elks Rodeo.
"It was a freak injury, a pretty freaky deal," said Branquinho on Friday after all the medical tests were completed. "I had everything lined up the way I needed to. We were running pretty fast and (hazer) Stan Branco had the steer lined up just right. I jumped off my horse, dug in my heels and the steer just fell on my leg. I've wrestled thousands of steers and never had one fall on my leg before.
"I felt something pop, felt some pain and grabbed my knee. I've had a lot of injuries before but this is the first time I've injured a knee. It just shows you never know what can happen in the arena. I'm just glad it happened close to home but, at the same time, I'm sorry it happened in Santa Maria with my family and friends watching."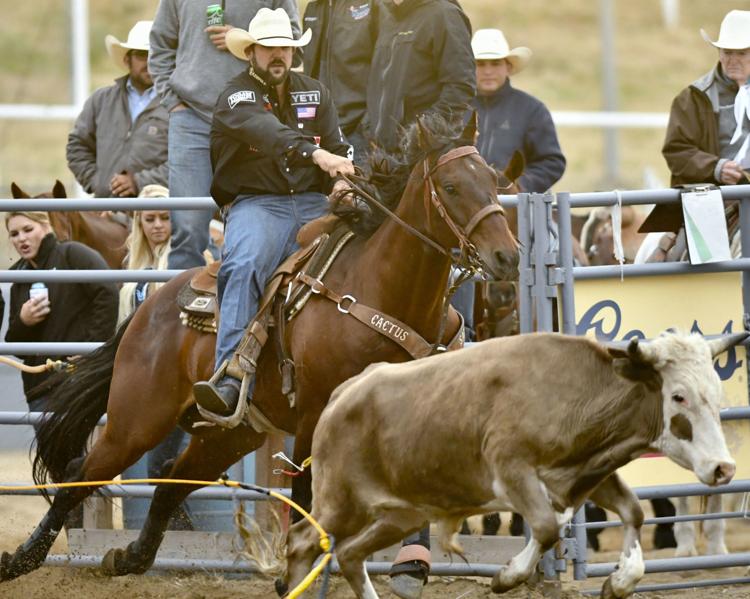 A torn rotator cuff cost Branquinho most of the 2017 season and a biceps tear cost him all of 2018.
Heading into the Santa Maria Elks Rodeo, Branquinho was finally healthy again.
"I'm feeling reel good," said Branquinho after Thursday night's opening Elks performance where he was steer wrestling's early leader. "I just have to keep it that way."
He kept it that way through a quick trip to Green Bay, Wisc., where he picked up $10,000 on a third place finish at the World Champions Rodeo Alliance's (WCRA) Title Town Stampede.
Branquinho was just about $10,000 out of steer wrestling's top 15 in the world standings — the place he needed to be to earn a spot in his 15th National Finals Rodeo (NFR).
Unfortunately, money earned in WCRA rodeos doesn't count toward the NFR, so his Green Bay winnings didn't move him up to the top 15.
Branquinho had won four rodeos this year; San Francisco's Grand National Rodeo, the Cave Creek (Ariz.) Rodeo Days, Brawley (Calif.) Cattle Call Rodeo and the Stonyford (Calif.) Rodeo.
And he was on pace to pick up some good money that would count toward the NFR in Santa Maria when the injury occurred.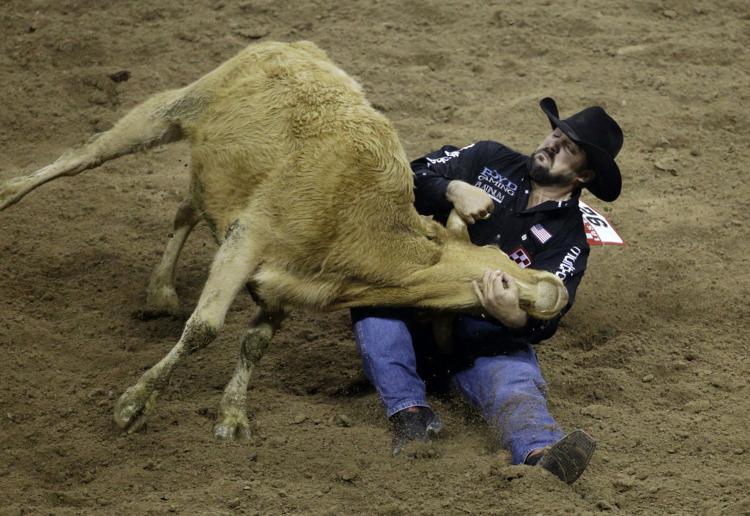 The Justin Sports Medicine Program's Dr. Tandy Freeman flew into Santa Barbara to take a look at Branquinho's knee.
The diagnosis — surgery is needed to fix a torn right ACL in Branquinho's right knee.
"Dr. Tandy has worked on me three other times," said Branquinho. "I have a lot of confidence in him."
The surgery will be performed in Dallas on June 19th.
"It should be a quick trip," said Branquinho. "I'll fly in for pre-op on the 18th, have the surgery on the 19th and be back home the 20th or 21st."
Branquinho isn't just sitting around, waiting for the surgery.
"I'll do some rehabbing before the surgery. I'm trying to keep my body strong so that I can cut down on the comeback time," said Branquinho. "And I still have work to do at our (Los Alamos) ranch. "I should be able to get all the hay put up before I head to Dallas. There's really no time to sit around. The hay isn't going to bale itself."
But the injury has ended Branquinho's 2019 season and his shot at another NFR.
"I'm looking forward to putting this behind me. I'm hoping to be back in October for the California Circuit Finals," said Branquinho. "I'm in a good mood — there's no reason to be in a bad mood. I think positive thoughts are more beneficial — the body thrives on positive energy."
"I was able to celebrate my oldest son Cade's 11th birthday this week and I should be home for (middle son) Jameson's ninth birthday next month and (youngest son) Bear's fourth birthday in September (and his own birthday in September, too)."
Branquinho won't be going through the recuperation and rehabilitation process alone.
"My dad (Johnny) has to have knee replacement surgery at about the same time so we'll be laid up at the same time," said Branquinho. "But we could get on each other's nerves."
And he might not be completely done with rodeo although he won't be saddling up any time soon.
Branquinho has done some work as a rodeo TV analyst, including at last year's NFR where his on-air performance was well received, and he's open to doing it again.
"If I get the call to do TV, I'll do it," said Branquinho. "I'll dang-sure take advantage of it."