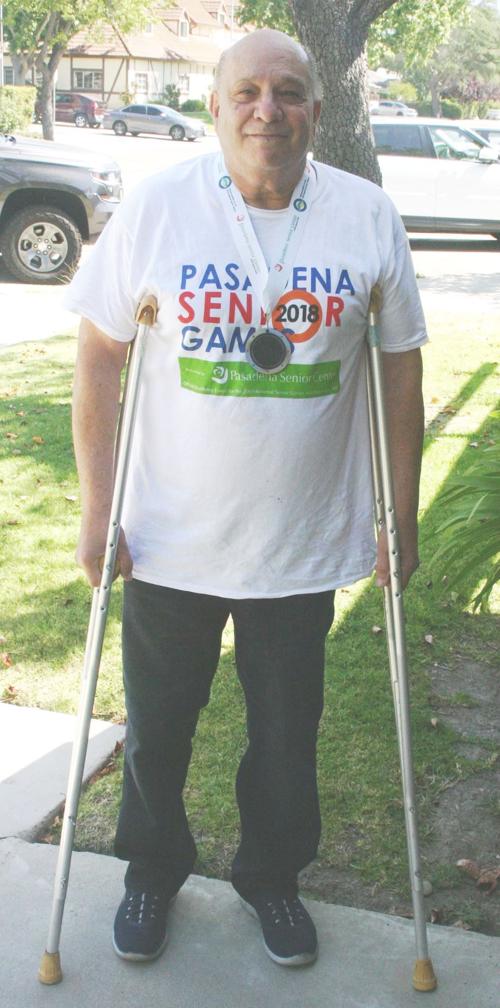 A Santa Ynez man who has brought a swimming medal home from the Senior Olympics or Senior Games almost every year since 2012 did it again this year, despite an injury that kept him out of all but one of the events he had entered.
Joseph Lisoni won the silver — and applause from spectators — in the 25-yard freestyle sprint for the 70-to-74 age group at the Pasadena Senior Games that started May 19 and will continue through July 15.
Lisoni, 71, said he had already entered the "full house" of amateur senior swimming, consisting of the 25-, 50-, 100-, 200- and 400-yard men's freestyle races, to be held in the Pasadena Aquatic Center just a stone's throw from the Rose Bowl.
But four weeks before the June 3 competition, he injured the plantar fascia, the tissue along the bottom of the foot that connects the heel bone to the toes, in one foot, resulting in extreme pain.
"I had to walk on crutches," Lisoni said. "The 25-yard sprint was the only event I could compete in because you can start in the pool. The others, you have to start on blocks, but I couldn't stand on the blocks."
He said he swam a personal best of 23.07 to take second place, which the crowd and other swimmers apparently found impressive, considering he was walking on crutches.
"I received a standing ovation when I got out of the pool," he said. "After the event, the heel and arch injury were painful, but only for a short time — three or four hours."
Lisoni said he continues to swim in amateur competition "to bring public focus to the need for mental health treatment in the United States and foreign countries."
"I want to remove the stigma attached to receiving treatment for mental illness," he said. "I was bipolar when I started swimming, and the psychiatric and psychological treatment I received cured me. I want others to be able to return to good mental health, as I have."
He also credited swimming at the Stuart C. Gildred Family YMCA in Santa Ynez for helping his recovery and for his success in competitive swimming.
Lisoni placed second in the 25-yard freestyle at the 2012 Senior Olympics, second in the 50-meter freestyle at the 2013 Pasadena Senior Games, third in the 1,500-meter freestyle at the San Francisco Olympic Club in 2014, second in the 25-yard freestyle at the 2016 Pasadena Senior Games and third in the 2016 Huntsman World Senior Games.
In addition to swimming, the Pasadena Senior Games offer competition in basketball, softball, volleyball, track and field, tennis, archery, racquetball, cycling, power lifting, table tennis, golf, shuffleboard, billiards, pickleball, bowling, horseshoes and disc golf.