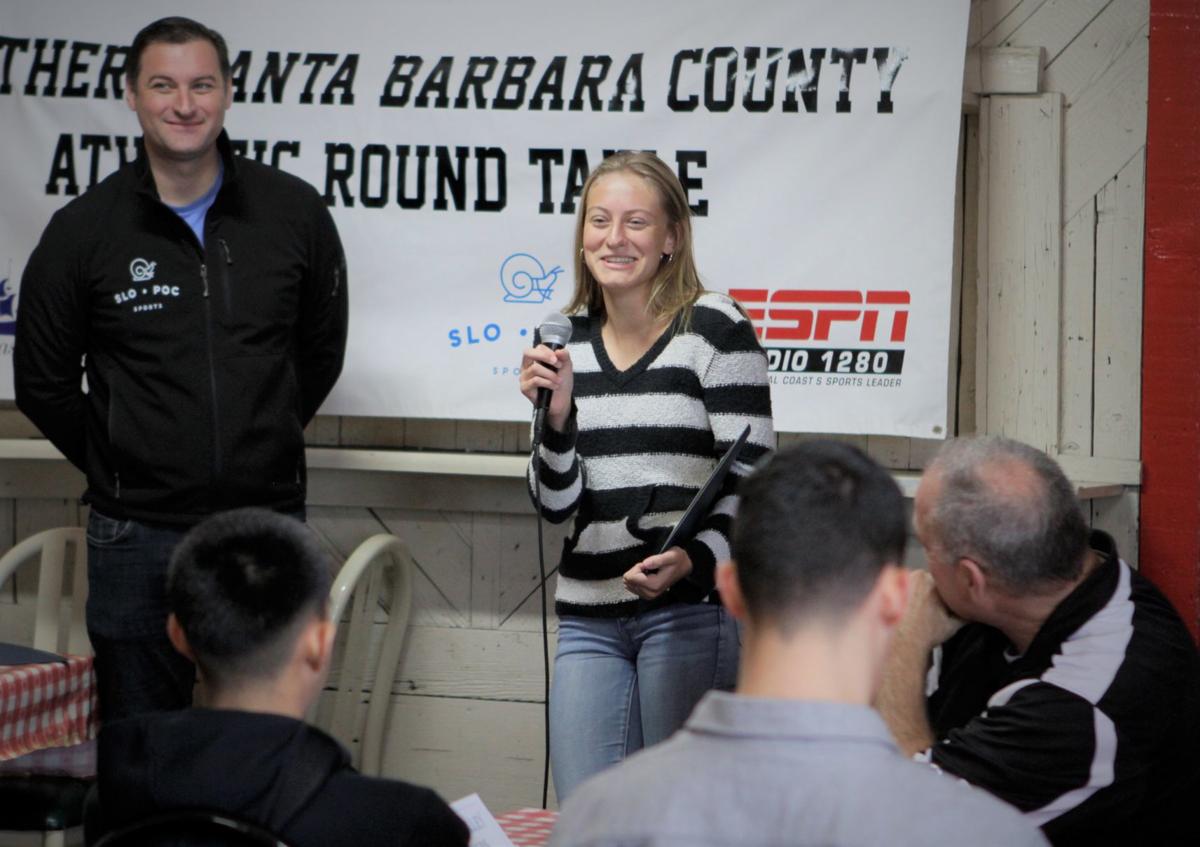 Ozzie Andrade's job is to make sure the ball doesn't find the back of the net.
Taye Luke's job is to make sure the ball does find it. 
Two different athletes playing similar sports with disparate duties. 
Both of them, though, earned Athlete of the Week awards at Monday's Northern Santa Barbara County Athletic Round Table. 
Andrade, the goal keeper on Santa Maria High's soccer team, was named the Male Athlete of the Week. 
Luke, a goal scorer on the Santa Ynez girls water polo team, earned the Female Athlete of the Week award.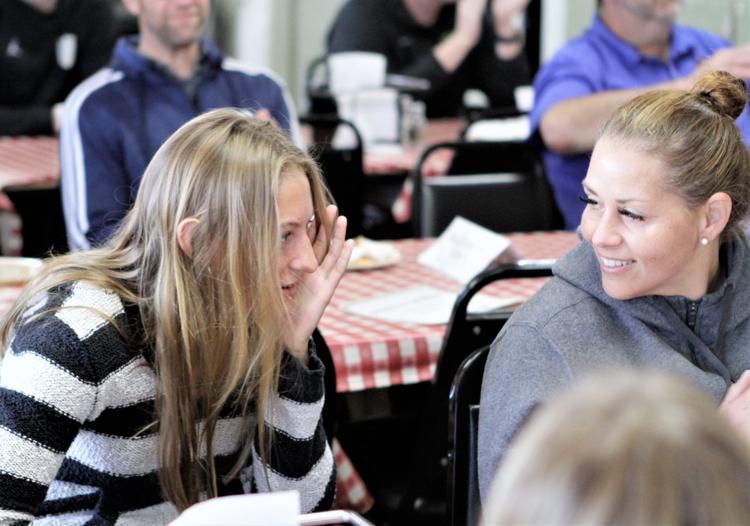 Andrade earned the honor after racking up 20 saves in his team's last three games, which includes a 1-0 shutout of Arroyo Grande last week in a critical Mountain League win for the Saints, who play at San Luis Obispo tonight in a matchup of two top CIF Central Section teams. 
"I feel really grateful for this award because I've been working really hard, especially trying to motivate my team," Andrade said. "(The team) knows what's at stake and we want to achieve a lot this year with these high expectations that we have."
The Saints are 10-1-1 overall and 3-0 in Mountain League play. They're ranked 39th in the state, according to MaxPreps. San Luis Obispo is 10-3-1 and also 3-0 in league and ranked 27th in the state. The teams each beat each other last year as SLO won the league title.
"I still feel that loss from last year and I want to give something back to SLO for that," Andrade said.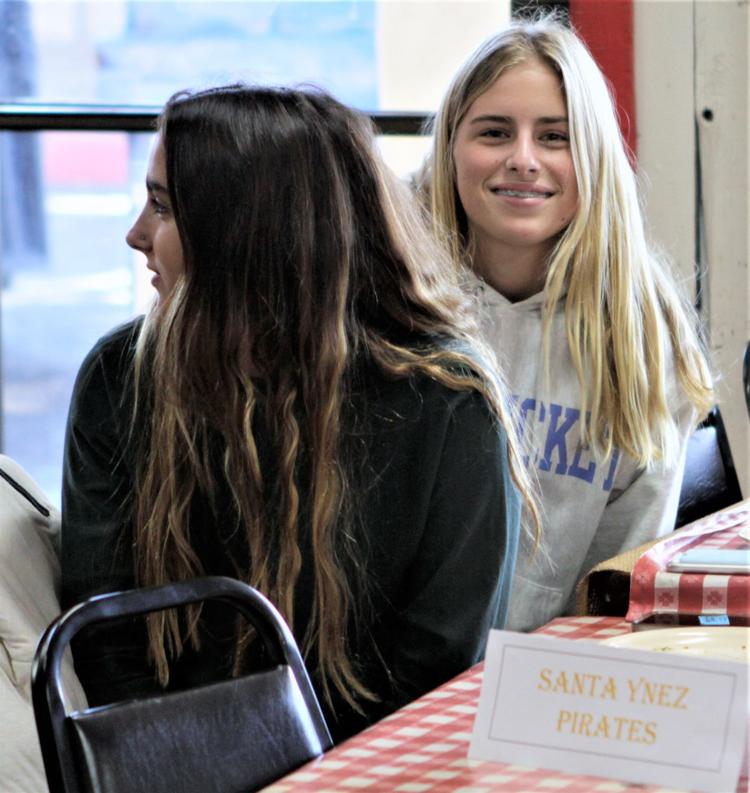 Luke took home the Female Athlete of the Week honor after scoring seven goals apiece in two wins over Buena and Cabrillo. She also piled up three steals and six assists in those two games. Luke wasn't aware she was this week's winner until emcee Charles Sommer started reeling off her stats from last week.
"It was really scary, I didn't really expect it, it was really nice though," Luke said of winning the award. "I was definitely scared, I'm still shaking."
Luke said the win over Cabrillo last week was particularly important because the Conquistadores had beaten the Pirates earlier this year. Luke said the return of top player Ally Alderete has been key for the team taking a step forward. 
"Having one of our main players back, Ally, we could all work together as a team and it's really nice coming back from the loss a few weeks ago," Luke said. 
Santa Ynez water polo player Taye Luke is the Female Athlete of the Week for the Northern Santa Barbara County Athletic Round Table. She scored 14 total goals in wins over Buena and Cabrillo last week.#santamariatimes pic.twitter.com/XmFXuKS2fL

— Joe Bailey (@JBaileySMSports) January 14, 2020
The Pirates and Conqs have played twice this year, but none of those games have been league contests, though they're both in the Channel League. 
"We'll play them again soon in the actual league game and that's going to be a really great game," Luke added.
Water polo coach Lisa Boyer brought Luke and teammates Alderete, Peyton Pratt and Hannah Allen, who had two goals, four steals and four assists and Buena last week and two goals, one assist and three steals against Cabrillo. Alderete, a senior and co-captain, returned from an injury and had three goals, three assist and one steal against Buena last Tuesday and two goals and an assist and a steal against Cabrillo. 
Pratt, the Pirates' goalie, had 15 blocks against Cabrillo.
Tennis courses at Hancock
Eight-week intermediate and beginning tennis courses will begin Jan. 25 on the Hancock College courts.
The intermediate course will run from 11 a.m. to 12 p.m. on Saturdays each week and is designed to teach students intermediate tennis skills through various activities and drills, intended to teach more advanced movements and strokes.
The movements and skills include various spins and strategy shots.
The beginning course is intended to teach students knowledge and skills that will help students become proficient enough to enjoy tennis and participate at the beginning level. The course will emphasize fundamental strokes, strategy and fun.
Enrollment fee for each course is $48. Intermediate course students need to bring a new can of Penn Tennis Balls. Beginning course students need to bring a new can of Penn pressure-less orange and yellow tennis balls.
Students can register online at www.hancockcollege.edu/community education or in person with registration form at the Community Education Building S at Hancock.
Contact Patrick Ortiz at 805-934-9911 for more information.
Super Sunday golf at Rancho Maria
Rancho Maria Golf Club is hosting a two-person scramble Super Bowl Tournament on Super Sunday, Feb. 2.
The entry fee is $95 ($65 for monthlies) includes green fees, cart, range balls and the prize fund.
There will be a $5,000 purse (based on 112 entries) with prizes given to low gross and low net winners.
To register or get more information, contact Rancho Maria at (805) 937-2019.